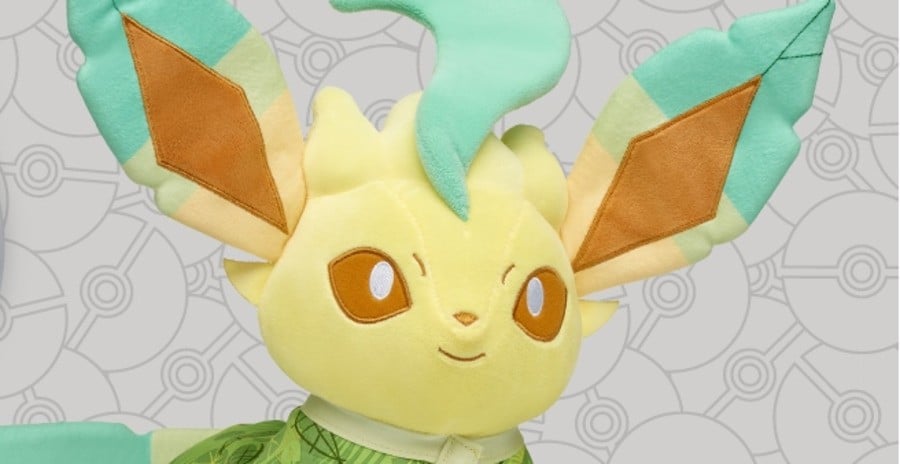 It's been a little while since another Pokémon has joined the adorable Build-A-Bear line-up of Pocket Monsters. Today, the hugely popular build-you-own-toy company has revealed the next little 'mon that you can take home and squish to your heart's content.
Leafeon, the Grass-type Eeveelution and number 470 in the Pokédex, is now available to buy online from the Build-A-Bear Workshop. This is the sixth Eevee evolution to get its own toy - with the last one, Umbreon, launching way back in August.
Like all the other online bundles, this Leafeon comes with its own little cape and sleeper. Even the stoniest of hearts can't look at Leafeon in those clothes without a smile on their face - they're all green and grassy-themed to match!
Can we also just point out how terrifying its cry on the Build-A-Bear website sounds? So maybe don't squeeze your plush too hard so you don't have to listen to it over and over.
The best news is that you can get Leafeon from both the UK and US stores! The bundle - which comes with all the clothes - is £52 on the UK store or $65 on the North American one.
If the pattern is correct, the next Eeveelution we'll be seeing is Glaceon, so if that's your favourite, hopefully you'll hear something soon!
Will you be adding Leafeon to your collection? Let us know in the comments.
[source buildabear.co.uk]