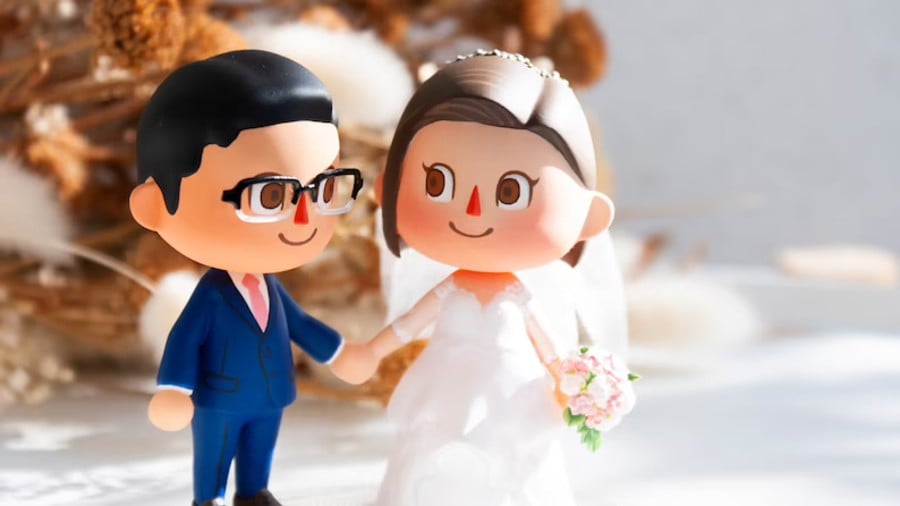 Wedding cakes, like people, come in all shapes and sizes — some elaborate and ostentatious, others subtle and understated. But no matter how many tiers you've got or what colour the confection is when you cut into it, there has yet to be a cake baked that couldn't be improved with the addition of some Animal Crossing characters spiked on top.
As brought to our attention via a reddit post from user burritopalace, the custom handmade Animal Crossing cake toppers offered by Etsy seller LootreArt are so incredibly cute that they're almost worth getting married for.
What's that? Why not just buy the cake toppers and save yourself the bother of finding the requisite life partner and rushing in foolishly for the sake of some cute unofficial merch? Sure, you could do that. Not very romantic, though, is it?
Naturally, buyers are able to customise the features, clothing and poses of the figures.
The seller's page is filled with 83 pages(!) of glowing testimonials from delighted customers along with many, many examples of custom figurines that have taken pride of place atop extremely expensive baked goods. We won't reproduce the photos here but we highly recommend giving them a scroll.
The figures are currently priced at £184.97 and are sold out through October 2022. Blimey!
If you you don't have impending nuptials, there's obviously nothing stopping you ordering the figures, adding some villager amiibo around the place, and recreating your New Horizons island in a neat diorama, is there? If you're willing to wait until November, of course.
Let us know below if you'd top your wedding cake (or any other type of cake) with a couple of these.
[source reddit.com]