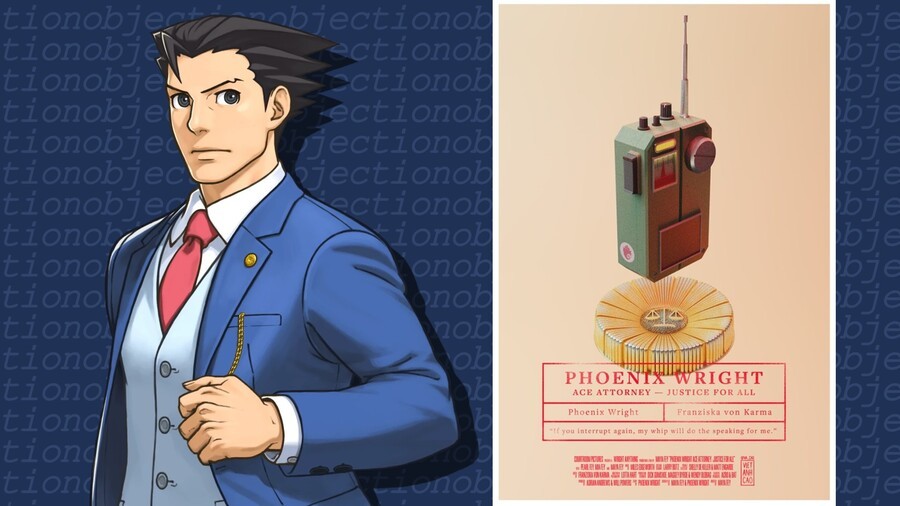 Ace Attorney, the game about lawyer Phoenix Wright getting his clients acquitted, already has a live-action movie adaptation — and an anime, and a stage production — but all of them were made for the Japanese audience, amongst whom the game is much more popular than in the West.
It's unlikely that we'll ever get a live-action film in English detailing the exploits of Phoenix and friends, but we can dream... and that dream would involve these fan-made posters being displayed in cinemas everywhere.
Artist Viet "Anh" Cao first designed an imagined poster for the first Ace Attorney game back in 2020, and followed it up two years later with a design for Phoenix Wright: Ace Attorney - Justice For All.
The first shows the "Thinker" clock from the first and second case — arguably the most iconic murder weapon in the game — and the second references the last case of the second game, which revolves around kidnap, blackmail, and a radio transceiver. Both posters also feature Phoenix Wright's attorney badge, which fans will recognise as the one piece of evidence you have to show every single person.
The posters are part of an intended trilogy, so keep an eye out for Trials and Tribulations on Anh's Twitter!
Anh has also designed an animated version of the second poster:
And, as a bonus, check out these printable Pokémon Sword and Shield covers for the physical game, designed in the style of the original Gen I box art:
If these posters were real, who would you want as a director? And which actor should play Phoenix, Maya, and Edgeworth? Tell us your dream casting in the comments!
[source twitter.com]