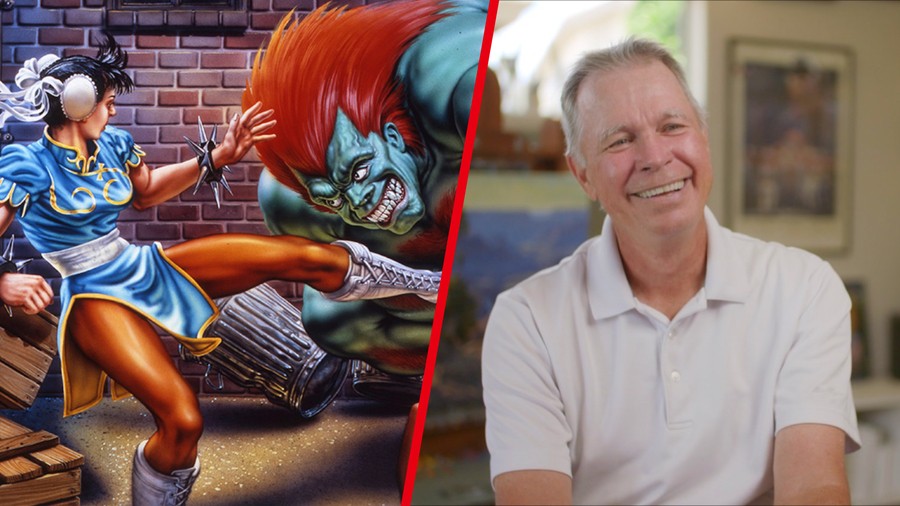 Mick McGinty, the man behind the iconic SNES Street Fighter II cover artwork, has died.
McGinty was an immensely talented artist, as is evidenced by the impressive collection of work on his personal site, but for gamers of the '90s, his output will be almost synonymous with video game covers.
He is perhaps most famous with Nintendo fans for creating the western cover artwork for the SNES version of Street Fighter II. While many people took issue with the 'westernisation' of the artwork at the time, it was very common practice for companies like Nintendo to commission entirely new artwork which was better suited to a particular region.
McGinty's cover – which features Chun-Li fighting Blanka over the prone body of Ryu – has gone down as one of the most recognisable video game covers of all time. McGinty's association with Street Fighter would continue with Street Fighter II: Champion Edition on the Mega Drive / Genesis, Street Fighter II Turbo on the SNES and Super Street Fighter II.
As well as producing work for Capcom's famous series, McGinty also created the covers for Streets of Rage 2 and Streets of Rage 3, as well as Kid Chameleon and Shining Force. Twitter account VGDensetsu has put together an excellent thread that shows off some of McGinty's work in the realm of video games:
Speaking about this father's commitment to his craft, his son Jobey McGinty shared the following message:
My Dad was an incredible artist, as everyone knows. And in true artist fashion, he was also never satisfied with his final work. Just a couple weeks ago, he said he needed "just one more hour on a few pieces" in order to "really finish them." We all knew that just wasn't true, though. Dad would always come visit our house, see some of the paintings he did for us over the years, and would put his nose about an inch from it and say, "y'know, Jobe, I wish I would have made those blues a little deeper," or "you know I'd love to just splash a little more shadows on that tree," or "that really needs a fresh coat of varnish on it."
McGinty was interviewed for the upcoming Street Fighter II documentary Here Comes A New Challenger, which is currently in the last stages of its funding drive on Indiegogo. It will therefore represent McGinty's final interview. You can catch a part of it in the trailer below, around the 1:15 mark.
Everyone at Nintendo Life would like to pass on our regards and thoughts to the McGinty family at this difficult time.
[source caringbridge.org]