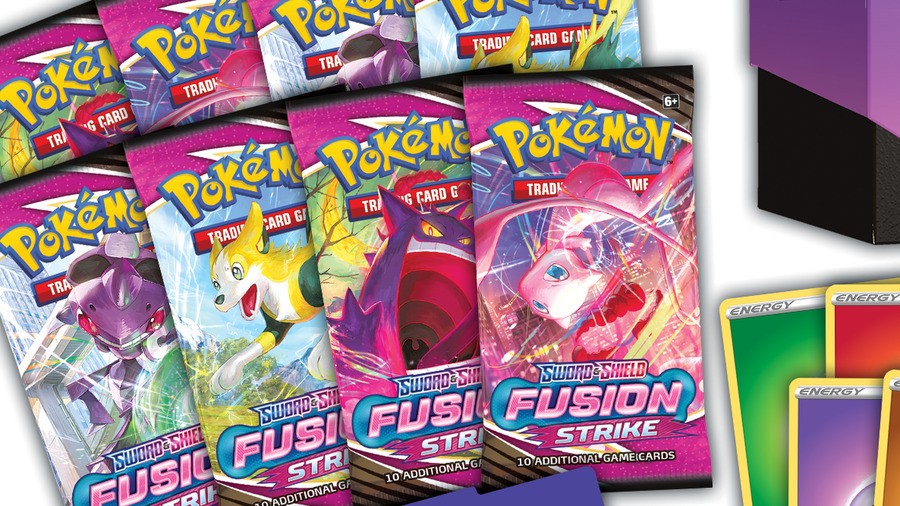 The Pokémon Company International has shared news of a brand new gameplay mechanic that's headed to the Pokémon Trading Card Game later this year.
It's called Fusion Strike Style and will be introduced in the upcoming Pokémon Trading Card Game: Sword & Shield—Fusion Strike card set due to launch worldwide on 12th November – just days ahead of Pokémon Brilliant Diamond and Shining Pearl's launch on Nintendo Switch.
The new expansion will be available in the usual array of booster packs, Elite Trainer Boxes, and special collections, and includes 25 Fusion Strike cards like Mew VMAX, Genesect V, and Hoopa V. Here's a little more on the new mechanic:
Decorated with a hint of purple and pink, Pokémon with the Fusion Strike Style often have attacks that focus on teamwork and reinforce the idea of strength in numbers, as Fusion Strike Pokémon generally benefit when other Pokémon with this Battle Style are in play. In addition, Fusion Strike Style appears on Trainer and Special Energy cards, which tend to assist Pokémon of that particular Battle Style and allow players to build a Fusion Strike Style deck.
If you're wanting to go hands-on with these new cards ahead of the expansion's launch in November, make sure to keep an eye out for the Sword & Shield—Fusion Strike Build & Battle Box, launching at participating retailers on 30th October. This special box will contain four Fusion Strike booster packs, a 23-card Evolution pack featuring key cards from current and prior sets, and a deckbuilding tip sheet.
Have you been keeping up with your Pokémon card collection? Looking forward to this new set? Tell us below.