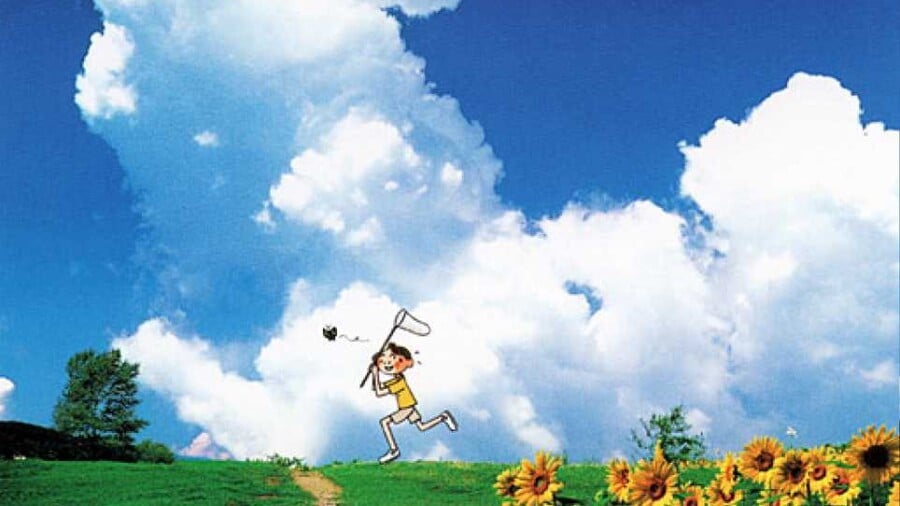 Update [Thu 17th Jun, 2021 16:15 BST]:
Samuel Messner has confirmed to us that the game will not be coming to Switch, as it is a fan translation project.
"I am a professional translator as well," he says, "so I see where the confusion stems from – but it's a bit more of a "Clyde Mandelin and Mother 3" kind of deal."
Original Story [Wed 16th Jun, 2021 21:00 BST]:
If you thought it was hard to follow the progression of the Harvest Moon/Story of Seasons schism, get ready for this. The short version of this story is that a video game translator named Samuel Messner just announced that they're working on a new fan translation of My Summer Vacation, which is a Japanese game that came out in the year 2000 on the PS1, and was ported to the PSP in 2006.
The long version — if you care about provenance, or want to know why this is exciting news — is a little more in-depth.
Attack of the Friday Monsters! A Tokyo Tale is a charming slice-of-life game that came out on the 3DS in 2013, and amassed a small cult following for its anime stylings and its down-to-earth, smalltown reimagining of the classic "kaiju invades Japan" story. We gave it 8/10, praising the game for its "lovely, memorable experience that captures the essence of classic coming-of-age films"; Official Nintendo Magazine gave it 86%, with reviewer Joe Skrebels saying that it made him "nostalgic for someone else's childhood".
You with us so far? Here's where it gets complicated. Attack of the Friday Monsters is part of a compilation called Guild02, which in turn is part of the Guild series, in which developers Level-5 collaborated with several game designers to make small and interesting projects. Guild01 included Liberation Maiden, Weapon Shop De Omasse, Crimson Shroud and Aero Porter; Guild02 included Attack of the Friday Monsters, The Starship Damrey, and Bugs vs Tanks, the last of which was designed by Mega Man creator Keiji Inafune.
The designer that Level-5 worked with for Attack of the Friday Monsters was Kaz Ayabe, who is also the director for that Crayon Shin-Chan game that was announced in the Japanese Nintendo Direct earlier this year. In Japan, Ayabe is perhaps best known for his work at the studio he founded, Millennium Kitchen, and their series Boku no Natsuyasumi ("My Summer Vacation"). Until now, Attack of the Friday Monsters is the only English-language release that Millennium Kitchen have worked on.
My Summer Vacation is a story about a kid named Boku spending the Summer at his aunt and uncle's countryside house, while his mother is in her final month of pregnancy. The game is set in August, 1975, and you'll spend most of those 31 days just... being a kid: catching bugs, flying a kite, and exploring the woods. And yes, there's a fishing minigame.
So, My Summer Vacation is being translated, and if Attack of the Friday Monsters is anything to go on, it could come to Switch. If you're a fan of sedate, pastoral Japanese stories, you should keep an eye out for this 20-year old game. We certainly will.
Have you been hoping for the perfect pastoral 1970s Japanese countryside simulation game? Let us know in the comments!
[source twitter.com]