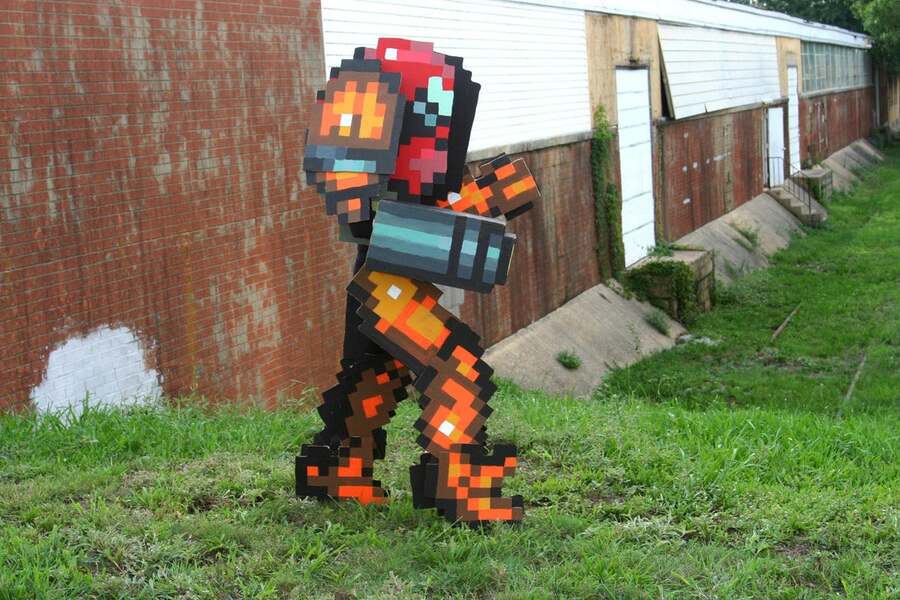 Cosplayers are basically wizards. Sometimes, they are also literal wizards, when they dress up like Gandalf the White or Dumbledore, but we mean in terms of their creative skills — sewing, sculpting, and sometimes even electronics are all part of making a detailed, true-to-life cosplay of a beloved character. Here at Nintendo Life, we're lucky if we can put together an outfit in the morning to cosplay the role of "functioning human", but that doesn't mean we can't appreciate the artistry of others.
Dan Cattell is an artist with a passion for making 2D sprites into 3D, wearable cosplays, by cutting out each individual part and slapping them onto cardboard shapes strapped to his arms and legs. Recently, his cosplays have been blowing up on TikTok, where he's built quite the following.
It takes a lot of dedication and attention to detail to make these real-world sprites look just like the chunky animations from games of old, but Dan manages to pull it off in style by studying and recreating their movement. He first got into this 2D cosplay when he was in college, and didn't have much money to invest in cosplay, which is a pretty pricey hobby to have.
Over the years, he's cosplayed as Ridley, Samus Aran, a Minecraft Creeper, Yoshi (and rider) and a Space Pirate from Metroid — which happens to be his favourite game to cosplay, if you couldn't already guess that. He's been featured in Nintendo Power — the holy grail for any cosplayer — and has done official costumes for both Mojang and Nintendo.
We don't know what Dan's costume looks like from the back, but let's not worry about it — Dan's impressive costumes are proof that you don't need to have piles of cash to create something that'll make you the envy of Comic-Con. Or you can just buy his costumes off Etsy, if you like.
[source tiktok.com]