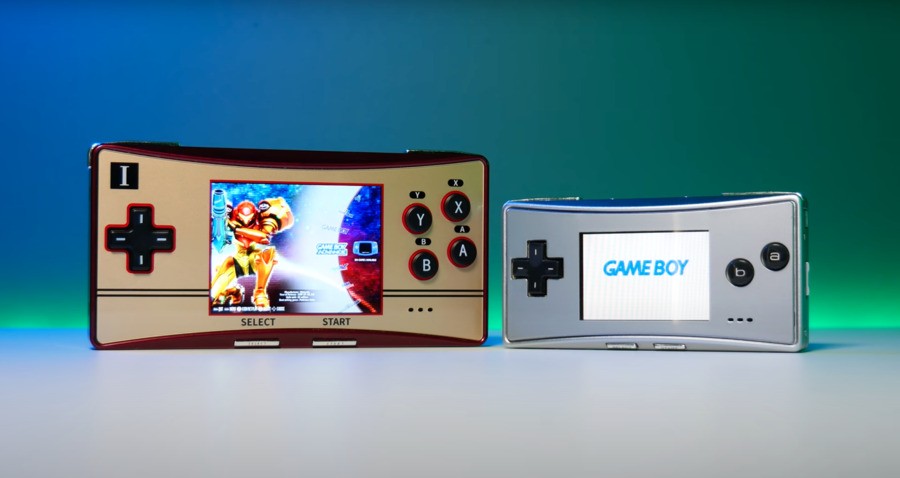 Chinese-made handheld emulation devices aren't a new thing by any means, and each year countless new variants appear on the scene which do pretty much the same thing: play ROMs via emulation using cheap and readily available off-the-shelf components.
However, the Waveshare GPM280 caught our eye recently, not for what it can do, but what it looks like. It's basically a shameless copy of Nintendo's dinky Game Boy Micro, right down to the Famicom-style colour scheme which was used on one of the limited edition models back in the day.
Powered by a 1.2 GHz quad-core ARM Cortex-A53 and packing 1GB of RAM, the GPM280 is larger in size than the original Micro, which will surely alleviate some of the comfort issues people experienced with Nintendo's machine. There's a larger 2.8″ IPS screen, too (resolution: 640 × 480 pixels), and the whole thing is juiced by a 1500 mAh battery. There's even WiFi support so you can transfer files without having to mess about with Micro SD cards (it supports cards of up to 32GB in size, while we're on the topic).
With support for consoles like the Game Boy Advance, NES, Master System, SNES, Neo Geo and PlayStation One, the GPM280 is certainly capable – but then most handhelds of this type can run all of those formats. The sticking point is likely to be the price, which, at around $150, isn't cheap when compared to what else is available on the market. But then again, its rivals don't look as swish as this.
You can check out a full hands-on review of the device over at Retro Dodo:
[source youtube.com]