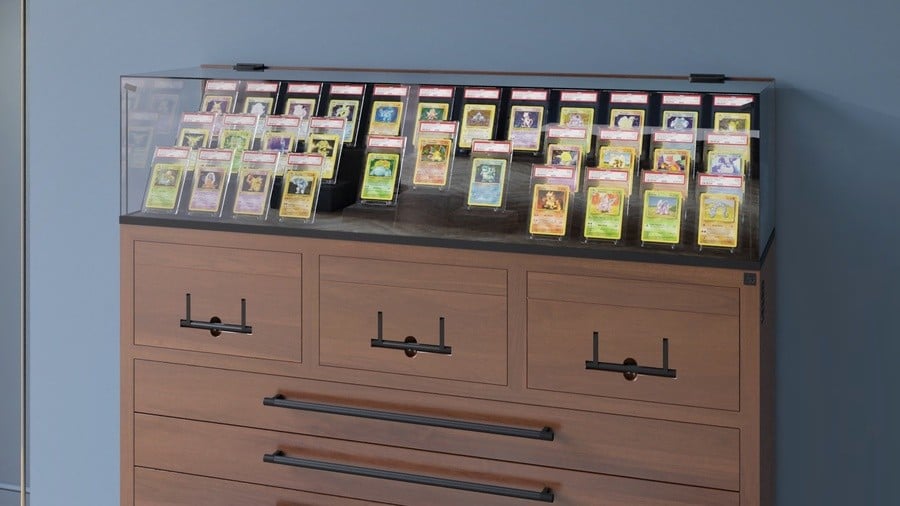 If you're looking for new and creative ways to display your growing Pokémon card collection and don't mind treating yourself to something on the more luxurious end of the scale, you might want to consider looking into Collectors' Cabinets.
This UK-based company has begun manufacturing bespoke, "museum-grade" display units that are specifically tailored to meet your individual needs. Have a small collection of first edition cards in mint condition that you want to show off, or maybe an entire set of cards from your childhood? Collectors' Cabinets says that it can sort that out for you.
"All our products are made to order, built specifically for your collection. We can adjust everything to your needs – from your trading card storage & display requirements, to the level of lighting that best suits your home...

We produce handcrafted, bespoke furniture, built to your exact specifications, with your unique collection in mind. Our furniture is designed and crafted to honour your prized possessions, and to match your personal taste."
The company's founder, Alex Allison, says, "I was really disappointed by the cheap cases and display stands available for my growing collection of Pokémon cards, so I decided that I would build something myself that would do a better job at doing my cards justice. We've been working for the last few months on getting things just right, and now we're really excited to start taking enquiries."
If you're interested, you can check out Collectors' Cabinets' website here and submit an enquiry. Naturally, the products on offer are also suitable for other trading card games like Yu-Gi-Oh! and Magic: The Gathering, or even other collectables like football stickers.