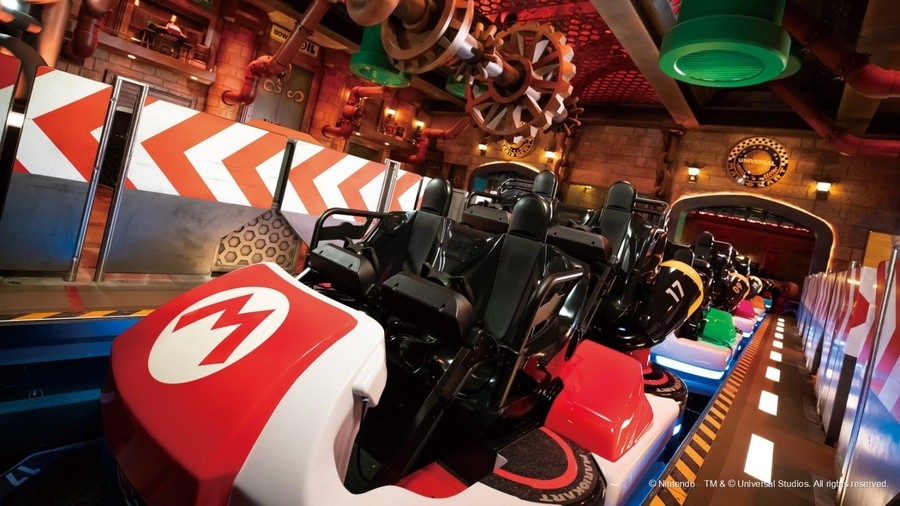 You know that future we all dreamt of as kids where we hoped to one day live inside a giant video game? Well, it looks like we're one step closer to that becoming a reality.
As you may already know, Japan's brand new Super Nintendo World theme park – which finally opened this month after several pandemic-related delays – features a mighty Mario Kart ride that has visitors taking to the track wearing augmented reality headsets. The tech behind it has seemed impressive from the off, but new details from a recent press conference held in Osaka has us even more intrigued.
In the conference, Universal Creative executives shared more details on how the ride came to be (thanks, IGN). Global executive producer Tom Geraghty explains that the "entire land" was actually built in VR, and the Mario Kart ride was built using a game engine:
"We used the technology, also, in the design process. We built the entire land in VR and the design team could look around at a place and get sightlines and figure out where to move elements.

"Mario Kart was built in a game engine, so while [senior vice president Thierry Coup] was back in the States he could actually drive Mario Kart in a game engine, and give us notes in Japan.
Amazingly, this means that the ride can be updated with future patches, just like a video game can. If a 'Waluigi for Mario Kart ride' hashtag starts trending, for example, the team can actually make it happen "overnight".
"Because it's in a game engine, we can keep updating, upgrading, putting new characters [in], changing themes, changing actions on the fly. So if there's a special event, anything we want to release can be done overnight if we really wanted to. That makes it so much more flexible – it freshens up the experience. Every time you come back you could experience something new and exciting."
Do you hope to visit Super Nintendo World one day? Are you liking the sound of a ride that can be different each time you go? Share your thoughts with us below.
[source ign.com, via nintendoeverything.com]