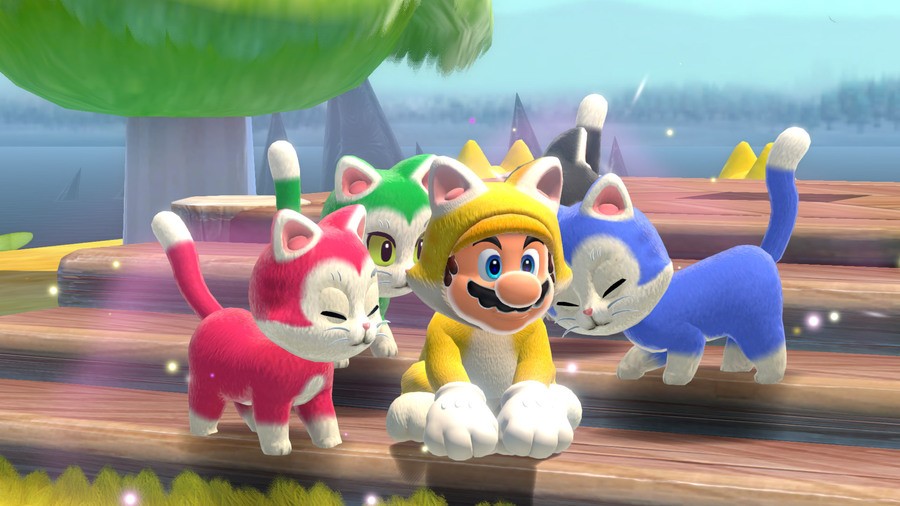 With a brand new Mario game, new titles to check out on Switch's NES and SNES apps, and a whole lot of scalper sneakiness going on at McDonald's, it's been another hectic week in the world of Nintendo. Thankfully, it's now time to relax and chat about our weekend gaming plans.
Members of the Nintendo Life team have done just that below, so feel free to give our entries a read and then join in with your own via our comment section. Enjoy!
PJ O'Reilly, reviewer
Hello. This weekend I'll be digging back into The Outer Worlds to try out the first of its two DLC expansions, Perils on Gorgon. I'm a massive fan of Obsidian's hilarious action RPG and am looking forward to jumping back in for fresh adventures with the old crew as well as catching up on how things have improved with the game's Switch port since November's big 1.0.3 patch.
Elsewhere, I'll be diving into Super Mario 3D World with my kids for some multiplayer hijinks, having a first look at Bowser's Fury and, if time allows, getting stuck into the fantastic Paratopic, the deluxe edition of which is currently reduced on the eShop. Have a good weekend whatever you're playing and stay safe out there.
Liam Doolan, news reporter
Earlier this week, I returned to Dead or Alive: Dimensions on the Nintendo 3DS. I was playing DOA3 the other week (on another platform), in case you're wondering what spurred me on. I forgot how great this one is! It feels like the full-blown experience in the palm of your hands and there is a stack of content to unlock for each fighter within the game. The fighting itself is also top-notch.
When I'm not playing that this weekend, I'll be jumping into Super Mario 3D World + Bowser's Fury. Meow! At the time of writing, I've nearly completed the Bowser's Fury add-on content, so I assume I'll be revisiting Super Mario 3D World over the next few days. Happy gaming, everyone!
Kate Gray, staff writer
It's been a lot of Haven this week for me. It's taken a while for me to really warm up to it, given that games about pre-existing relationships are usually either sickly-sweet or entirely unconvincing, but after a while, it starts going somewhere a little better.
I've also been watching my partner play through Ace Attorney for the first time! He's on the last case of the first game - the special one that was made just for the DS - and it's been a treat to watch him figure out the idiosyncrasies of Phoenix Wright in real-time. "Almost Christmas means it wasn't Christmas!"
Ryan Craddock, news editor
I've finally been playing through SteamWorld Quest: Hand of Gilgamech over the past couple of weeks. I've been in a real trading card mood recently, so the idea of a card-based RPG sounded like the perfect thing to get stuck into. I feel like I'm nearing the end, so all going well I'll have that wrapped up over the weekend.
Elsewhere, I'll be replaying Super Mario 3D World thanks to the new launch on Switch. The Wii U original was one of the few Mario games that I completed to 100% – I'd say it's one of Mario's best – and I hope lots of new players get the chance to enjoy it now that it's on a more popular system. While I usually prefer to play Mario games in single-player, this time around I'll be playing in co-op with my partner to experience it in a new way. Wish us luck!
Ollie Reynolds, reviewer
Hey folks! Hope everyone's doing well. This weekend, I'll mainly be spending some quality time with the other half. We don't normally bother with Valentine's Day too much, but since it'll be the final one before we become a married couple, we thought we'd make a bit of an effort! This also means I'll be subjected to a couple of hours of Just Dance 2020…
Time permitting, I'll be putting a few hours into Breath of the Wild here and there. I decided to start from scratch, and the game somehow still feels fresh and exciting! I might pick up Super Mario 3D World, but honestly, it's one that I think can wait until another time; I'm not in a massive rush to throw down £50 considering it's a game I've already played to death (apart from Bowser's Fury, obviously).
Gonçalo Lopes, reviewer
Still running around like a fool in Shadow Moses on Metal Gear Solid: The Twin Snakes. The game really takes a turn once you get the stealth camo. Latest Fortnite news has made me go back to Tron: Evolution Battle Grids on the Wii. Another nice Switch weekend thanks to two fantastic eShop gems: Speed Limit is the definitive arcade experience and UnderMine can easily make you lose track of time. On the subject of time, it's January 2024 and I've been working in the Wrestling Empire industry for 149 weeks with a 71% win ratio. Nice!
My game of the week is Super Mario 3D World + Bowser's Fury! I'm confident I'm the only one among my colleagues to pick this one, I do strive to be the rebel of the bunch. Plessie Ride's water effects never fail to impress me.
As always, thanks for reading! Make sure to leave us a comment below with your gaming choices over the next few days...