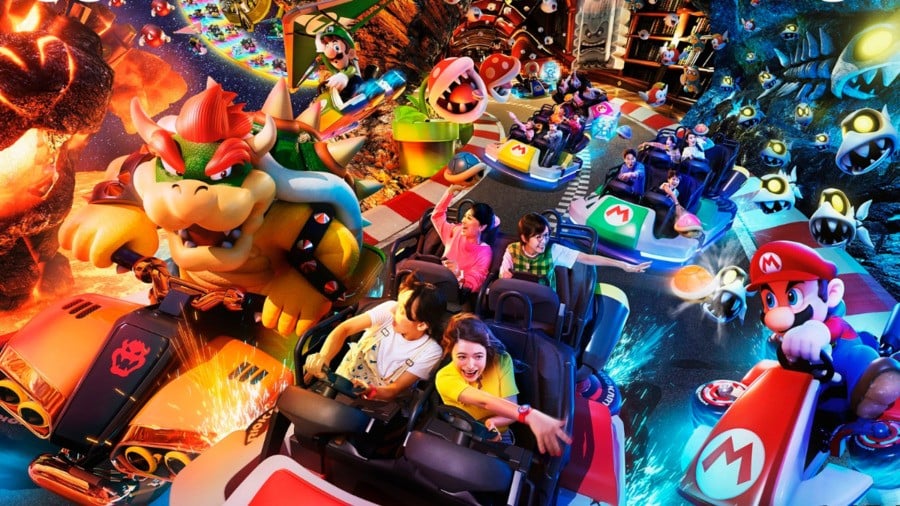 The official website for Super Nintendo World, the Nintendo theme park opening at Universal Studios Japan next month, is now live.
With smart and colourful interactive transitions that have you flying around the park, the website provides further details on important details such as ride information and pricing. We'll start with the latter – it's always worth knowing how much money we'll be forking over for new Nintendo stuff, right?
The table below shows the original Japanese ticket pricing (with tax included). GBP and USD conversions are correct as of today, 6th January.
Adults [Age 12 or over]
Children [Ages 4 to 11]
Seniors [Age 65 or over]
1 Day Studio Pass
¥7,800 (approx. $76 / £56)
¥5,400 (approx. $53 / £38)
¥7,100 (approx. $69 / £51)

2 Day Studio Pass
¥15,400 (approx. $150 / £110)
¥10,500 (approx. $102 / £75)
Tickets will be available to purchase both online and at the park's entrance, with English-language vendors being listed on the official website for those travelling from abroad.
Both the Mario Kart and Yoshi rides each have their own sections on the website, offering a quick overview of what you can expect and listing all the requirements you need to meet to jump on (see below). You'll also find a closer look at some of the merchandise and food available, although we knew about those already.
Remember, the park is opening up to the public on 4th February. If you missed it, make sure to check out footage of the Yoshi ride, park photos and the official park map, and a video tour of the park presented by none other than Shigeru Miyamoto.
Thanks to Lalivero for the tip!