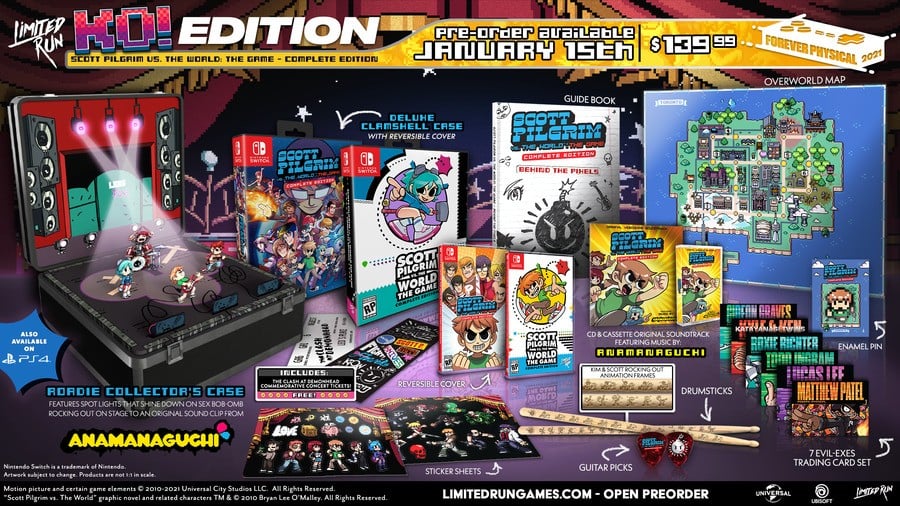 Hello, again. Friend of a friend. Scott Pilgrim vs The World: The Game - based on the hugely successful graphic novel series rather than the Edgar Wright movie of the same name - is finally getting a physical release, and it is fiiiine. Featuring music from Anamanaguchi and visuals based on artist Bryan Lee O'Malley's original work, Scott Pilgrim vs The World: The Game originally came out in 2010 and is due for a re-release on Switch on January 14th.
To celebrate the game's launch, Limited Run Games, Universal, and Ubisoft have put together a "Standard Edition" physical release, a "Classic Edition", which includes a clamshell box, a concert ticket, a map, the soundtrack, and a sticker sheet, and the "K.O. Edition" which will come with everything from the Classic Edition, plus a hardshell roadie case that contains a pop-up scene, working lights, and Anamanaguchi's music, as well as drumsticks, guitar picks, a trading card set, an enamel pin, and a guide book.
The preorder period for all three editions runs from January 15th to February 28th. The Standard Edition retails at $34.99 (~£26), the Classic Edition at $54.99 (~£40.50), and the K.O. Edition at $139.99 (~£103). All versions of the game are the "Complete Edition", which includes all the DLC from the original game.
Are you excited about playing (or replaying) Scott Pilgrim vs The World: The Game? Do you have fond memories of beating up Ramona's evil exes? Come tell us about how bread makes you fat in the comments.
[source twitter.com]