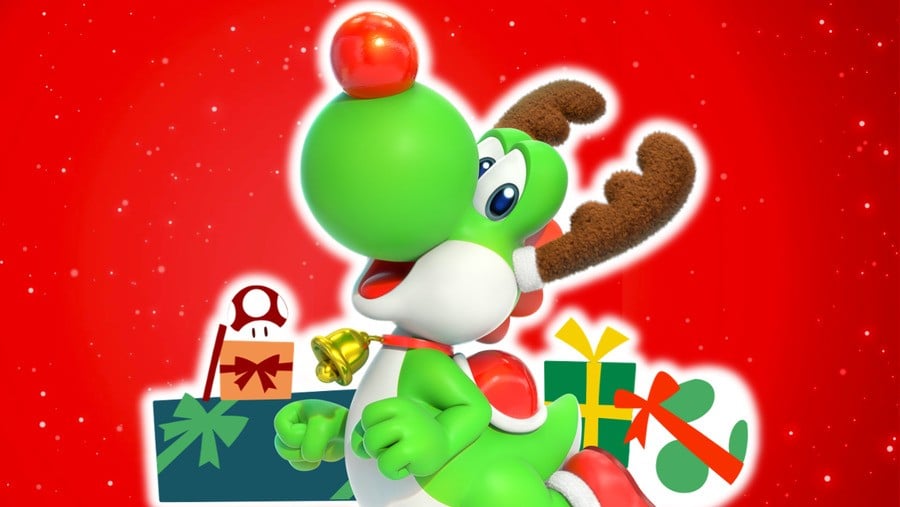 With our Game of the Year decided and our bellies gratefully full of Christmas dinner, we're here to chat about our weekend gaming plans for one last time in 2020.
Members of the NL team have done exactly that below, and we'd love for you to join in with your own entries via our comment section. Enjoy!

Oh, and happy holidays from all of us at Nintendo Life!
Gavin Lane, features editor
Having had both GRID Autosport and The Wanderer: Frankenstein's Creature on my Switch wishlist since they launched, I grabbed both in the eShop sale a couple of nights ago and hope to dive into them over the holidays. Otherwise, I'll be continuing with the excellent Dicey Dungeons, exploring Evergate, taking back Control, and – of course – finishing off this Christmas' Banjo-Kazooie playthrough (it'd be rude not to).
Hope you're all enjoying a lovely few days off (or a lovely few days working if you're not so lucky). Stay safe everyone!
Ollie Reynolds, reviewer
Ho ho ho! Somehow, Christmas has arrived again, and it's time to break out a few Jackbox Party Packs on Switch to play with the family. It's become somewhat of a Christmas tradition to play a few rounds of Quiplash and see who can come up with the most ludicrous answers (with mum tutting disapprovingly in the background!).
Elsewhere, I'll be kicking back with Animal Crossing: New Horizons, and possibly killing a few hours here and there with Hades (which, if you didn't know, is pretty darn good!). I hope everyone out there has a great Christmas weekend; be sensible, stay safe, and look after one another. See you on the other side!
Jon Cartwright, video producer
Games don't really have "Christmas flicks" in the same way as films but Christmas NiGHTS into Dreams on Sega Saturn has done a good job carrying the entire industry for 24 years now. When played at any other time of year this game is simply a demo for NiGHTS into Dreams but playing during the November-January period covers the world in a jolly festive glow. Better yet, playing on Christmas day transforms NiGHTS into Father Christmas - I guess that explains what Santa does every other day of the year.
While other games have fantastic snow levels and occasionally dip their toe in festive themes, I can't think of a single other game that has such a tight focus on the holidays and that's why playing this game has become a yearly tradition of mine (though people should play NiGHTS every year anyway).
It also marks the debut 3D appearance of Sonic the Hedgehog and that's pretty cool.
Liam Doolan, news reporter
Being the holiday season, the obvious pick this Christmas is Animal Crossing: New Horizons - getting into the festive spirit with Toy Day and all. When I'm not dressing up as Santa on my island, I think I'll be spending a lot of my time in the more recent Switch release, Among Us. I've played quite a bit of this game on mobile and PC, so over the next few days, I'm hoping to be able to get to know the Switch version a little bit better.
Last but not least, I'll be trying out Taiko no Tatsujin: Drum 'n' Fun!. I gave the demo a go ages ago, loved it, and have been waiting for a sale ever since. That finally happened this week - so I'm ready to get drumming. Happy holidays, everyone!
Kate Gray, news reporter
I know I'm ten thousand years late to the party, but I just beat Hades for the first time before Christmas (my excuse is that I moved house and then moved a thousand miles). Now that I have proved to myself that I can do it, I find myself wanting to do it a whole bunch more. So I'll be playing a game about escaping your terrible family, instead of seeing my not-terrible family. Fair trade? Probably not.
I gave myself Grindstone for Christmas (thanks, me!), so I'll most likely be playing that during my Hades breaks, and watching my partner play Ace Attorney, which I got him for Christmas mostly so I could then force him to play Apollo Justice (the best Ace Attorney game, don't fight me).
Oh, and Dicey Dungeons came out on Switch, so... I don't need time to sleep or eat, right? Merry Christmas to all of you, and I'll see you next year!
Stuart Gipp, reviewer
This Christmas, I'm playing the game I always play on Christmas Day - Tom and Jerry: The Movie for Sega Master System. I was bought this as my main present when I was around five or six, and absolutely caned it, seeing the credits within 25 minutes to the consternation of my parents. It's a pitifully easy game, but also a rather fun, interesting one, with great scope for speedrunning. Plus you get to play as Tom going after Jerry, which is good, because Tom is great and Jerry is a little sh-- er, well, I don't like him, anyway.
As always, thanks for reading! Make sure to leave us a comment below with your gaming choices over the next few days...