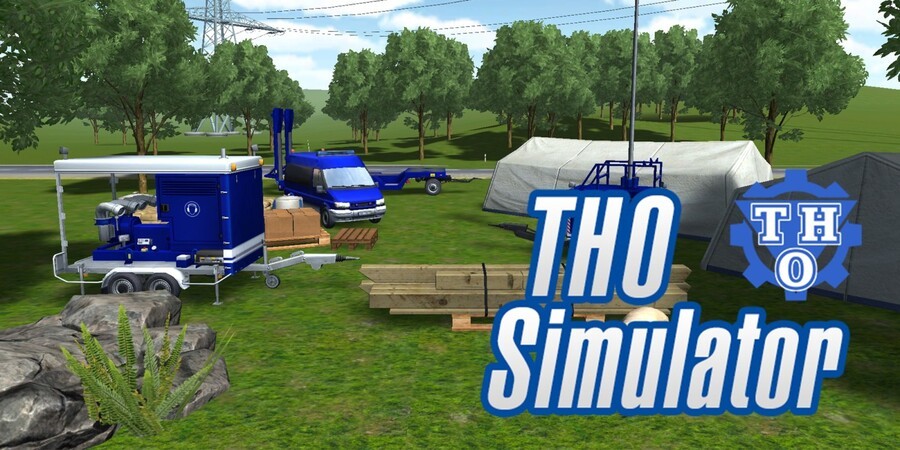 While scrolling through the upcoming Switch releases this morning, this new addition to the sim genre caught our eye. What's this? THQ Simulator? we thought for the briefest of moments before re-reading the title. Nope, this new game from prolific sim publisher Aerosoft actually casts you as part of a specialist relief organisation charged with protecting the public from various environmental hazards.
Trucks, Helicopters and Other? Transport for Horses and Objects? According to the publishers, THO stands for "Technischen-Hilfs-Organisiation" and appears to be modelled (from what we can gather) after the mostly volunteer German organisation Technisches Hilfswerk — that's the THW, or 'Federal Agency for Technical Relief' (thanks Wikipedia). This Switch release looks to be a version of a mobile game that has you sorting out all sorts of logistical problems as part of a civil organisation through a variety of mini-games.
Still a little perplexed? Here's the description from the official eShop page, plus a list of features courtesy of the Google Play Store:
"Technischen-Hilfs-Organisiation" THO, examine damage, ensure safe roads and carry out a controlled blasting!

It's your job to coordinate the all special units and transport heavy equipment with different vehicles, so that the realistic course of the operation is ensured. Complete various mini-games to advance the scenario.
Features:

• Detailed missions with a realistic procedure
• Diverse selection of mini-games
• Many different vehicles:
• FGrBEL EV
• FGrR MLW4
• FGrR PC
• FGrWA EV
• FGrWA MAN KIT-1
• FGrWA MLW 4
• FGrWA MWPB
• FGrWP MLW4
• FGr1BASH PC
• FGr1BASH EV
• Forklift
• Low-loader
• MPWB Trailer
• MzPt Trailer
• Pontoon
• SwPU 5000
• Trailer stanchions
• 20 kVA light Tower
So, just to reiterate, THO Simulator doesn't chart the highs-and-lows of a well-known video game publisher from its ascendance in the '90s through to bankruptcy, acquisition and subsequent revival as THQ Nordic. It does, however, let you drive a wide variety of Fachgruppe vehicles, and it's on the eShop today for £4.49 / 4.99€.

Let us know if you can shed more light on this niche title with a comment below.