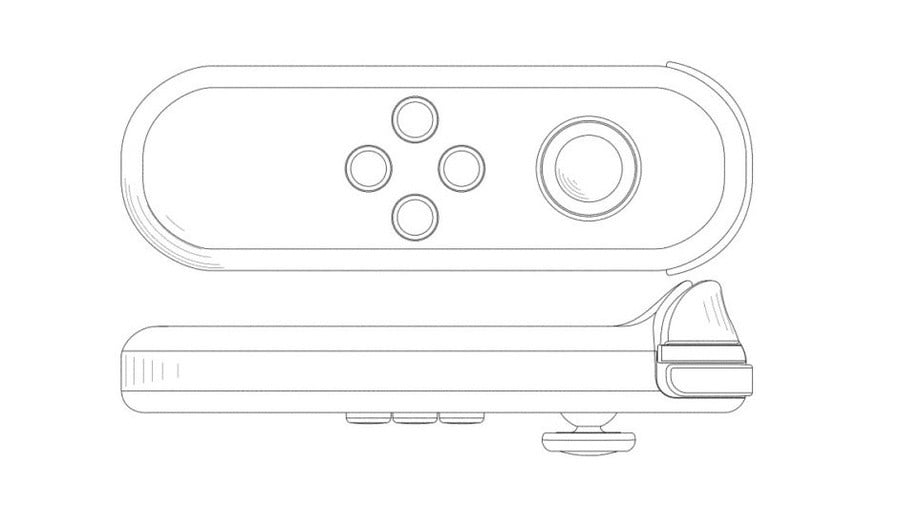 A newly-discovered Nintendo patent suggests that the company may be planning to release a new form of Joy-Con style controller.
The patent, which was originally filed in May 2018 and then registered this April, shows several images of a controller design that looks very similar to the Joy-Con found on current Switch consoles. While the control stick, face buttons and shoulder buttons are practically identical to the current model, this secondary design does have some noticeable differences.
You'll spot that the '+' and '-' buttons which usually help to indicate whether a Joy-Con is designed to fit into the left or right side of the console appear to have been removed, as well as the connectors which help to click them into place on the Switch's main unit.
Whether this design will ever make it to market is currently unknown, but one potential theory is that this could be a new controller for the rumoured 'Switch Pro', a more powerful version of the Switch that some believe to be on the horizon. If a new, beefed-up Switch model was dedicated to TV only - like an opposite form of the handheld-only Switch Lite - perhaps a controller like this would be the perfect fit?
If Nintendo does announce any plans to launch a new controller design, or indeed a new Switch console, we'll share all the news as it happens right here. Until then, let us know if you'd like to see a controller like this arrive in stores with a comment below.
[source www3.wipo.int, via videogameschronicle.com]