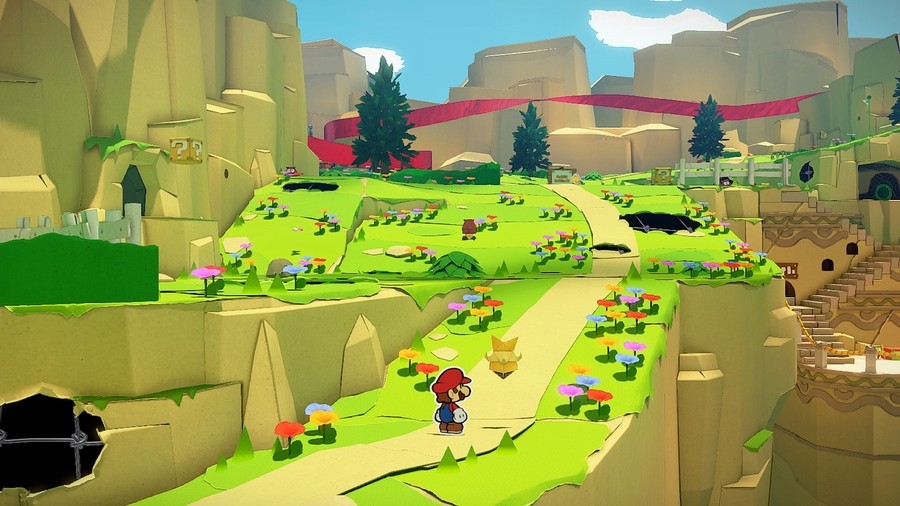 We're just a couple of weeks away from the launch of Paper Mario: The Origami King, the latest title in Mario's much-loved spin-off series and the first to appear on Switch. We already know that some features, such as the game's battle system, have been somewhat reworked for the new game, but we now have a little more info on the game's world itself.
Game Informer has shared new details on the game in a recently-published preview, noting that it ditches the chapter-focused setup seen in past games and allows players to "travel from region to region seamlessly in an open-world". It says that Origami King's bosses are scattered around the game's world, and players can see key areas (thanks to five large streamers attached to Princess Peach's castle) from "far in the distance".
This reportedly gives players a hint as to where their next challenge might lie, and while we're aware the two won't be similar in the slightest, it does remind us a little of the setup found in Zelda: Breath of the Wild, where players can visibly see the location of the final boss throughout the entire game.
Talking to Game Informer, Intelligent Systems director, Masahiko Magaya, says, "One major feature that makes the world where this adventure takes place special is that there are huge maps to explore at every turn. Because the game is laid out this way, we were careful during the design phase to make sure there is always something in the player's field of vision to catch their attention."
Further Reading:
---
Sounds pretty exciting, right? Remember, Paper Mario: The Origami King launches on 17th July. Make sure to keep an eye out for our review of the game a little nearer to release.
[source gameinformer.com]