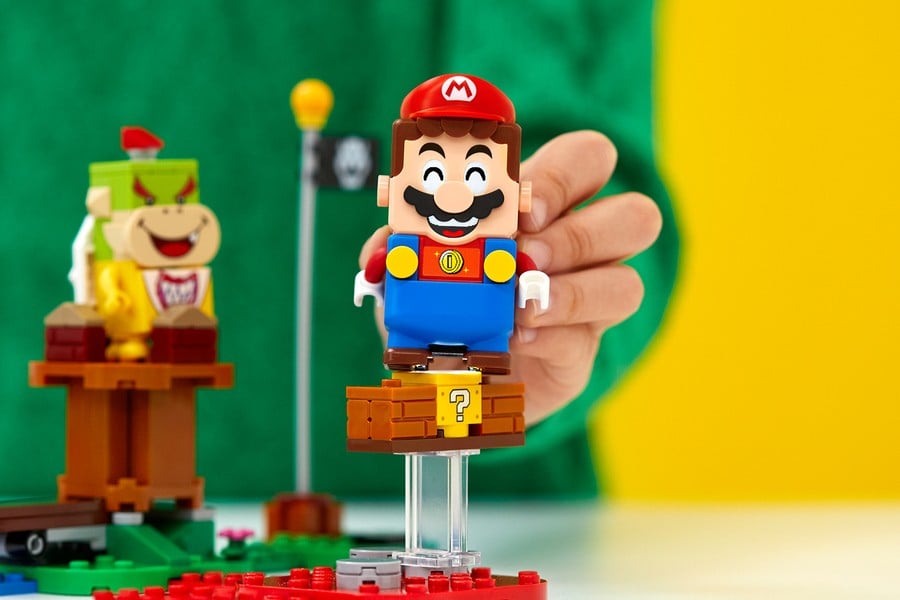 In just over a weeks' time, we'll have our hands on the first ever Super Mario LEGO products and that lovely looking LEGO NES console. With a Starter Course, plenty of expansions and even an interactive toy, there's plenty to experience in the Mario collection, but how did the whole project come together?
In an interview with 4Gamer, Nintendo producer Takashi Tezuka has shared some insight into the development of the new LEGO collaboration. When asked about any troubles Nintendo might have had combining Mario's gameplay with LEGO's structure, he explained that the project was 'very much taxing work', but still fun (thanks to Siliconera for the translations):
Takashi Tezuka, Nintendo Producer: First, we spent a long time examining the size and design of the Lego Mario figure. Additionally, while Lego Mario will react based on the color sensor and take action based on what is read, it is unable to read actions such as Mario's traditional action of hitting blocks from below. The changes to the game design based on the Lego Super Mario hardware, such as stepping on blocks counting as hitting them from below, was something that was discussed back and forth between The Lego Company and Nintendo.
While it was very much taxing work, I felt it was a fun time.
In the same interview, Tezuka explains why Nintendo and LEGO decided to incorporation digital tech into the new sets. Apparently, the idea came from LEGO, rather than Nintendo.
Tezuka: First, this is a Lego product. Expanding children's imaginations while having them build with blocks was important, and it was The Lego Group who first decided on supporting this main concept by bringing in digital technology. As such, regarding the gameplay, we did take inspiration from the video games, but the main priority was to have children feel that building the block creations was fun. Playing through the courses you create can be used as a reference for what to create next, and the ideal scenario for Lego Super Mario is for children to have fun and feel like they want to create even more courses.
So essentially, it aims to serve as a physical, bricky version of Super Mario Maker? Sounds pretty cool to us.
If you haven't already, you can pre-order the new LEGO Mario sets right here. You might want to pick and choose which bits interest you the most, though; we recently did the maths, and a complete set of absolutely everything really isn't cheap.
[source 4gamer.net, via siliconera.com, gonintendo.com]