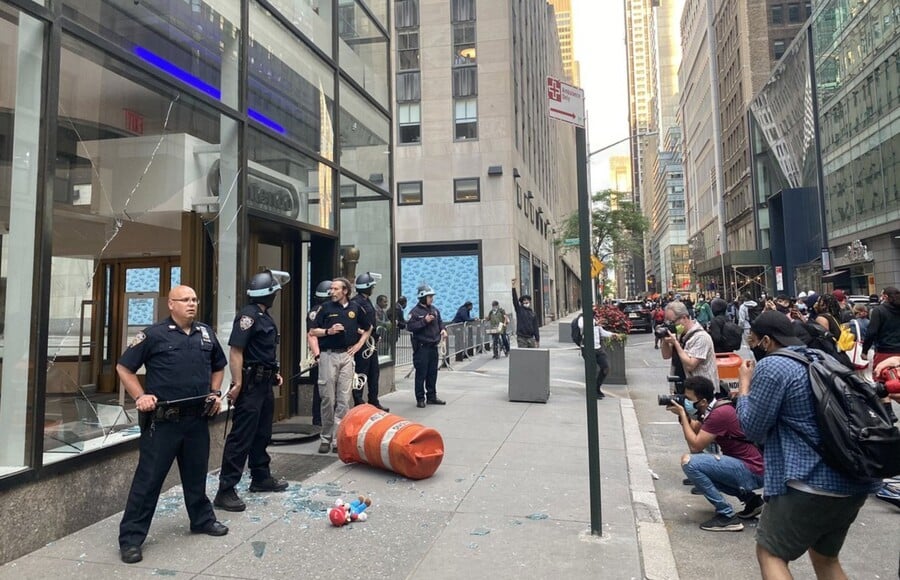 It is a grim scene as police stand guard outside of shattered windows at Nintendo New York, surrounded by a backdrop of protesting and unrest – a stark contrast to the colourful contents of the flagship store inside.
On Monday evening, rioters had broken the windows of The Nintendo Store, along with other shops in the area, where a police presence has been occupying the glass-strewn sidewalks. Fortunately, Nintendo NY has yet to be looted or further vandalised. Additional details regarding the incident are currently unavailable at this time.
Extreme unrest has been occurring across the streets of America for nearly a week now, perpetuated by the murders of Black Louisville resident and EMT Breonna Taylor in her own home, and unarmed Black Minneapolis resident George Floyd on a public street in broad daylight.
Since then, fuel has unfortunately only been added to the fire, with the most recent incident involving the murder of Black Louisville business owner and peaceful protester David McAtee – who had been known to feed local police at his barbecue restaurant for free.
The majority of protesters have made a significant effort to remain peaceful and observe local laws – even working to fight against the rioting and looting happening in cities across the country, and keep the focus on their true cause. However, many others have unfortunately taken advantage of the unrest, spending recent days looting and vandalising businesses in these areas – which now includes Nintendo NY.
Although Nintendo has not yet made any public statements regarding these situations, individuals at the company – as well as others in the industry – have made statements online in recent days:
Former Nintendo of America president Reggie Fils Aime has also commented on the situation, stating that he supports freedom of the press and the right to protest, but does not condone the destruction that has come out of the riots.
Our thoughts are with all those affected during this difficult time.