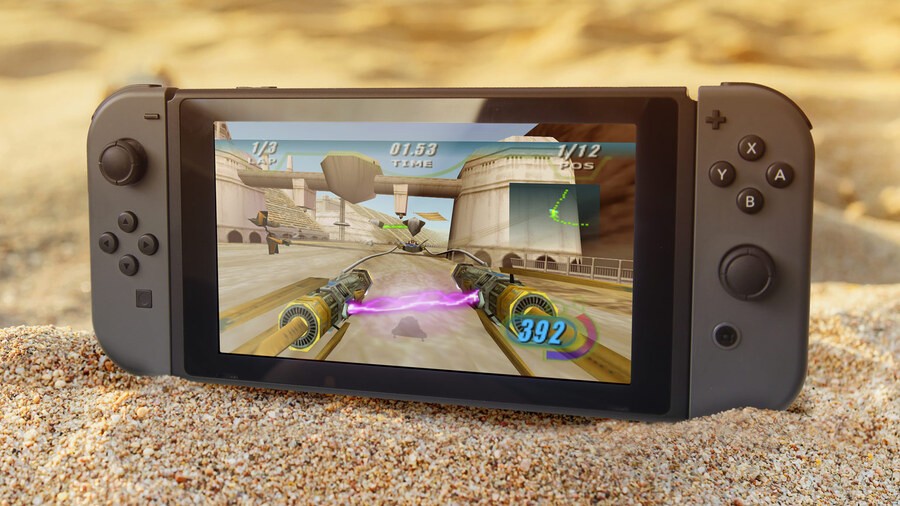 If you're old enough to recall the crushing disappointment that was Star Wars Episode I: The Phantom Menace then you'll no doubt recall the highlight of that particular film – the excellent podracing sequence.
That section was turned into not one but two different video games. Sega produced an amazing arcade version, while LucasArts itself created a different version – Star Wars Episode I: Racer – that released on the N64, Dreamcast and PC.
During the Nintendo Direct Mini, it was revealed the console version would be making a comeback on Nintendo Switch. The same version of the game was recently released on Steam and GOG, but the official Star Wars blog also mentions the Switch release will include split-screen multiplayer and LAN multiplayer. Here are the other features you can look forward to and some screenshots:
25 playable racers including: Anakin Skywalker, Sebulba, and Ratts Tyerell
Race tracks spanning 8 unique worlds including: Tatooine, Baroonda, and Malastare
Work with pit droids to upgrade your podracer for higher top speeds and acceleration
Discover short-cuts and secrets to master your lap times
Are you looking forward to replaying this classic Star Wars title? Leave a comment down below.
[source starwars.com]