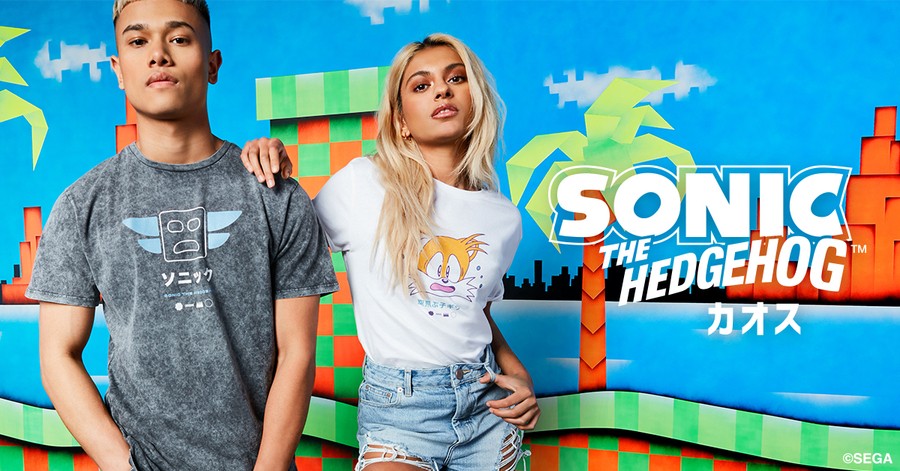 With the upcoming release of the live-action Sonic the Hedgehog movie this Friday (Valentine's Day, no less), retailer Zavvi is getting in on the action with a well-timed promo featuring some quality licensed clothing. Yes, this clothing collection doesn't mess around with dodgy redesigns - Mobius' favourite son is on-model and looking rather fetching in a range of designs dubbed 'The Chaos Collection'.
Paramount's movie production has had more ups and downs than Green Hill Zone has slopes, with Sonic's classic design initially jettisoned in favour of something that looked more like a dog/real hedgehog hybrid. Fortunately, that 'look' was taken back to the drawing board and the result was universally deemed to be far more agreeable and generally Sonic-like.
Fortunately, these designs feature Sonic in all his retro glory with classic art from the original Genesis / Mega Drive game, apparently "taking colour and theme inspiration predominantly from the Night Hill zone mod" according to the official PR blurb. Wearing one of these garments to the cinema (we know you've already got your tickets!) will certainly let your fellow cinema-goers know you're an old-school fan.
You can also enjoy a chunky 20% discount by inputting the voucher code 20SONIC, too. Check out the designs available below:
Don't worry - you won't look as glum as this pair if you don any of the above. Why do models always pull a face like they've just had a trouser accident but they're trying to play it cool? Let us know if any of the designs above take your fancy below.