Several new details have been revealed for Pokémon Sword and Shield today, all of which showcase new features that will have a rather significant impact on the way players train.
You can see a brief summary of the features in the video above, but we also have the full rundown for you below, directly from The Pokémon Company. The list includes new items - such as the Mint - which can help a Pokémon's stats to grow quickly, and changes in the way that Egg moves work.
New Items and Features for Training Pokémon
New items that will help Trainers raise their Pokémon will be introduced in Pokémon Sword and Pokémon Shield.

Each Pokémon has a Nature that can impact which of its stats are likely to grow faster or slower than average. Using a Mint on a Pokémon seems to change these stat-growth patterns and will impact which stats of a Pokémon are likely to grow faster than usual. Mints will not change a Pokémon's Nature.

Special supplements
Nutritious drinks like Protein and Iron raise a Pokémon's base points, which in turn help raise that Pokémon's stats. If two Pokémon are of the same species but one has more base points, the Pokémon with more base points will grow stronger. Until now, there has been a limit on how many special supplements could be used on a Pokémon. In Pokémon Sword and Pokémon Shield, Trainers will be able to max out a Pokémon's base points using only these supplements.
Normally, Pokémon earn Exp. Points through battling. If a Trainer uses an Exp. Candy, they will be able to give their Pokémon Exp. Points directly. Exp. Candy can be earned in Max Raid Battles.

Changes to Egg Moves
Sometimes, a Pokémon hatched from an Egg will know unusual moves called Egg Moves. Egg Moves are moves that a Pokémon normally wouldn't be able to learn through more common means, like leveling up or using TMs. In Pokémon Sword and Pokémon Shield, if two Pokémon of the same species are placed at a Pokémon Nursery together, an Egg Move that one them knows can be passed on to the other Pokémon. A Pokémon can only learn an Egg Move in this way when it knows three or fewer moves.
The announcement also includes a couple of welcome tweaks to the norm:
Pokémon Boxes
Pokémon that aren't on a Trainer's team can be deposited into Pokémon Boxes. In these games, Trainers will not only be able to access their Pokémon Boxes in various towns and facilities but also while they're on the road or even when exploring tall grass. Pokémon can be swapped in and out of a Trainer's team whenever the Trainer wants, though there are a few places, such as mission areas where a Trainer takes on a Pokémon Gym, where Trainers won't be able to access their Pokémon Boxes.

Nicknames
If a Pokémon that has been received in a trade doesn't have a nickname, Trainers will now have the chance to give it a nickname—but only once. This can be achieved by speaking to the man standing behind the left-hand counter in any Galar region Pokémon Center. Like previous Pokémon video games, the name of a traded Pokémon that already has a nickname cannot be changed.
That's not all, either, as it has also been revealed that from launch day - Friday, 15th November - until early January 2020, players will be more likely to encounter Gigantamax Butterfree in Max Raid Battles. Presumably, this signifies that other Gigantamax Pokémon may also receive similar 'boosted' periods where you'll be more likely to encounter them.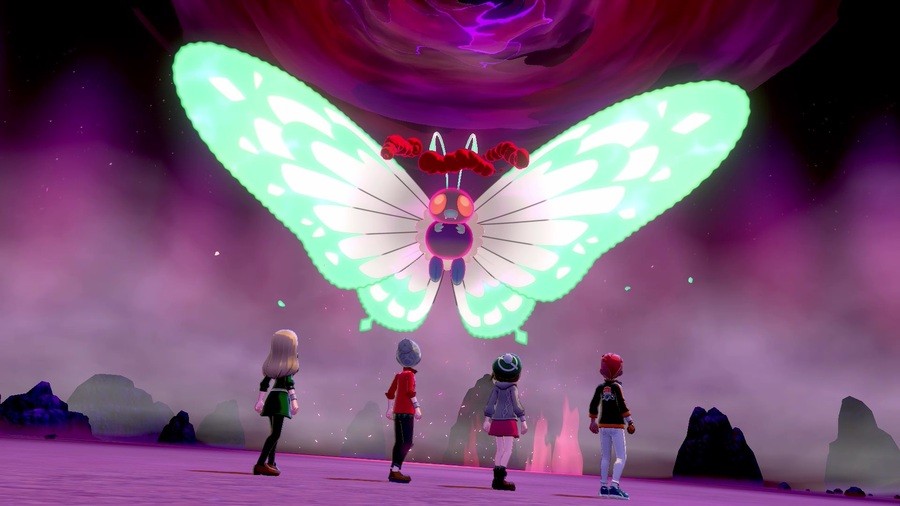 Earlier today, it was also revealed that Pokémon Sword and Shield will host their first online battle competition this December.
Phew! Next Friday can't come soon enough!