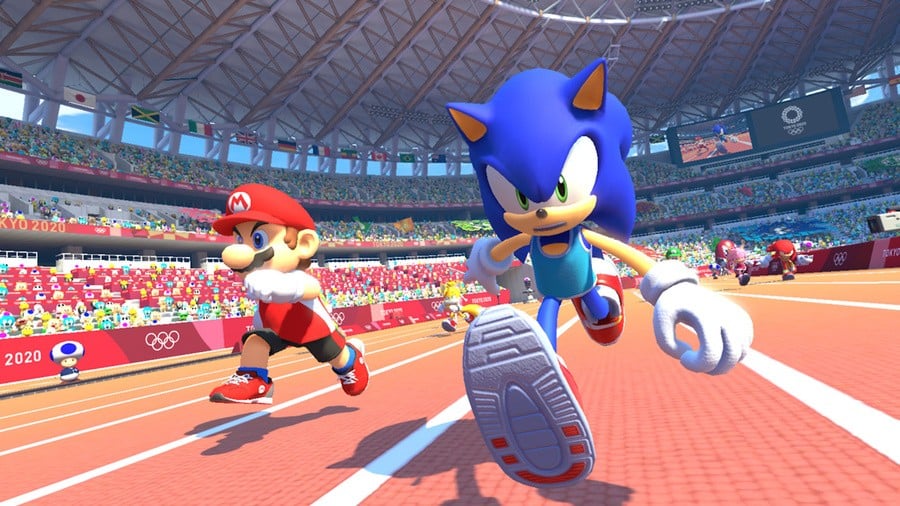 Last month, it was discovered the Japanese developer AlphaDream filed for bankruptcy after the development costs of its projects got the better of it. The company was best known for its Mario & Luigi RPG series and had most recently released Mario & Luigi: Bowser's Inside Story + Bowser Jr.'s Journey on the Nintendo 3DS at the beginning of 2019.
What wasn't known, though, was the developer had actually helped out on an upcoming Nintendo Switch exclusive before making headlines. As stated in the title above, this game was Mario & Sonic at the Olympic Games Tokyo 2020. This information is featured in the game's credits and is on display here, courtesy of the YouTube channel Zephiel810.
AlphaDream was reportedly one of four developers Sega had contracted out to help provide support on its latest Mario and Sonic themed Olympics title. The other three teams contributing were Racjin, Yuke's and Success Corp. Yuke's also helped with Sega's Tokyo 2020 game and Racjin worked on the Mario & Sonic series in the past.
The October report from Yahoo! Japan revealed AlphaDream was 465 million yen in debt (roughly £3.5 million / $4.3 million USD) as of March 2018. At this point in time, its unclear what will happen to the Mario & Luigi series going forward. Sales for the latest Mario & Luigi re-release on 3DS were so poor, Nintendo allegedly decided to cancel its future plans for the system.
[source gonintendo.com, via goldmetalsonic.wordpress.com]