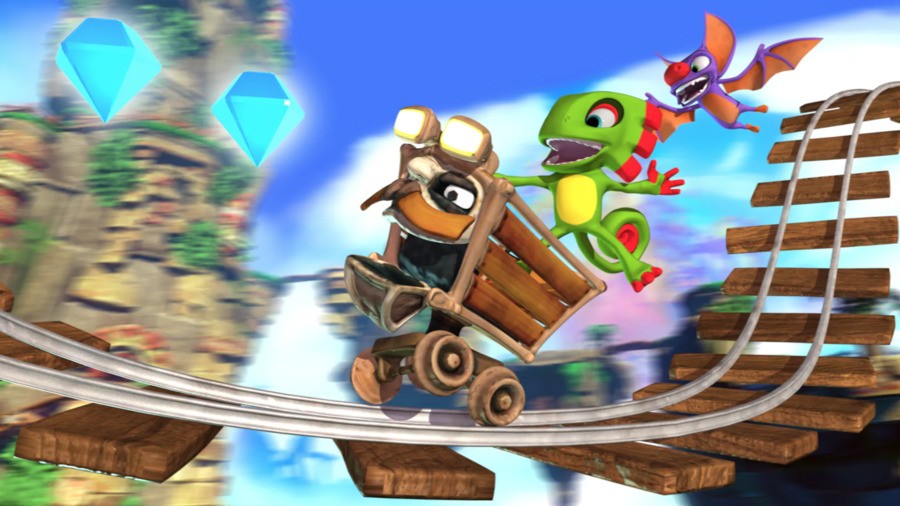 Yooka-Laylee and the Impossible Lair is out right now on Switch, with the folks over at Playtonic Games doing a cracking job of tickling our nostalgia bone. The game reminds us of Donkey Kong Country, Banjo-Kazooie and even Mario + Rabbids Kingdom Battle all mushed into one, and it's lovely.
But what's next for the studio? Well, when we last sat down with the team, they spoke of their lofty ambitions and how everything they create from now on will be "unshackled", and if that wasn't exciting enough, they've just gone ahead and name-dropped two of the most popular Nintendo franchises as potential avenues for inspiration going forward.
Speaking to Spanish media outlet 3DJuegos, Playtonic's Mark Stevenson and Steve Mayles said that they "could work on any kind of game", such as a racer like Mario Kart or a shooter like Splatoon. Here's the full quote (thanks, Lant_War):
"I think we'll keep working on Yooka Laylee in the future. Really, we could work on any kind of game, a racing game like Mario Kart or a shooter like Splatoon. We've never intended Yooka and Laylee to be the protagonists of all of our games. On the future, we could make a spin-off with one of the many characters from Yooka Laylee, like Dr. Quack or Dr. Puzz. Being independent lets us follow whatever way we want and the one we think is right."
Kart racers are everywhere at the moment but we'd still be up for seeing what Playtonic could conjure up, and another vibrant multiplayer shooter wouldn't go amiss, either.
What would you like to see next from the minds behind Yooka-Laylee? Share your thoughts below - you never know, the team might be reading.
[source 3djuegos.com, via gonintendo.com]