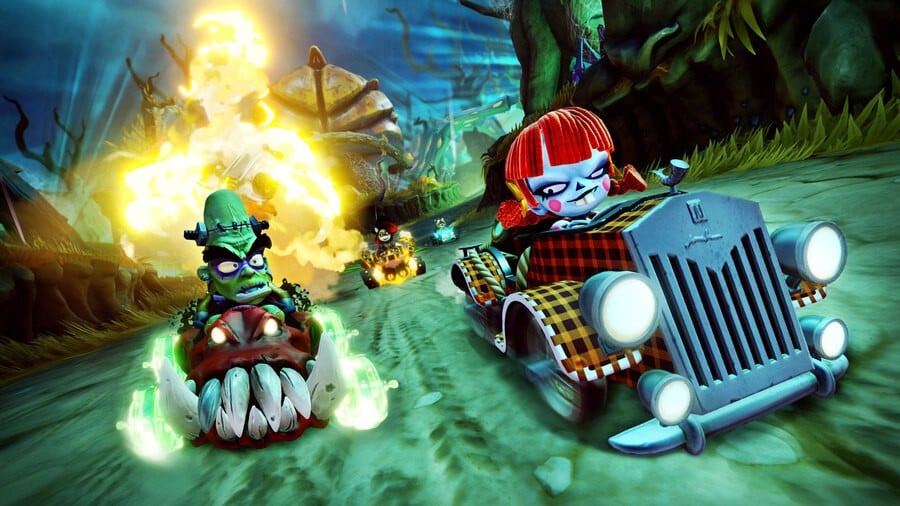 Following on from yesterday's teaser, Activision and Beenox have now announced the Spooky Grand Prix in Crash Team Racing Nitro-Fueled will start this Friday, on 4th October. This bone-chilling update comes with a new track, new characters, new items, and a new challenge type.
The new challenge Ghost Hunt has you capturing ghosts by releasing them from crates and then trying to catch up to them. New characters include Nina Cortex, Dr. N. Brio and Komodo Moe. Nina is a Nitro Gauge unlock, while the other two can be found in the Pit Stop.
There's a trio of new karts as well – the Skull Rider, the Phantom, and Nautilus. The first one can be unlocked in the Pit Stop and the other two are earned via the Nitro Gauge. Last of all is the new track –Nina's Nightmare – where you race through a haunted manor.
The Pit Stop will be restocked with appropriately-themed items for the spooky season. And for anyone who missed any select characters and items from the first Grand Prix Nitro Tour, the good news is they're returning to the Pit Stop for this Grand Prix season.
Leaderboards also make a return and players who finish in the top 5% of either the Nitro or Championship will receive a Championship Kart and brand-new signature decal.
Apart from all of the Grand Prix content, Beenox has added some updates that will remain in place indefinitely. Racers can now swap driving styles (including Drift), and existing driving styles have been renamed to make them easier to understand.
Beginner is now Turn
Intermediate A is now Balanced
Intermediate B is now Acceleration
Advanced is now Speed
Other changes include 2 x Wumpa Weekend bonuses now carrying over to all game modes (including Adventure and Local Arcade), and Warp Orbs and N. Trophy clocks can no longer be used by AI drivers in online matchmaking races.
A new Cup Race has also been introduced – The Lost Cup.
This race includes Oxide Station (from CTR), Clockwork Wumpa (from CNK), Twilight Tour (from the Nitro Tour Grand Prix), and Prehistoric Playground (from the Back N. Time Grand Prix).
Will you be participating in this upcoming CTR event? Start your engines down below.
[source blog.activision.com]