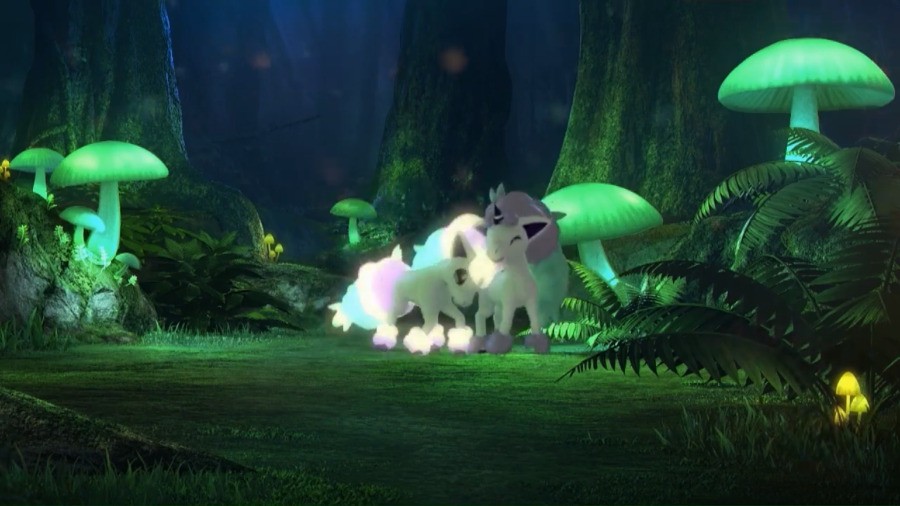 Update - Sat 5th Oct, 2019 14:15 BST: In the final hour we got another glimpse of Pikachu and this was followed by two of the supposed Galarian Ponyta appearing on the screen. The one on the left lit up (see the image above) and the one on the right apparently doesn't have a tail. The stream eventually cut out, and then all that could be heard was galloping and a Pokémon cry, which is believed to have been the sound of a Rapidash (thanks again, Serebii.net). It then ended!

The official Sword and Shield website also posted a special message from the Sonia - the Pokémon researcher you'll meet in the new entries:
---
Original Story - Sat 5th Oct, 2019 12:50 BST: We're now officially down to the final hour of 24-hour Pokémon Sword and Shield stream, showcasing live footage from the Glimwood Tangle forest in the Galar region.
So far we've seen Pikachu, Morelull, Swirlix, Phantump, Impidimp, Cottonee, Shinnotic, and we've also caught a glimpse of a rainbow colour horse-like creature that is reportedly a Galarian form of Ponyta (thanks, Serebii.net). Oh, and there's been a mysterious dog-like shadow appear from time to time.
The question is – what do you think we'll see in the final hour? Will we get a look at one of the legendaries in the Galar region? Could it perhaps end with a new trailer? Will The Pokémon Company announce a demo is now available to download?
To be honest, we've likely gone mad at this stage staring at the same screen for hours on end, so it's probably best to just wait and see what happens. For all we know, the stream might just switch off and that's that. Fingers crossed, though, that it ends with something special!
If you want to tune in yourself and see what happens in the final hour, head over to our live blog page right now.
What are your thoughts about the live stream so far? Leave a comment below.
[source youtu.be]