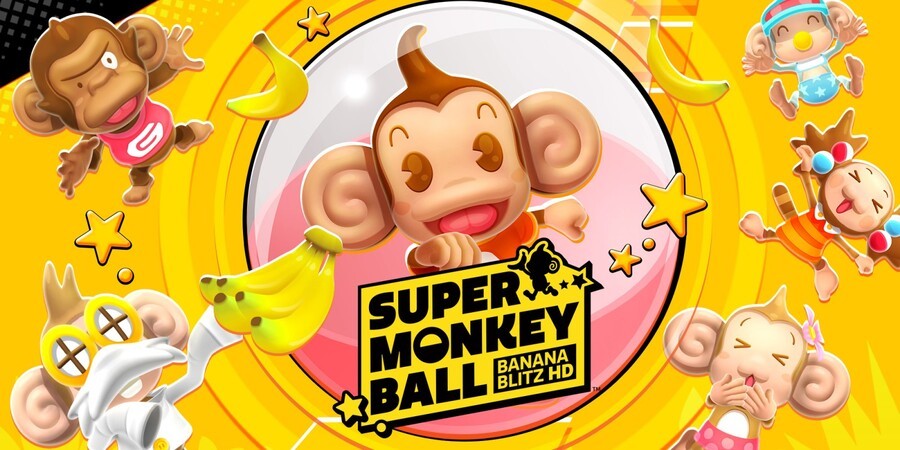 The latest Nintendo Download update for North America has arrived, and it's bringing new games galore to the eShop in your region. As always, be sure to drop a vote in our poll and comment down below with your potential picks for the week. Enjoy!
Nintendo Switch
Disgaea 4 Complete+ (NIS America, Tue 29th October, $49.99) When the ruling powers of Hades are revealed to be corrupt, Valvatorez must spark a rebellion to bring them down! Armed to the teeth with dynamic, over-the-top gameplay and a horde of special features, this is the ultimate Disgaea!
Super Monkey Ball: Banana Blitz HD (SEGA, Tue 29th October, $39.99) Hold onto your bananas, because Super Monkey Ball: Banana Blitz HD is rolling your way! Experience the magic of one of the most beloved titles in the series, now remastered in HD! Head back into the fantastical world of Super Monkey Ball and take back your bananas from the space alien pirate king, Captain Crabuchin. Race through over 100 colorful stages and challenge your friends and family to 10 fan-favorite Party Games! Feeling like the fastest, most maneuverable monkey around? Try out Time Attack mode or the grueling Decathlon endurance run! Will you make it onto the scoreboard?
Atelier Ryza: Ever Darkness & the Secret Hideout (Koei Tecmo, Tue 29th October, $59.99) The concept of this title, the latest in the series to depict a new "Atelier" world, is "True-to-life youths that develop together, even if just a little bit". It is the story of a girl and her friends who are about to become adults, discovering what is most important to them. To depict the story of the main characters discovering things they've never seen before, we've created fields with natural shadows that allow you to feel the breath of the world.
Close to the Sun (Wired Productions, Tue 29th October, 2019, $29.99) It's 1897. Deep in international waters, the Helios stands still. Dark clouds loom overhead as unforgiving waves crash against the hull. Colossal effigies of gold, decorated with magnificent finery, stretch as far as the eye can see. Born of Nikola Tesla's vision, the Helios serves as a haven for the greatest scientific minds. An unbound utopia for research, independent from state and isolated from the gaze of society.
Disney Classic Games: Aladdin And The Lion King (Disney Interactive, Tue 29th October, $29.99) Two of the most beloved Disney games of all time make their long-awaited return to modern consoles in Disney Classic Games: Aladdin and The Lion King! This unforgettable package of Disney classics is filled with tons of new features, enhancements, game modes, and display options, plus multiple versions of the games!
Harvest Moon: Mad Dash (Natsume, Tue 29th October, $29.99) Go solo or take along a few friends in this fast-paced farming frenzy! Harvest, fish, milk, and more as you fulfill orders to complete each level, but watch out for molten lava, raging boars, and other obstacles! Can you and your friends try to clear all the levels to restore the broken lighthouse?
Vampyr (Focus Home Interactive, Tue 29th October, $49.99) London, 1918. You are newly-turned Vampyr Dr. Jonathan Reid. As a doctor, you must find a cure to save the city's flu-ravaged citizens. As a Vampyr, you are cursed to feed on those you vowed to heal. Will you embrace the monster within?
Switch eShop
Resident Evil 5 (Capcom, Tue 29th October, $29.99) Featuring Chris Redfield and his partner Sheva Alomar, as they venture to the heart of Africa to investigate an outbreak. Featuring single-player and co-op modes, this fully-loaded release includes all previously released DLC (Lost in Nightmares and Desperate Escape story expansions, Versus mode, extra figures and 4 costumes), No Mercy mode, as well as the new mode "The Mercenaries United" which combines the two fan-favorite modes, The Mercenaries and The Mercenaries Reunion for an even more intense experience.
Resident Evil 6 (Capcom, Tue 29th October, $29.99) Blending action and survival horror, Resident Evil 6 is a dramatic horror experience that cannot be forgotten. The game spans across various areas of the globe starring multiple playable characters, including fan favourites and new faces. Jump into the fray either solo or up to 4-player co-op in 4 dramatic chapters of the campaign or head into one of multiple extra modes such as Survivor that pits up to 6-players against one another in a heated battle.
〇× Logic Puzzle 1000 ! (Success, Today, $14.00) Simple but addictive! The Stick-out of brain training puzzle playing only with 〇 and ×! Simple logical puzzle with easy rules, filling 〇 and× in the cells ! There are 1000 quiz in 4 difficulties levels, try gradually the more difficult one, then fully enjoy the depth of LOGIC PUZZLE !
Anthill (Thunderful, Today, $9.99) Join the ranks of Anthill, a gorgeous strategy game from Image & Form - the studio behind the SteamWorld series! By drawing pheromone trails, you direct your ground forces to different destinations, working with streams of units rather than individual ants. Much like a tower defense game, your mission is to protect the hill as wave upon wave of enemy bugs are thrown at you.
Cat Quest II (PQube, Today, $14.99) CAT QUEST II is a 2D open-world action-RPG set in a fantasy realm of cats and dogs. Under threat from a continuing war between the cats of Felingard and the advancing dogs of the Lupus Empire, CAT QUEST II tells the tail of two kings, brought together against their will, on a journey of paw-some discovery to reclaim their thrones. Read our Cat Quest II review.
Creepy Brawlers (Mega Cat Studios, Today, $4.99) After a spectral hand pulls you out of your seat and into the silver screen, you become the underdog in an underworld championship. Lace up your gloves and get ready to duck, bob, and weave as you go toe to toe with a marathon of monsters. Better train like hell...
Dark Devotion (The Arcade Crew, Today, $19.99) Explore the secrets of a mysterious fallen temple and put your Templar faith to the test in Dark Devotion, where no sacrifice is too great in praise of your God. Measure your devotion and your bravery by journeying into deepest darkness for answers to questions that will challenge your very existence.
Dark Veer (Forever Entertainment, Today, $4.49) From the creator of Bedtime Blues and The Childs Sight "Time for bed sweetheart, it's very late. But I won't be able to sleep if you are away! I will be home before you wake up, it's only for one week..." You try to sleep, but strange things keep happening.
Deep Space Rush (Ratalaika Games, Fri 25th October, $4.99) Join the DeTeam! A top-secret security force that protects the scientific space stations from virus contaminations! Take on randomly generated levels to save everyone before they all get infected. Avoid traps and monsters to survive the sweep!
Door Kickers: Action Squad (Killhouse Games, Mon 28th October, $14.99) Door Kickers: Action Squad is a crazy old school side scroller action game that puts you in the role of a SWAT trooper and sends you to deal with the bad guys in Nowhere City USA. Choose your gear, then kick the doors down and face the action.
Dusk Diver (PQube, Tue 29th October, $39.99) When an unstable dimensional rift brings together Gods, Phantoms and Humans - headstrong highschool girl Yang Yumo must step up to protect the neighbourhood. Fight alongside your guardians as part of a dynamic action-oriented combat system and expand your abilities by immersing yourself in the bustling streets, stores, personalities and even cuisines of Taipei.
Earthfall: Alien Horde (Nimble, Tue 29th October, $19.99) Earthfall is a 4-player co-op shooter where you team up with friends or play alone to save the world from invading aliens. Search for over 20 different kinds of weapons, or use 3D printers to print your own! Automatic turrets, deployable barricades, or mounted guns let you set up defenses to channel the enemy into kill zones.
Fear of Traffic (BitService, Today, $5.50) Designed to find its sweet spot among families and infants, you will have great moments with Fear of Traffic. With its colorful world and a magical soundtrack, you will play in this game where your mission will be that of finding the way out, avoiding blocked roads, animals, odd objects on the way and dramatic accidents with other drivers.
Ghost Blade HD (eastasiasoft, Today, $14.99) Ghost Blade HD is an intense Bullet-Hell top down shoot 'em up, composed by frenetic and addictive score-based gameplay. With its inspiration going back to the shooting games of the 1990s era, Ghost Blade HD ties old memories to current tones and techniques.
HAUNTED: Halloween '86 (Today, $9.99) The mind-melting sequel to our first game. The side-scrolling, platforming, beat-em-up adventure takes players back to the town of Possum Hollow on Halloween night when Harry & his haunts wreak havoc again. This time Donny has his tag team partner Tami to help kick the crap out of those mindless wastoids that stand in their way of saving the town.
Home Sheep Home: Farmageddon Party Edition (Aardman Animations, Fri 18th October, $9.99) Join Shaun the Sheep and his friends Timmy and Shirley on this epic adventure journeying through underground caverns, negotiating the busy streets of London and teleporting through outer space all in search of the green, green grass of home.
Horror Pinball Bundle (SuperPowerUpGames, Fri 25th October, $8.99) Enjoy 3 games in one with the perfect reproduction of real pinball machines, with all kinds of graphic details and sounds. Discover all the secrets, in these thrilling games, witches, werewolves and mummies awaits you.
Into the Dead 2 (Versus Evil, Fri 25th October, $34.99) Journey through the zombie apocalypse in a race to save your family. Arm yourself with an arsenal of powerful weapons and do whatever it takes to survive. Maim, mow down, and massacre the Dead – anything to keep moving! In a world where no one is safe, how far will you go to make it out alive? Read our Into the Dead 2 review.
Lethis - Path of Progress (Plug In Digital, Today, $19.99) The Game: Lethis – Path of Progress is an old school 2D city builder set in a Victorian Steampunk universe called Lethis. You will have to build and manage cities, provide resources for your inhabitants while making sure there are enough workers to sustain your production lines.
Let's Sing Country (Fri 25th October, $44.99) All begins with the first tone! Create your own spotlight with the hottest tracks in country music courtesy of Let's Sing Country and follow in the footsteps of cutting-edge artists and perform songs like: Bebe Rexha ft. Florida Georgia Line with "Meant to Be", Rascal Flatts with "These Days", Chris Janson with "Buy Me A Boat", Joe Nichols with "Sunny and 75" and more!
Party Treats (QubicGames, Fri 25th October, $1.99) Party Treats is a funny and innovative local multiplayer game that can be played by up to 4 players.
Pixel Gladiator (Drageus Games, Fri 25th October, $6.99) You've been sent to an abandoned planet as one of the participants of the most popular Gladiator show. Your goal is to survive as long as possible, fighting back deadly creatures in the focus of billions of viewers.
Pizza Bar Tycoon (Baltoro Games, Fri 25th October, $4.99) Look out, this pizzeria will soon become the best one in town! Well… at least that's your plan. The clients are already standing in line, and you have to serve them as soon as you can. It's harder than it sounds though!
Soul Searching (QubicGames, Fri 25th October, $9.99) Soul Searching is a narrative survival game where you control a lone traveler who sails from homeland to an endless sea. On the way, you'll visit different islands, discover stories of their people, and learn about souls and dragons.
Spaceland (Ellada Games, Wed 30th October, $14.99) It is probably the most dynamic turn-based strategy in the spirit of the old school. Fewer shelters, more work to do. Land on a lost planet and show the mutants what you are made of. Shoot, kick, blow up and destroy. You will put together the most reckless team of fighters and unravel the mysteries of the mystical planet following the best traditions of science fiction.
Tennis Go (Sabec, Today, $8.99) A fun and simple to play Tennis game for everyone! Now you can play Tennis anytime, anywhere with Tennis Go. simply use the stick to control your character around the court to hit the ball and with a blend of speed and control win the crucial point and become the grand slam champion Chose between many fun characters to play with to defeat your opponent with. Tennis GO is for all ages and has been made so anyone can easily play.
Ultra Off-Road 2019: Alaska (Ultimate Games, Fri 25th October, $18.99) Ultra Off-Road 2019: Alaska is an exciting game in which you'll have the opportunity to drive around Alaska. Take on the role of a driver who tests his driving skills to the maximum. Advanced destruction system, dynamic time flow and great routes - everything is ahead of you!
Vortex Attack EX (KaleidoGames, Today, $9.99) Galaxy is in danger with hostile ships swarming from the opening vortex. Blast the swarming hordes with huge variety of upgradeable ships. This frenetic arcade space shooter featuring worldwide leader-boards and intense local multiplayer mode will keep you playing until all ships are unlocked and galaxies saved.
Winter Sports Games (Joindots, Today, $24.99) Off to the snow! It does not matter if you prefer to ski, bobsleigh or sled down the ice rink, or relax curling the stones over the ice when curling - there is certainly something for everyone here. There are six exciting disciplines to win tournaments and master challenges.
Xeno Crisis (Bitmap Bureau, Mon 28th October, $19.99) Xeno Crisis is an arena shooter in which one or two players take control of battle-hardened marines embarking on a deadly mission to confront an alien menace and get home alive! Run and gun your way through thousands of adversaries as you explore the devastated research outpost, searching for survivors, and ultimately facing the origin of the outpost's demise.
Activities
Enter the My Nintendo Luigi's Mansion 3 Sweepstakes! – This year, the spookiest holiday of the year is extra spooky because the Luigi's Mansion 3 game arrives on Oct. 31. Want to help us celebrate the game's launch? You can enter the My Nintendo Luigi's Mansion 3 Sweepstakes, exclusively for My Nintendo members. Redeem your My Nintendo Platinum Points for a chance to win spooky-fun prizes. The statues are incredibly detailed – seriously, check out the design of the ghost-sucking Poltergust G-00. It even matches the design seen in the game's trailers.
Nintendo eShop Sales

Check out the full list of deals available this week here.
So that's your lot for this week's North American Nintendo Download. Go on, be a sport and drop a vote in the poll above, and comment below with your hot picks!