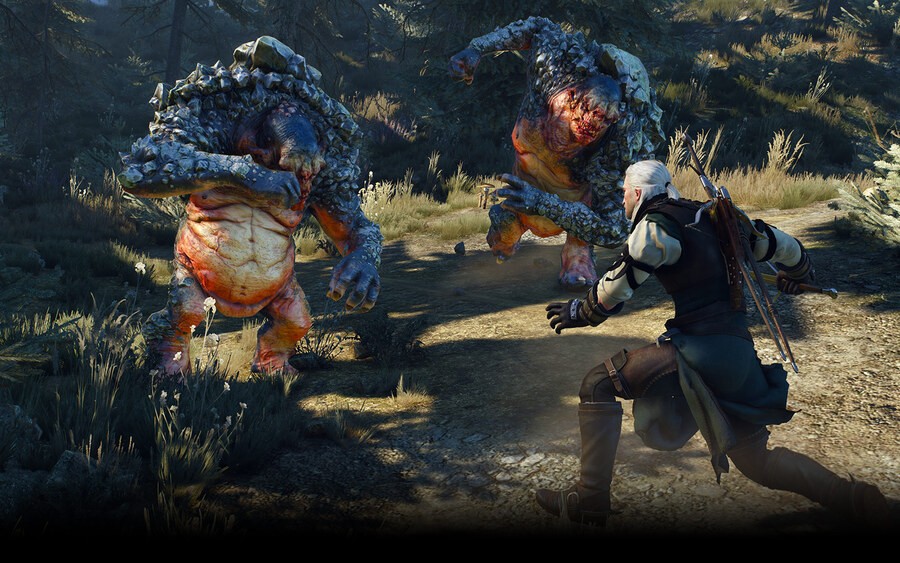 Update: In addition to re-enabling post-processing options from the PC version of the game, modders have managed to get the game running at speeds approaching 60fps on overclocked Switch hardware, albeit inconsistently and with a reduced resolution, as seen below in a video by Modern Vintage Gamer. Although you shouldn't expect this to suddenly crop up as an option via an official update (after all, this is only possible on hacked and compromised Switch consoles), it's very interesting to see how well Witcher 3 scales with only a modest boost to the base hardware. If a 'Switch Pro' is something Nintendo has planned, this is yet more evidence of the tantalising benefits a minor upgrade could offer.
---
Original Story (17th Oct 2019, 15:15):
The Witcher 3: Wild Hunt has landed on Switch and despite some expected cutbacks in comparison to previous versions on other platforms, Saber Interactive has delivered an excellent portable version of CD Projekt Red's seminal RPG. As you'll know if you've seen our review, the visuals have taken a hit and you won't be getting 60fps from the Nintendo Switch version, but it includes all the content from other platforms and performs admirably given the inherent limitations of Switch's mobile chipset.
Still, if you've played the game elsewhere, the blurry presentation of the Switch version might be hard to stomach. It seems that modders have taken matters into their own hands and gone into the Switch version and enabled some visual options Saber Interactive removed from the game that's currently available.
It should be noted that this mod is only accessible on hacked Switch consoles and is obviously totally unofficial, but the results as seen in a video posted by Pixelacos show the stark difference that switching off anti-aliasing and activating 'Sharpening' can make. Check out the video below:
As you can see, visuals arguably look much clearer with anti-aliasing disabled, and cranking up the sharpness filter has a dramatic effect on the 'Switcher'. Obviously, personal preference will dictate if you think it's a huge improvement or not. Saber Interactive has presumably fine-tuned its port in order to deliver the most consistent experience possible, so while it might be possible to crank settings up to High in a certain location without tanking the frame rate, doing the same in a populated area could cause problems.
Still, there are players who might prefer to take a hit on frame rate for a nicer-looking game experience, or perhaps adjust their settings manually as they move across The Continent. It appears that this mod simply enables settings hidden in the retail code, so as suggested by WCCF Tech, it's not beyond the realm of possibility that Saber Interactive could patch in some limited Performance / Visual options for those who want them in the future. Regardless, it's fascinating to get a look at some of the behind-the-scenes choices made when porting the game to Switch.
How are you finding Witcher 3 on Switch? Would you welcome a few more graphical options in an official update or are you happy with the game as is? Let us know with a little comment in the usual place and be sure to check out our guides if you're starting out with The Witcher 3 on Switch, too.
[source youtube.com, via wccftech.com]