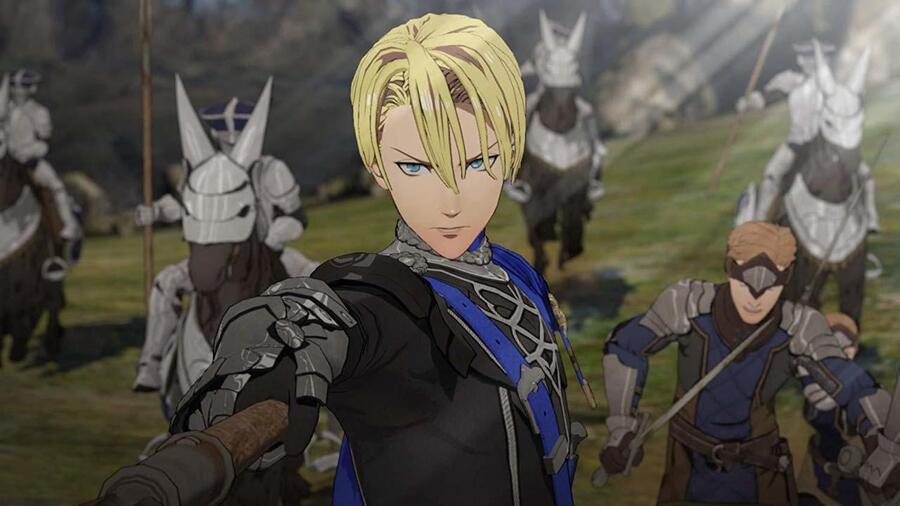 The latest Nintendo Download update for North America has arrived, and it's bringing new games galore to the eShop in your region. As always, be sure to drop a vote in our poll and comment down below with your potential picks for the week. Enjoy!
Nintendo Switch
Fire Emblem: Three Houses (Nintendo, Fri 26th July, $59.99) The Black Eagles. The Blue Lions. The Golden Deer. Three noble houses that are part of the Officer's Academy, an elite facility that trains students in the ways of weapons, magic and special skills. As a professor, the player must choose one of these houses to lead its students in grid-based battles with life-or-death stakes. Read our Fire Emblem: Three Houses review.
Wolfenstein: Youngblood (Bethesda Game Studios, Fri 26th July) Wolfenstein: Youngblood is a brand-new co-op adventure from award-winning studio MachineGames, developers of the critically-acclaimed Wolfenstein II: The New Colossus, in partnership with Arkane Studios Lyon. Play as one of BJ Blazkowicz's twin daughters and undertake a do-or-die mission to find their missing father in 1980s Paris. Wield an arsenal of new weapons, gadgets, and power armor abilities in a fight to kick Nazis out of the city of lights.
Kill la Kill: IF (PQube, Fri 26th July, $59.99) All looks and feels of the original anime series remodelled with 3D Cell-look technology! Perform devastating combos, destroy your opponents, and relive the anime with your favourite scenes from the original series, revived with stunning visuals and cinematics! Discover a brand new story through the eyes of Satsuki as she becomes the protagonist for the very first time!
Mutant Year Zero: Road to Eden (Tue 30th July, $39.99) Includes the SEED OF EVIL expansion DLC which continues the story of Mutant Year Zero: Road to Eden by adding several hours of gameplay and a new mutant character: Big Khan the Moose. Explore new locations and embark on a mission to save the Ark from a mysterious invasion.
Switch eShop
Forager (Humble Bundle, Tue 30th July, $19.99) Forager is a 2D open world game inspired by your favorite exploration, farming and crafting games.
Fantasy Strike (Sirlin Games, Today, $29.99) Fantasy Strike is a colorful fighting game where fantasy meets martial arts. It focuses on depth and strategy rather than difficult execution. It's designed for tournament play, but also to welcome you to the genre if you haven't played other fighting games before. Online play uses the excellent GGPO networking technology. Includes several single player modes. Read our Fantasy Strike review.
Arcade Archives The Ninja Warriors (HAMSTER, Thu 18th July, $7.99) THE NINJA WARRIORS is a side-scrolling action game released by TAITO in 1987. Control the cyborg-ninjas, NINJA and KUNOICHI, as you take down the Demon King, Banglar. Defeat the onslaught of enemies with kunai and shuriken as your weapons.
Caged Garden Cock Robin (SEEC, Today, $12.99) A girl who was apprenticed to an old castle rumored as a nest of monsters. She witnessed "something heteromorphic" which roamed around there. Although people in the castle call it "komadori", nobody tries to talk details.
Caladrius Blaze (H2 Interactive, Thu 18th July, $24.99) Caladrius Blaze is a vertical scrolling shooting game developed by Moss. Caladrius Blaze includes all the elements of Caladrius and Caladrius AC. It also includes extra content such as new stages, new story scenarios, new bosses and characters designed by Yasuda.
Collide-a-Ball 2 (Starsign, Today, $4.99) Roll the balls towards the goal. Use gimmicks and objects available in each stage to guide the balls to their goal! However, they have to reach the goal at the same time and crash into each other. Tinker with different possibilities until you find the best route!
Garage Mechanic Simulator (Ultimate Games, Fri 26th July, $6.99) Now you can own and operate your own auto repair service with Garage Mechanic Simulator. Garage Mechanic Simulator gives you the behind the scenes view of the daily dealings at local garages and dealership repair shops.
Growtopia (Ubisoft, Thu 18th July) Welcome to Growtopia®, the world's most creative free-to-play sandbox! Growtopia is a popular MMO game where everyone is a hero! Play together with wizards, doctors, star explorers, and superheroes! Discover thousands of unique items and build your own worlds! Join our vibrant community of players who are waiting for you to join and have fun!
Gunpowder on The Teeth: Arcade (Forever Entertainment, Today, $4.49) A platform game with simple intuitive controls, handy-dandy retro graphics and utterly egregious difficulty, ever increasing as you progress through the game. You command a group of soldiers, charged with diverse equipment to attack the superior numbers of enemies, with the assistance of armored vehicles and air forces.
Hoggy2 (Ratalaika Games, Fri 26th July, $4.99) The pink slime called Hoggy is back and a whole new wonderful adventure awaits. Except this time around, Hoggy isn't on his own, as Hogatha is keen to join him and the two must work together to rescue their slime-mold children from the evil Moon Men that kidnapped them!
Mighty Switch Force! Collection (WayForward, Today, $19.99) Switch up the fun with four games in one! As cybernetic peacekeeper Officer Patricia Wagon, you'll use your platforming skills, puzzle-solving abilities, and special level-altering Siren Helmet to protect the people of Planet Land and smash enemies into the screen!
Picross Lord Of The Nazarick (Jupiter, Today, $9.99) A collaboration between Picross and Overlord. Experience the series Overlord as you solve Picross puzzles together with characters from the series. After founding the Sorcerer Kingdom, Ainz Ooal Gown and his followers meet within the Great Tomb of Nazarick to look back on their exploits.
Raiden V: Director's Cut (Today, $29.99) Arcade hit Raiden first left its mark on the shooting genre 25 years ago. The easy to learn, hard to master series comes to the Nintendo Switch in its most modern and advanced form yet! Join the war for Earth's future-where the tide of battle holds constant surprises.
Remothered: Tormented Fathers (Fri 26th July, $29.99) Remothered: Tormented Fathers is the pure and realistic survival horror video game. A game by Darril Arts, directed by Chris Darril, developed by Stormind Games.
Seeders Puzzle Reboot (Bigosaur, Fri 26th July, $9.99) Seeders Puzzle Reboot is a 2D puzzle-platformer with funky physics, tight and responsive controls, and really challenging puzzles. The game engine allows you to experiment with the world and try different approaches until you find one that works.
Sheep in Hell (EnjoyUp Games, Fri 26th July, $2.99) You're a wolf and you've been bad. That's why you've been put in the deepness of a hell plagued with your most hated enemies: the sheep! But they're not normal sheep. No. . . They're possessed demonic sheep and won't hesitate to try to kill you!
Smoots Summer Games (JanduSoft, Today, $9.99) Get ready for Summer Games! ! Play athletics events from your sofa. Prepare yourself for the next season. Smoot Summer Games is a sports arcade game for 1-4 players where you can play 18 athletics events. Play with your favorite Smoot character in practice, Special Challenge and Championship game modes. Smoots Summer Games is the perfect game to play with your friends and family.
Songbird Symphony (PQube, Today, $16.99) A heart-warming journey of discovery, as orphaned chick 'Birb' sets off to find his true origins. Follow this cheerful little bouncing bird who revels in singing, and guide him through this magical journey of stunning pixel art and gorgeous animation that shapes itself to your musical interactions!
Super Mega Baseball 2: Ultimate Edition (Metalhead Software, Today, $29.99) Accessible mechanics. Deep skill curve. Visceral pacing. Light-hearted vibe. Serious simulation. The Ultimate Edition on the Nintendo Switch includes the complete set of Super Mega Baseball 2 content, fully featured online play, and runs at 60 fps in both docked and handheld modes.
Sweet Witches (Drageus Games, Sat 27th July, $9.99) Play as the adorable witches Praline and Vanille who can only rely on their magic ladders, unique abilities and power-ups to claim the sweets they deserve! Brave the danger of 50+ levels in 5+ unique worlds all by yourself or in cooperation with another player.
Tetsumo Party (Monster Couch, Fri 26th July, $4.99) Riddle me this: what sumo, walls and dancing have in common? The answer is: all of these elements formed Tetsumo Party! Tetsumo Party is a game where sumo warriors gather to join an unconventional contest, inspired by Japanese TV shows.
The Tower of Beatrice (Sometimes You, Wed 31st July, $5.99) Working on a contract for a mysterious client, you'll need to infiltrate the tower of the powerful sorcerer Beatrice, steal her Book of Recipes, and get out alive. Along the way you will enter a demon's dreams to discover his most intimate desires, accept a gift from a Granny-spider, start the Clock Tower, feed a snail, make a tea for a demon, piece together a skeleton, and finally fix your own fatal failing.
Titans Pinball (SuperPowerUpGames, Fri 26th July, $2.99) Get ready for Titans Pinball, a pinball machine where you have to beat mythologic creatures. The cyclops, Medusa, The minotaur, and many more are waiting for you inside the temple. Discover all the secrets, including the minotaur's maze, a place were only the bravest warriors dare to enter and discover it's secrets.
Trine 3: The Artifacts of Power (Frozenbyte, Mon 29th July, $19.99) Trine 3: The Artifacts of Power is a 3D platforming game of action, puzzles and adventure. The heroes try to return their extraordinary gifts to the Artifact called Trine, and so they meddle with powers beyond their understanding: Trine shatters, and a heartless ancient sorcerer escapes.
Umihara Kawase Fresh! (Nicalis, Thu 18th July, $39.99) When a young traveling chef named Kawase arrives in the frontier town of Kingness, she finds it to be a perfect real-life replica of a town that she used to dream of as a child. Intrigued, she takes a job as a delivery person and occasional chef for a local restaurant.
Woodle Tree 2: Deluxe (Chubby Pixel, Today, $12.99) This time a new menace is taking over the Wood Lands with a black substance that is absorbing life and energy from all living creatures! Will you be skilled enough to help Woodle in his quest to repel this enormous new evil force?
Zombie Driver: Immortal Edition (EXOR Studios, Today, $14.99) Insane mix of cars, speed, explosions, blood, and zombies! Fight through an epic narrative campaign or test yourself in the Slaughter and Blood Race modes. Engage huge bosses, save survivors, drive crazy vehicles such as a bulldozer, fire truck or even a tank and smash everything in your way.
Nintendo eShop Sales

Check out the full list of deals available this week here.
So that's your lot for this week's North American Nintendo Download. Go on, be a sport and drop a vote in the poll above, and comment below with your hot picks!