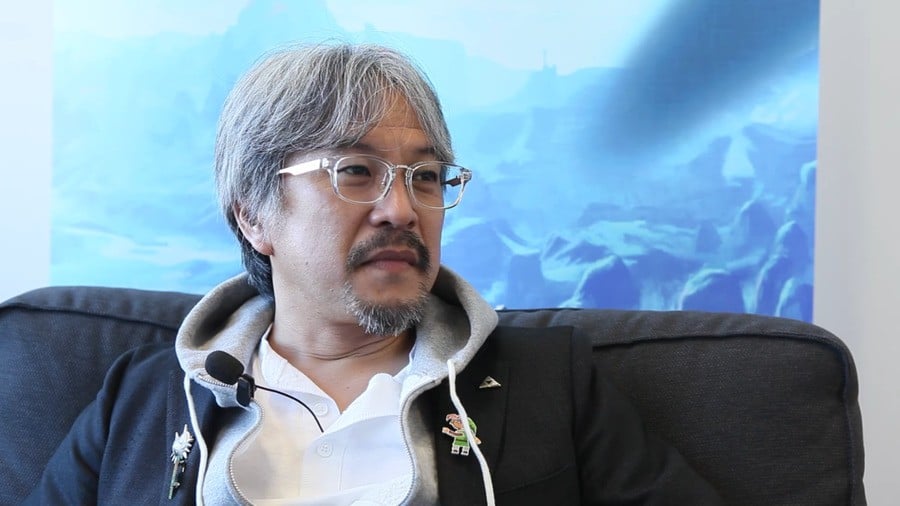 Eiji Aonuma, the man who's been in charge of the Zelda series for more than twenty years now, has spoken about the reasoning behind making a direct sequel to The Legend of Zelda: Breath of the Wild. Teased near the end of Nintendo's E3 2019 Direct presentation, we saw both Link and Zelda from that game descending beneath Hyrule Castle and finding a dark presence residing there.
Speaking to Game Informer, the Zelda boss said the team was eager to return to that Hyrule to tell another story:
"One of the reasons we wanted to create a continuation was because I wanted to revisit that Hyrule again and use that world again, while incorporating new gameplay and new story."
He also discussed the prospect of downloadable content and its successful deployment in Breath of the Wild:
"I really like the idea of having DLC or anything coming after the main game. People play the game longer and enjoy the game a lot deeper. Going forward, that's definitely something we'll think about."
Aonuma went on to talk about Majora's Mask, a game which he directed (Breath of the Wild's director Hidemaro Fujibayashi is once again taking the reigns for what we're clumsily referring to as Breath of the Wild 2). Majora's Mask was a direct follow-up to the seminal Ocarina of Time, although the timescale for developing that sequel was a little tighter:
"When I was making Majora's Mask, the timeline was in a year. I was a little stubborn and I was going to make it from scratch and was really gung ho, but it turns out the staff was a little tired from that process. I've learned to give myself plenty of time. You don't want to do it that way or else you'll get white hair like me."
And finally, when asked if the game will require some sort of Expansion Pak as Majora's Mask did on N64, Aonuma responded in the negative:
"It will be a continuation, and it will be come in full form as it is. [laughs]"
Another chance to glide into Hyrule and discover another kingdom's worth of secrets? That sounds absolutely grand to us!
Aonuma previously stated that the team had been playing Red Dead Redemption 2, so perhaps we'll be seeing that reflected in this sequel, too. Exciting times!
Are you happy that we'll be returning to the familiar Hyrule of Breath of the Wild in a direct sequel? Feel free to share your thoughts and opinions with a comment.
[source gameinformer.com]