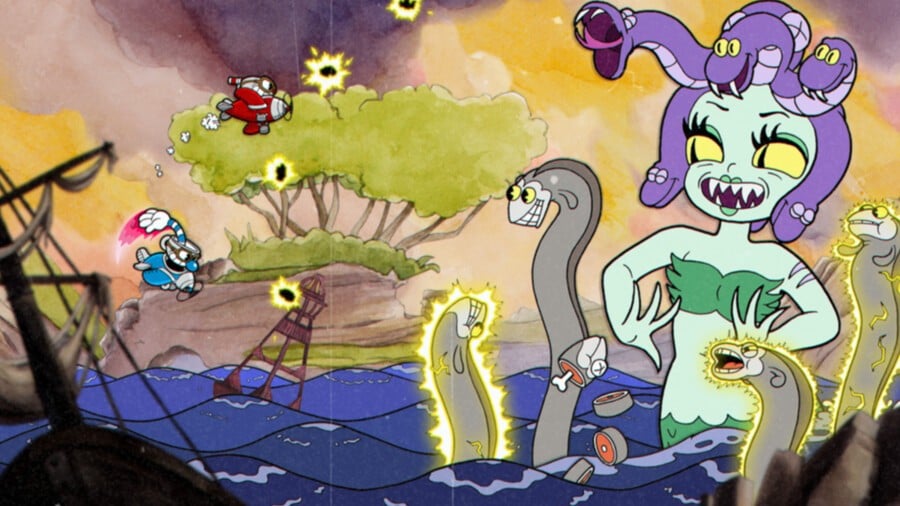 The latest Nintendo Download update for North America has arrived, and it's bringing new games galore to the eShop in your region. As always, be sure to drop a vote in our poll and comment down below with your potential picks for the week. Enjoy!
Nintendo Switch Retail
Mortal Kombat 11 (Warner Bros, Mon 22nd April, $59.99) Mortal Kombat 11 is the latest instalment in the critically acclaimed franchise, providing a deeper and more personalized experience than ever before. The all-new Custom Character Variations give you unprecedented control of your fighters to make them your own. Featuring a roster of new and returning Klassic Fighters, Mortal Kombat's best-in-class cinematic story mode continues the epic saga over 25 years in the making.
Dragon's Dogma: Dark Arisen (Capcom, Tue 23rd April, $29.99) The critically acclaimed action-RPG Dragon's Dogma: Dark Arisen combines exhilarating and deep combat with the freedom to explore a huge open world. Enter the high-fantasy setting of Gransys, a land where dragons, chimeras, and other fabled monsters roam.
Our World is Ended (PQube, Today, $59.99) A world between reality and fiction Explore a faithful recreation of Asakusa, one of Tokyo's most iconic districts as elements from the game worlds will slowly manifest themselves and threaten to destroy the entire district itself.
Switch eShop
Cuphead (StudioMDHR, Today, $19.99) Cuphead is a classic run and gun action game heavily focused on boss battles. Inspired by cartoons of the 1930s, the visuals and audio are painstakingly created with the same techniques of the era: traditional hand-drawn cel animation, watercolor backgrounds, and original jazz recordings. Play as Cuphead or Mugman (in single player or local co-op) as you traverse strange worlds, acquire new weapons, learn powerful super moves, and discover hidden secrets while you try to pay your debt back to the devil! Read our Cuphead review.
Katana ZERO ( Devolver Digital, Today, $14.99) Katana ZERO is a stylish neo-noir, action-platformer featuring breakneck action and instant-death combat. Slash, dash, and manipulate time to unravel your past in a beautifully brutal acrobatic display. Key Features: Exceptional Combat: Overcome your opposition however the situation requires. Deflect gunfire back at foes, dodge oncoming attacks, and manipulate enemies and environments with traps and explosives.
Active Soccer 2019 (Gianluca Troiano, Fri 19th April, $11.99) Active Soccer 2019 is an exciting top-down arcade football game providing a fast-paced arcade experience, implementing amazing playability and responsive easy-to-learn/hard-to-master controls. Active Soccer 2019 provides a complete career mode, implementing many international leagues, cups and championships.
ALPHA (KANAME, Fri 19th April, $5.00) ALPHA, the latest work by KANAME, is a simple game. There are no additional in-game purchases: once it's yours, you can begin tackling it until you reach the end. Maybe it's time to take a break from playing games for other people.
Arcade Archives TIME PILOT (HAMSTER, Thu 11th April, $7.99) TIME PILOT is a shooting game released by KONAMI in 1982. Transport five generations into the future and shoot down enemy ships with a full 360º of motion. Rescue parachuters and take out entire enemy formations to earn a high score! Fly into a battle beyond time and space!
Beyond Enemy Lines: Covert Operations (Polygon Art, Tue 23rd April, $13.99) Think your way in, observe the enemies, sneak into their base and complete your objective. You have the total freedom to choose your path - guns blazing or silent assassin - it's your choice! Beyond Enemy Lines: Covert Operations is an unforgiving, intense experience where skill and tactical decisions matter!
Cafeteria Nipponica (Kairosoft, Today, $12.00) Don your chef's hat and hit the kitchen! You're the chef de cuisine in this scrumptious simulation that'll have you coming back for seconds. . . and more! Run your own restaurant, find ingredients, research recipes and spice up your culinary repertoire! Only you can bring your establishment sweet success!
Construction Machines Simulator (SimFabric, Fri 19th April, $29.49) If you are a fan of construction or destruction this game is for you. Become a boss of the building company. Sit behind the wheels of multiple vehicles like excavators or cranes and expand your business. Build campsites, rental homes, office parks and more.
Dawn of Survivors (WISTONE , Today, $1.99) From decaying cities to dark forests, you will fight through hordes of zombies and desperate scavengers. Find food. Build shelter. Prepare yourself. For when the sun rises, so do the dead. Scavenge the wastelands for resources. You'll search for supplies and materials in this cruel, undead world.
DayD: Through Time (8Floor Games, Today, $9.99) Brian is a gifted and eccentric scientist who has created a time machine and travelled into the past! But it turns out you can't expect a careless stroll through the lands of the dinosaurs. His former friend, Doctor Terrible, is already here! He created a time machine before Brian and has already managed to install game machines in the dinosaur era!
Deponia (Daedalic GmbH, Wed 24th April, $39.99) "Daedalic Entertainment, once called "Lucasarts from Germany" by the GameStar magazine, invites the players into a fantastic comedy adventure that revolves around a crazy love story of Rufus and Goal. In Deponia, the world has degenerated into a vast garbage dump, in which the crotchety Rufus ekes out his sorry existence.
Hell is Other Demons (Kongregate , 18th April, $9.99) Hell is Other Demons is a juicy arcade shooter with boldcolor schemes and a heavy synthwave soundtrack.
Iron Snout (Ratalaika Games, Fri 19th April, $4.99) Once upon a time, pigs would have to build a house of bricks to keep the wolves at bay, but not anymore. In Iron Snout, its hero piggie has taken up learning martial arts and now it's the wolves that need to keep their distance because in this bonkers button-mashing beat 'em up, bacon is off the menu for good.
Moto Rush GT (Baltoro Games, Fri 19th April, $14.99) Racers, beware! Fast-paced, polished and dynamic motorbike racing now on Nintendo Switch! One of a kind game entirely playable with... Toy-Con Motorbike!
Risky Rescue (Forever Entertainment, Today, $4.99) At each level save people standing on the hard to reach places and become a hero! Unlock helicopters with different parameters and complete over 50 demanding levels. If that's not enough try yourself in endless mode, where your skills can compete with the timer. Use your reflexes but be gentle, there is no place for mistakes in a Risky Rescue!
SlabWell (Today, $9.99) Somewhere deep in the Amazon jungle, lies the finest treasure mankind has ever crafted: The Jade Alpaca. Professional thief duo Sam and Jacky head off on an adventure to recover the mythical artifact, determined to solve the riddles and overcome the challenges that have kept it safe through centuries.
Slime Tactics (Flyhigh Works, Thu 11th April, $9.99) Slimes are often the weakest monsters, but now it is time to make them the strongest army! Slime Tactics is a game of real-time strategy battles with a difference, as you lead these weakest of units to glory! There are various types to master, all with their own unique skills and characteristics. With smart strategy, you can conquer the most deadly of enemies! Take on numerous colourful and imaginative stages as the leader of these Slime forces. It's time for Slime Tactics!
Sudoku Relax (G-mode, Today, $5.00) The familiar "Sudoku" has become a healing game. A total of 300 questions on EASY, NORMAL and HARD difficulty have been recorded. You will be healed with game effects and background music while you're undressing.
the Knight & the Dragon (Today, $7.99) During a date with Arthur the chevalier, Princess Daphne is kidnapped by Synge the Dragon She'll be turned into a Lady Dragon once Synge finds all the magic Crystals! Time is running out! Do you have what it takes to rescue Daphne? Temple Tower is right ahead, go and face the Dungeon Boss.
The Padre (Feardemic, Today, $19.99) Unravel the mystery of a missing cardinal by solving the riddle of a demonic power you did not expect to come upon. Face your inner demons and fight the power of evil while it seduces your soul. Play as the wittiest, pop-culture referencing priest in video game history and face an ultimate game over, if you make the angels cry you a river. Read our The Padre review.
You Died but a Necromancer revived you (JaimeAlvarezLosada, Fri 19th April, $8.99) You Died... but a Necromancer revived you! And will keep reviving you back to their crazy tower of death until you reach the top floor and get rid of them, allowing you to finally be free...
Updates
Super Smash Bros. Ultimate – Version 3.0 – The new playable fighter Joker from the Persona 5 game, the Mementos stage and several Persona series music tracks are available now in the Super Smash Bros. Ultimate game for the Nintendo Switch system for players who own the Super Smash Bros. Ultimate Fighters Pass or purchase Challenger Pack 1. The free Version 3.0 update for Super Smash Bros. Ultimate is also available now, introducing a newly added Stage Builder feature, new video editing features and the Smash World service for the Nintendo Switch Online smartphone app.
Nintendo eShop Sales
Check out the full list of deals available this week here.
So that's your lot for this week's North American Nintendo Download. Go on, be a sport and drop a vote in the poll above, and comment below with your hot picks!