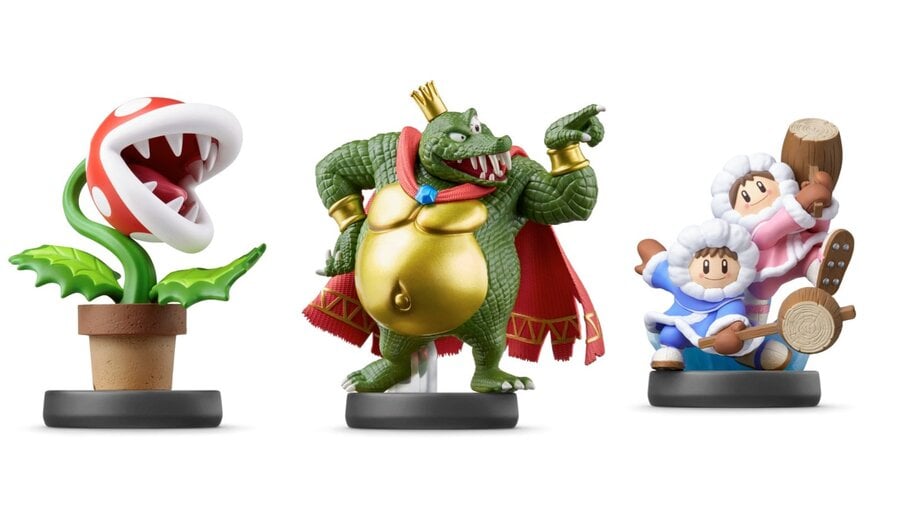 The next batch of amiibo for the Super Smash Bros. line available today from all good retailers. Joining the roster are Piranha Plant, King K. Rool, and Ice Climbers, all of which will look rather lovely on your gaming shelf. Heck, you might even want to use the NFC functionality and train them up to be a formidable fighter. We won't judge you if you just want to admire them for their looks alone, of course.
If you didn't pre-order these, worry not. Various retailers are still taking orders today; below are your best bets for securing these potentially rare (one day, at least) amiibo.
Piranha Plant amiibo
The Piranha Plant is an enemy in the Super Mario series with a round head and a mouthful of teeth that will pop out of a pipe when you least expect it. This one is a bit of a shock inclusion to the Smash line-up!
King K. Rool amiibo
King K. Rool is the leader of the Kremling Krew, who he repeatedly orders to steal Donkey Kong and Diddy Kong's Banana Hoard. He also likes kidnapping Kong Family members while he's at it. A nasty piece of work, but a fine amiibo for your shelf!
Ice Climbers amiibo
The Ice Climbers, Popo and Nana, are the stars of the NES game Ice Climber. These adventurers are equipped for even the coldest climates, and will make a fine addition to your amiibo collection.
amiibo stock has vastly improved since the scary early days, where literally no one's orders were safe, but if you're 100% sure that you want these figures it's definitely worth getting your order in now, just in case.
Again, at the time of writing, King K. Rool and Ice Climbers are also available from Amazon UK for £14.99 each should you want or need a different option.
Make sure to let us know in the comments if you decide to snap these up!