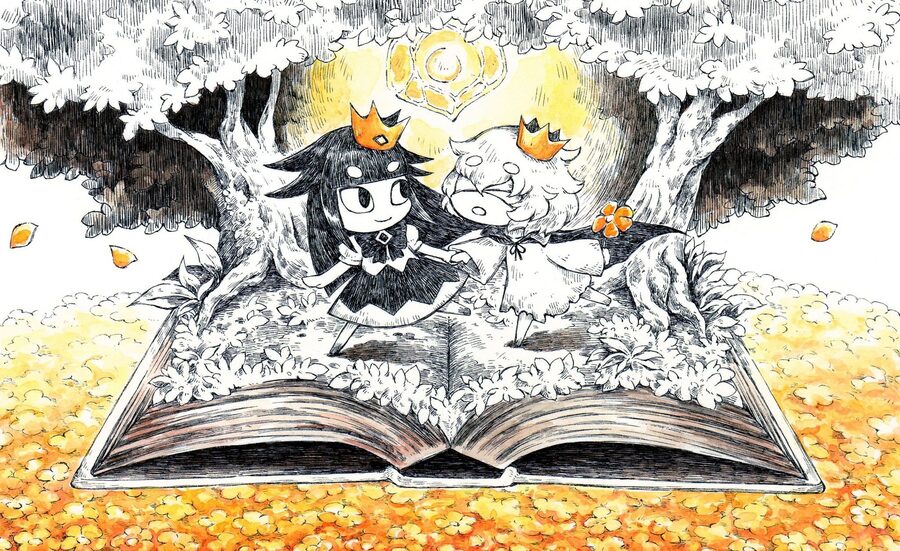 The latest Nintendo Download update for North America has arrived, and it's bringing new games galore to the eShop in your region. As always, be sure to drop a vote in our poll and comment down below with your potential picks for the week. Enjoy!
Nintendo Switch Retail
BLAZBLUE CENTRALFICTION Special Edition (Arc System Works Co., Ltd., Today, $49.99) The definitive edition of the BLAZBLUE series, BLAZBLUE CENTRALFICTION, is the most-played 2D fighting game in the world featuring with beautiful graphics and a well-designed, fighting system.
Monster Energy Supercross - The Official Videogame 2 (Milestone, Fri 8th February, $59.99) The official Monster Energy AMA Supercross Championship game is back! Live like a champion with the updated career mode and set weekly activities in your agenda: new challenges, sponsors and incredible prizes all await you!
Switch eShop
The Liar Princess and the Blind Prince (NIS America, Tue 12th February, $19.99) Plucked straight from the pages of an ancient fairy tale, The Liar Princess and the Blind Prince tells the story of two lonely hearts brought together through a mutual misunderstanding. Transform between the wolf and the princess to solve puzzles and evade traps, collect flowers and petals to unlock fragments of memories, and weave through the dark and dangerous forest to guide the prince toward a cure. But be warned... an all-seeing forest is no place for a blind prince.
AWAY: Journey to the Unexpected (Playdius, Today, Today, $16.99) Welcome to a feel-good FPS! A colorful adventure combining action, negotiation and rogue-lite elements. You play as a kid that is neither a hero nor a warrior. Yet with the power of friendship, you will overcome every obstacle in your way! Choose your path through the levels, uncover the light-hearted story, and above all, recruit allies.
Observer (Bloober Team, Today, $29.99) >observer_ is a cyberpunk, detective thriller set in the year 2084 in Krakow, Poland. The world lies in ruins with corporations seizing power after the fall of governments. You do their bidding. No lie will remain hidden from you, as you hack into the minds of those you interrogate. When your past catches-up, you must act on your own and unravel the mystery of your son's disappearance. Your name is Daniel Lazarski, you're an Observer. Read our Observer review.
99Moves (EnjoyUp Games, Fri 8th February, $2.99) 99Moves, a retro arcade game where you will have to survive with just 99 Movements. Without a heading in the galaxy, all was lost because your energy was about to run out... gravity would chart the course of your destiny... Suddenly, V-99 entered a zone called Shaders, which provided energy... It was a new opportunity to survive. However, it was not all good news, as you only have 99 energy pulses to move through the Shaders zone.
Access Denied (Ratalaika Games, Fri 8th February, $4.99) Calling all safe-crackers and lovers of puzzle games! The time for testing your brain, whilst listening to rain and thunder has arrived, as try your hand at a series of puzzles that are playable across 36 levels.
Ancient Rush 2 (Heideland GameWork, Fri 1st February, $9.99) Old Legends surround the long forgotten kingdom of Ozolan. They tell stories about Chulua, the former Ruler of Ozolan, who is said to have buried himself in his own treasury, only using his bare hands.
Arcade Archives MOON CRESTA (HAMSTER, Thu 31st January, $7.99) "MOON CRESTA" is a shooting game produced and released by Nichibutsu in 1980. Players control Unit1 and Unit 2 and Unit3 of the airplane, and coalescing these airplanes, will defeat the enemies.
City of Brass (Uppercut Games, Fri 8th February, $19.99) Become a daring thief in City of Brass, a first-person action adventure from senior BioShock developers. Armed with scimitar and a versatile whip, you'll lash and slash, bait and trap your way to the heart of an opulent, Arabian Nights-themed metropolis – or face certain death as time runs out.
Defense Grid 2 (Hidden Path Entertainment, Today, $19.99) Defense Grid 2 is an award-winning tower defense strategy game. A horde of enemies is invading and stealing your cores, now it's up to you to stop them by strategically building towers at your base.
Doom & Destiny (Heartbit, Fri 8th February, $11.99) Four nerds, drawn into a fantasy world and mistaken for heroes, have to battle their way through a massive, crazy adventure and defeat a preposterous villain! Doom and Destiny is a turn based hilarious jrpg where you take control of a party of four everyday friends. Journey through an unpredictable story filled with parodies and cameos. Start your adventure in a classic dungeon with dragons, save princess with the help of green-dressed elf and then fly to manga-themed city with the help of a famous italian plumber. This is Doom and Destiny, the flying-spaghetti fantasy adventure!
Estiman (Arts Alliance, Today, $3.99) Estiman is an original, engaging arcade game based on one of the processes our minds work with every day – estimation. With combos you can keep going forever (if you have the skills! ). The sweet, minimal visuals will appeal to your aesthetic sense, and an adaptive difficulty level turns this simple concept into a compelling and satisfying game.
Evoland Legendary Edition (Shiro Games, Today, $19.99) Evoland is a journey through the history of action/adventure gaming, allowing you to unlock new technologies, gameplay systems and graphic upgrades as you progress through the game. Inspired by many cult series that have left their mark in the RPG video gaming culture, Evoland takes you from monochrome to full 3D graphics and from active time battles to real time boss fights, all with plenty of humor and references to many classic games.
Freecell Battle King (MAKING, Thu 31st January, $7.99) Battle play is exciting ! Clear speed is the key ! Sharing one unit,two Switches or online, enjoy the fun of competition with freecell ! The tasks are 3000 questions! There are ordinary "KING Mode" and easy "MAY Mode". Collect the "collection" by clears to color the game screen. One-player is also enrichment ! There is also a mode that you can play easily. Joy-Con or play with touch ! Play with your favorite style.
Food Truck Tycoon (Baltoro Games, Fri 8th February, $4.99) Test your skills and talent as owner of a busy food truck! Your only job is to take orders, prepare food and serve to as many customers as possible. Be careful not to burn the food! Fulfill your dream of becoming the tycoon of the best food trucks in the city!
Glass Masquerade (Digerati, Thu 28th February, $11.99) Welcome to Glass Masquerade – an artistic puzzle game inspired by Art Deco and stained-glass artisans of the 20th century. Combine hidden glass pieces to unveil clocks and themes exhibited by various cultures of the world at the 'International Times Exhibition' - an interactive electronic show.
Gnomes Garden: New Home (8Floor Games, Today, $4.99) After defeating the sorcerer collector, the gnomes returned the castle to its old form. But it still stood in the grey wasteland, and there nothing could grow. The princess was worried that her people would soon run out of food and start to starve.
Iron Crypticle (Tikipod, Wed 13th February, $9.99) The glorious Royal Treasures of Cryptonia have been stolen! Now the King's washed-up knights must suit up and descend into the ancient palace crypts to return those GOLDEN GOODIES! Get ready for GHOULISH arcade action in this epic medieval twin-stick dungeon shooter. Up to 4 players (local co-op) can fight together to SMASH through all manner of ghouls and fiends. Grab loot and gobble up food to build up your XP. UPGRADE your abilities to help you face the challenges of the lower floors! UNLOCK new weapons and magical items as you progress. Collect magical gauntlets to power your explosive ATOMIC FIST! Weapons at the ready - prepare yourself for IRON CRYPTICLE!
Magic Scroll Tactics (Mediascape, Today, $11.99) Magic Scroll Tactics is a side-scrolling tactical RPG where height is key. But be warned, simply holding the high ground won't ensure victory! Raining arrows down on your hapless foes is only one part of this simple yet deep strategy game; you'll need to master a wide variety of abilities and units if you wish to conquer your perilous foes.
Mercury Race (Herrero, Today, $7.99) Mercury Race is a shooting & racing game set in a retrofuturistic world. Finish each circuit in time to obtain the badge and achieve ranking number one. The game will challenge not only your driving skills but also your shooting accuracy.
Minesweeper Genius (Level 77, Tue 12th February, $5.99) Inspired by the classic computer game from our childhood - as well as sudoku and picross - Minesweeper Genius is a brain teaser that will challenge your mind and logical thinking.
Odallus: The Dark Call (Digerati, Fri 8th February, $11.99) The old gods have forgotten this land… Odallus is an exploration/action game and loving homage to the 8-bit genre classics. You play as Haggis – a battle-weary warrior who must wield his sword once more to rescue his son from Darkness. Key Features Eight levels open to exploration Huge bosses Sharp controls Rad 8-bit graphics Thrilling atmosphere 8+ hours of gameplay 50+ enemy types Veteran Mode
Oniken: Unstoppable Edition (Digerati, Fri 8th February, $9.99) In a post-apocalyptic future controlled by a sinister corporation, ninja mercenary Zaku is the last hope for humanity. Inspired by the demanding gameplay of 8-bit action/platformers, Oniken pits your agility and swordplay against a gauntlet of enemies, traps, and challenging bosses. Key Features 8-bit inspired pixel art and music Cinematic cutscenes Six difficult missions, plus additional bonus stages Battle 18+ bosses in the campaign or Boss Rush mode Single-life Hardcore Mode for a true challenge
Percy's Predicament Deluxe (Maestro Interactive, Today, $5.99) Percy's Predicament Deluxe is a single player game in which you control Percy Penguin, who has become trapped within a magical orb. You must navigate the course and collect all the fish before the time runs out! 100 Levels and six different environments each with their own musical themes means the fun never stops!
Ping Pong Trick Shot EVOLUTION (Starsign, Tue 5th February, $4.99) This is an action puzzle game in which you throw ping pong balls into a cup. Control your character, position, angle and power when you throw the ping pong ball.
Pocket Academy (Kairosoft, Today, $12.00) School got you down? Wish you could change a few things? Well, now's your chance to create the ultimate dream school in this simulation smash-hit! Tailor your personal academy as you see fit, erecting classrooms, making clubs--even deciding this week's hot couple! How will you expand your hallowed halls of learning?
Pumped BMX Pro (Curve Digital, Today, $14.99) Pumped BMX Pro puts you back on the seat for another high adrenaline, fast-paced trickathon where chaining massive combos could put you at the number one spot on the global leaderboards.
Reverie: Sweet As Edition (Rainbite, Today, $12.99) With restless spirits threatening the safety of Toromi Island's inhabitants, Tai must venture through dangerous dungeons and across a variety of environments to put the spirits to rest. All in a summer holiday! Reverie is an action adventure game set on a fictional island in New Zealand, inspired by the legend of Maui and the Giant Fish where the demigod himself fishes up the North Island with a powerful fishhook.
RIOT - Civil Unrest (Merge Games, Tue 5th February, $19.99) RIOT – Civil Unrest is the highly anticipated real-time riot simulator that places the player right in the heart of some of the world's most fractious clashes. Campaigns include: Indignados (Spain), Arab Spring (Egypt), Keratea (Greece) and NoTAV (Italy). Seventeen single level scenarios include Rome, Oakland, Paris, London and Ukraine.
Shanky: The Vegan's Nightmare (Artvision Games, Fri 1st February, $6.99) Shanky - is a joyful meat grinder and mince is its movement force. Swallow up everything you can and collect Meat-Cola to stay on the move. Participate in a stunning story of love and self-sacrificing. Depending on the level, Shanky would change its movement force accessories to legs, wheels, wings and boat. During the boss battles, you would learn how to use its mince launcher. Collect Meat-Cola to expand Shanky's stomach and success is guaranteed. And remember - there is never enough mince, so keep grinding!
Sky Gamblers - Afterburner (Atypical Games, Today, $19.99) This is the latest and greatest jet dogfight game, coming from the creators of Sky Gamblers, Battle Supremacy and Radiation series! Get into the cockpit and prepare to take-off. Unlock, upgrade and customize the weapons and defenses of more than 100 planes.
Solitaire Klondike BLACK (Sanuk Games, Thu 31st January, $5.00) The classic single player card game "Solitaire Klondike" arranged to Cool version!
Solstice Chronicles: MIA (CIRCLE Entertainment, Today, $14.99) In a dead colony on Mars a corporate marine is left far behind enemy lines. With the unlikely help of an insurgent drone, he faces a battle for survival against an army of murderous, mindless mutants... and worse things.
Spoiler Alert (Megafuzz, Fri 1st February, $4.99) Spoiler Alert is a video game that tests your platforming skills… in reverse. It's a comedy platformer that you play backwards. When you pick this game up, it has already been beaten.
Stunt Kite Party (HandyGames, Fri 8th February, $9.99) Stunt Kite Party is a family-friendly single player and couch-coop multiplayer game with an exciting storyline and endless fun in numerous game modes. Choose from eight playable characters and fly your kite in four scenic settings, where you can challenge your friends in either predefined matches or your own custom created tournament.
The King's Bird (Graffiti Games, Tue 12th February, $19.99) Escape into a world kept secret by a tyrant, and discover the truth about your freedom. The King's Bird is an artistic, momentum-based game that seamlessly combines precision-platforming with physics-based gliding.
The Stillness of the Wind (Fellow Traveller, Today, $12.99) One by one, everyone left the once bustling village for the city. Everyone, except Talma. Now approaching the end of her days, she maintains a simple, solitary way of life, surviving, subsisting, tending to her homestead and her goats. Develop your own personal routine as you care for your farm and your animals. Tend to your goats, make cheese with their milk, collect eggs and cook meals, grow vegetables and barter with the travelling merchant who brings increasingly disturbing letters from your family in the city.
TORIDAMA: Brave Challenge (G-mode, Thu 31st January, $5.00) 『TORIDAMA: Brave Challenge』is mini game collection based on the courage test. Test your weak feeling inside of you as we say "Chicken Level" based on timing of pressing a button, level, and pitch in various kind of critical situations. Share play is available, so you can measure your "Chicken Level" with your friend. All game is playable with one buttom, so it is casually play with family and many friends in a party. What is more, Crazy mode which will be available after playing all the mini games, supports world ranking system. Let's challenge how your "Chicken Level" would be amang against strong opponents in the world.
3DS Retail
Yo-Kai Watch 3 (Nintendo, Fri 8th February, $39.99) Mischievous beings known as Yo-kai are everywhere, and it's up to Nate and Hailey Anne to befriend, battle, and solve problems with them. Follow two parallel stories and unravel the mysteries behind strange sightings while meeting over 600 Yo-kai and using the new 3x3 grid battle system to strategically dish out or dodge attacks. Read our Yo-Kai Watch 3 review.
3DS eShop
Vera Swings (Today, $5.99) After falling asleep while gazing at the moon, Vera dreams about swinging on the stars up to the magical place she's always longed to visit. Help Vera reach the moon by swinging up the stars in this simple yet challenging platformer. Time your swings just right to catch the colorful stars and touch the glowing checkpoint to unlock the next level up. Hone your timing and precision skills as you swing from platform to platform and climb higher through the sky to make Vera's dream come true!
Activities
My Nintendo Has a Valentine for You – Newly added rewards featuring the lovable Kirby include a special Kirby: Right Back At Ya! video for the Nintendo 3DS family of systems and a Kirby's Extra Epic Yarn gift box printable.

More Yo-kai, More Mysteries – To celebrate the launch of the YO-KAI WATCH 3 game, a new wallpaper reward is available through My Nintendo. Redeem your My Nintendo Points and download the fun YO-KAI WATCH 3 themed wallpapers.
Nintendo eShop Sales
Check out the full list of deals available this week here.
So that's your lot for this week's North American Nintendo Download. Go on, be a sport and drop a vote in the poll above, and comment below with your hot picks!