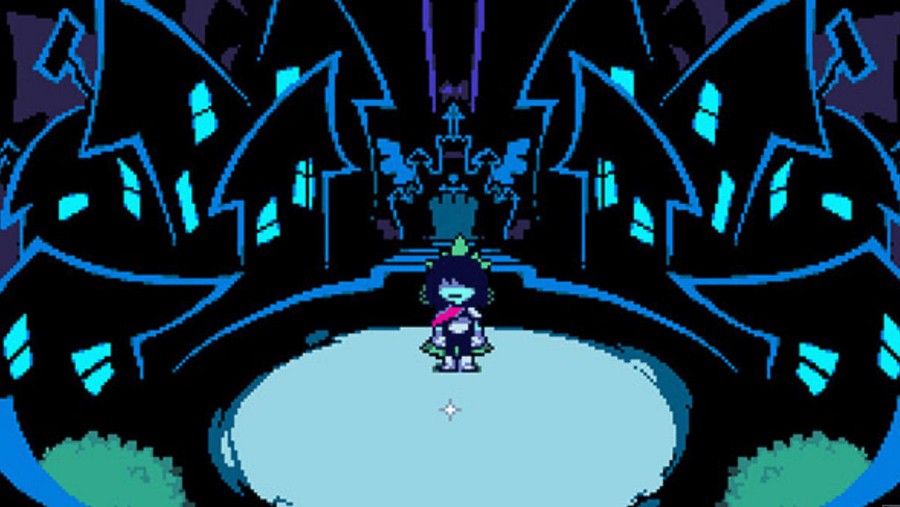 The latest Nintendo Download update for North America has arrived, and it's bringing new games galore to the eShop in your region. As always, be sure to drop a vote in our poll and comment down below with your potential picks for the week. Enjoy!
Nintendo Switch Retail
Fimbul (EuroVideo, Today, $29.99) Fimbul combines intense Viking battles with a deep story that unfolds through in-game comics to bring the frozen world of the Norse sagas to life. Immerse yourself in the blistering winter preceding Ragnarok -- The Fimbul Winter! Read our Fimbul review.
R.B.I. Baseball 19 (MLB Advanced Media, Tue 5th March, $29.99) R. B. I. Baseball 19 takes the field delivering heightened authenticity for a genuine MLB experience. We've added hundreds of new animations, updated player models, every official 2019 uniform, more player gear, improved ball physics and environments, and more!
Switch eShop
DELTARUNE (8-4, Today,) DELTARUNE: Chapter 1! Create your own avatar, meet strange friends, and jump into the darkness. By the way, this first chapter is FREE, so please feel free to check it out. Like, you don't really need to read this or anything... You can just try it...
Ape Out (Devolver Digital, Today, $14.99) Ape Out is a wildly intense and colorfully stylized smash 'em up about primal escape, rhythmic violence, and frenetic jazz. Build up nearly unstoppable momentum and use your captors as both weapons and shields to crush everyone on your procedurally generated path to freedom. Read our Ape Out review.
Treasure Stack (PIXELAKES, Fri 1st March, $19.99) Fusing the pulse-pounding pressure of a falling block puzzle game with grapple-powered platforming, Treasure Stack offers up a fast-paced party game experience like no other.
12 is Better Than 6 (HYPETRAIN DIGITAL, Tue 5th March, $9.99) It is 1873. An escaped slave is slowly walking through the desert, making his way from Mexico to Texas. He keeps a revolver close and is wearing the sombrero stolen from a dead man. Deadly gunfights: You'll need to cock the revolver with one trigger before being able to shoot by pressing another trigger. One false move and you'll be overrun in an instant.
ACA NEOGEO THE KING OF FIGHTERS 2003 (HAMSTER, Thu 21st February, $7.99) "THE KING OF FIGHTERS 2003" is a fighting game released by SNK in 2003. It features the same 3-on-3 battle system as the previous title in the series, but this time players are able to use the "Multi-Shift" format to freely tag in team members for speedier gameplay.
Anodyne (Nnooo, Today, $9.99) Immersed in a moody, dream-like soundtrack explore a world full of natural, urban and abstract environments, solving puzzles and defeating enemies…with a broom! Inspired by old-school 16-bit adventure classics, take part in a deep and wonderful journey exploring a large overworld and many quirky, challenging and fun dungeons to find out what awaits you in Young's subconscious.
Arcade Archives: Ice Climber (HAMSTER, Fri 22nd February, $7.99) "ICE CLIMBER" is an action game released by Nintendo in 1985. Play as POPO and NANA to break apart blocks of ice with your hammer and defeat enemies that get in your way as you aim for the top of the mountain. However, only one person can catch the condor waiting at the summit. Will you work together, or try to go for it alone? It's up to you!
Awesome Pea (Sometimes You, Fri 1st March, $5.99) Welcome to the Awesome Islands World! Awesome Pea is a classic run-and-jump platformer, where you must jump through many challenging levels and help the greedy Pea, who is ready to undergo any trials for the sake of gold. Dangerous dungeons, deceptively beautiful nature, hidden deadly traps, and many MANY coins await you!
Bard's Gold - Nintendo Switch Edition (Pixel Lantern, Tue 5th March, $8.99) Bard's Gold is a challenging platformer that lets you explore eerie worlds in a quest for a Goblin that stole your gold.
Battlloon (Unties, Today, $6.99) Battlloon is a cute and casual PvP action game which pits you against your friends in a battle of bouncing balloons! Plays up to 4 players! The rules are simple! All you have to do is to bump other players into the spikes! May the best balloon win! With its simple controls, anyone can play this bouncy game of battling balloons! From a unique point system allowing even beginners to have a chance at winning to a "Ghost" system where ousted players can still enact sweet revenge, Battlloon has something for balloons of all ages!
Beat Cop (11 Bit Studios, Tue 5th March, $14.99) New York, more like a beast than a city. Explore it's darkest corners and uncover its secrets as Jack Kelly, a former detective who has been framed for a murder. Degraded and forgotten by old pals, it's your last chance to find the truth behind this whole terrible mess. The thing is, your new boss treats you horribly, your wife is a money sucking spawn from hell and the local mafia wants your head on a plate.
Constructor Plus (System 3, Today, $19.99) In this town you've gotta think BIG! Take on the role of a budding property developer and build yourself up from minor-league housing crook to interplanetary property tycoon, wheeling, dealing and thieving all the way.
Crash Dummy (Funbox Media, Today, $29.99) The evil D-TROIT has kidnapped MIA, the Advisor's daughter! You might be playing as CID, the simple crash dummy, but CID was also programmed and equipped with everything need to be the hero he always dreamt of. It's time to set CID on his adventure and to save MIA.
Creepy Road (GROOVYMILK, Fri 1st March, $12.99) When everything goes insane and the world falls apart, a man must take up arms to protect his loved ones. Embark with Flint Trucker on a crazy journey to reunite him with sweet Angelina, and try not to succumb to the madness that awaits you! HUGE BOSSES Don't let their size scare you!
Croc's World Run (Sprakelsoft, Thu 21st February, $5.99) "Croc's World Run" is the newest part of the Croc's World franchise!
Dark Quest 2 (Brain Seal Entertainment, Wed 27th February, $10.99) Dark Quest 2 is a turn-based RPG where you control a party of heroes on your epic quest to defeat the evil sorcerer and his minions. The game features a party based system where you control a group of heroes, an isometric hand-drawn art style, dice-based mechanics and much more.
Darkest Hunter (Ultimate Games, Tue 5th March, $5.30) Choose your hero, grab your weapon, learn new spells and... HUNT! Eliminate every nasty beast you encounter, collect loot and find the rarest, as well as the best equipment!
Duck Hunting Challenge (BoomBox, Fri 22nd February, $9.99) Pack up your gear, call on your canine companion, and get ready for one of the best hunting trips ever.
Elevator...to the Moon! Turbo Champion's Edition (Arcade Distillery, Wed 6th March, $14.99) You are a space cadet, rudely commanded by the President of the World to "Liberate" a Moon Elevator, evoking the wrath of the world's most powerful AI. Will you crack under pressure trying to hold this broken Space Elevator together? Obey!
History 2048 (Run-Down Games, Fri 1st March, $4.99) History 2048 is a familiar logic game, with beautiful graphics. Travel through the evolution of mankind, meet with famous kings, warlords and adventurers. A new and reimagined reboot of the well known 2048 game. Pair the similar panels and step to a new era. Wander through time and get all the extras. A fun and refreshing way to spend your time.
Johnny Turbo's Arcade: Super Real Darwin (FTE Games, Today, $7.99) The inhabitants of the planet Lakya unwittingly unleash the planet's life force known as Evol. As the released Evol drifts from planet Lakya, it is received by the inhabitants of the nearby planet Cokyo; the people of Cokyo initiate the Shlohe project, a plan to use their captured Evol to develop advanced biologic ships and weapons to invade planet Lakya. The inhabitants of Lakya retaliate the Cokyo invasion by using their own evolving fighter ships.
Klondike Solitaire (Baltoro Games, Fri 1st March, $8.99) Klondike Solitaire, the perfect game to help you escape your crazy daily routine, relax and have fun.
Monster Dynamite (TREVA Entertainment GmbH, Today, $19.99) Cheeky monsters everywhere! Place your explosives strategically on stacks of crates, scaffolding and logs where the little critters are sitting. Light the fuse and bring them all down!
My Girlfriend is a Mermaid?! (Sekai Games, Today, $19.99) Our protagonist lives out in the city but one summer decides to return to his rural hometown and it is there he once again meets his childhood friend, Ion... who is now a mermaid!?
Ninja Village (Kairosoft, Today, $12.00) Rewrite the history of feudal Japan with an army of the ultimate guerrilla warriors: ninjas! The shogun has fallen from power, plunging the land into chaos as feuding feudal lords scramble to take his place. But the shogun has an ace up his sleeve: you! As the head of a leading ninja clan, it's up to you to rally your followers and help unify Japan!
Pillar (Michael Hicks, Tue 5th March, $7.99) Lost in an intimate snowy town, a palette of individuals are in search of a mysterious artifact said to bring great knowledge and understanding. Lead each character through their quest in this collection of minigames, each with unique personalities and challenges... maybe their paths aren't so different after all.
Pirates Pinball (EnjoyUp Games, Fri 1st March, $2.99) Enjoy Pirates Pinball, a perfect reproduction of a real pinball machine, with all the graphic details and sounds. Discover all the secrets, complete all the missions and become number 1 in the world or the best among your Friends, posting your high score on the online leaderboard.
Pixel Devil and the Broken Cartridge (Black Sun Game Publishing, Wed 27th February, $9.99) Pixel Devil and the Broken Cartridge is an old school pixel art platformer. The protagonist ends up in the world of 8-bit video games. Help him get through challenging levels, beat various bosses, learn new skills, and find the villain behind the abduction of young women. But more importantly, together you'll have to find the answer to the big question: why have the characters of old school video games suddenly turned evil?
Queen's Quest 2: Stories of Forgotten Past (Artifex Mundi, Fri 1st March, $14.99) When the king asked a famous alchemist to look into the murder of his most trusted agent, the last thing the alchemist expected was to discover an intricate network of criminals working from the shadows to bring chaos to the land. Conduct the investigation as a shapeshifter and uncover a conspiracy that threatens to shake the foundations of the kingdom.
Riddled Corpses EX (COWCAT, Sat 2nd March, $9.99) Riddled Corpses EX is a twin-stick shooter made in the style of 8/16 bit arcade games. Travel through diverse locations packed with danger and huge bosses. Choose your character wisely and make good use of their abilities and the special items (clock, dynamite and turrets) to progress and destroy the root of evil!
Shred! 2: Freeride Mountainbiking (ASBO Interactive, Fri 1st March, $9.99) Created by a solo developer with a lifetime of Mountain Biking and Trail-Building experience, every inch of the handcrafted trail will push you to the absolute limit!
Swords & Soldiers II Shawarmageddon (Ronimo Games, Fri 1st March, $14.99) Fight your friends anywhere with your Nintendo Switch in split-screen mode or online, and enjoy the epic single-player campaign which gives you command of Redbeard and his Vikings. Join them as they fight their way through the forests of Vikingland, the scorching sands of Persia and even the nether regions of Hell!
Tardy (Drageus Games, Fri 1st March, $9.99) Ramto isn't the smartest guy in the Universe. He enjoys finding troubles - and solving them, but when woke up on a spaceship it was too much even for him. Alone on the ship he had no idea how to pilot, among heaps of weird devices created by a schizophrenic engineer.
ToeJam & Earl: Back in the Groove ( HumaNature Studios, Fri 1st March, $19.99) ToeJam and Earl have crash-landed back on Earth in ToeJam & Earl: Back in the Groove! , a funky fresh roguelike adventure infused with old skool hip-hop and jam-packed with awesome throwbacks to the 1991 classic.
Unknown Fate (MARSLIT GAMES, Tue 5th March, $14.99) You wake up, alone, in a world completely unknown to you. You have no memories of your past, you don't know how you managed to reach this world and the only thing you can do is go on and try to find the truth. Unknown Fate is a single-player first-person puzzle-adventure with a mysterious story, puzzles to solve and enemies to defeat. Travel in incredible worlds solving the puzzles around you and collecting Richard's lost memories to uncover the truth about Richard's journey.
V.O.I.D. (JanduSoft, Today, $3.99) V. O. I. D. is an all-new side-scrolling action adventure game! Taking the best aspects of the 8- and 16-bit era classics, and transforming them with modern tech & fresh mechanics, into something new and exciting! PLOIDS are the evolution of the human race by merging technology with its DNA.
Warhammer Quest (Chilled Mouse, Tue 26th February, $29.99) Based on the classic tabletop game, Warhammer Quest is an addictive mix of role-playing and strategy. Lead your group of brave adventurers through the perilous dungeons of the Warhammer World in the search for wealth and glory!
Nintendo Mobile
Animal Crossing: Pocket Camp – Happy Homeroom is now in session! The Animal Crossing: Pocket Camp mobile game just received a major free update that introduces Happy Homeroom, a newly added interior design mini-game. In Happy Homeroom classes, players with a Camp Manager Level of 6 or above can use the furniture they have to practice their interior design skills, which will be judged by Lottie and others. Passing Happy Homeroom classes increases a player's HH Rank, earning them items like HH material and more. If you haven't played Animal Crossing: Pocket Camp in a while, now is a great time to jump back in with all of this newly added content! See what's new by downloading the latest update and launching the game on your mobile device.
Switch DLC
Travis Strikes Again: No More Heroes DLC #1 Black Dandelion – Play as the assassin Shinobu with two newly added special skills and an added Badman Strikes Back Adventure!
Activities
Happy Pokémon Day! – To help celebrate Pokémon Day, My Nintendo is offering Happy Pokémon Day cards, Meltan Wallpapers and more Pokémon game themed rewards from now until May 27. Have you exchanged your Friend Code from your Nintendo Switch system? Use the Happy Pokémon Day card to share it with your friends! For more info, visit https://my.nintendo.com/news/837f74adcdd985cb.
Nintendo eShop Sales
Check out the full list of deals available this week here.
So that's your lot for this week's North American Nintendo Download. Go on, be a sport and drop a vote in the poll above, and comment below with your hot picks!