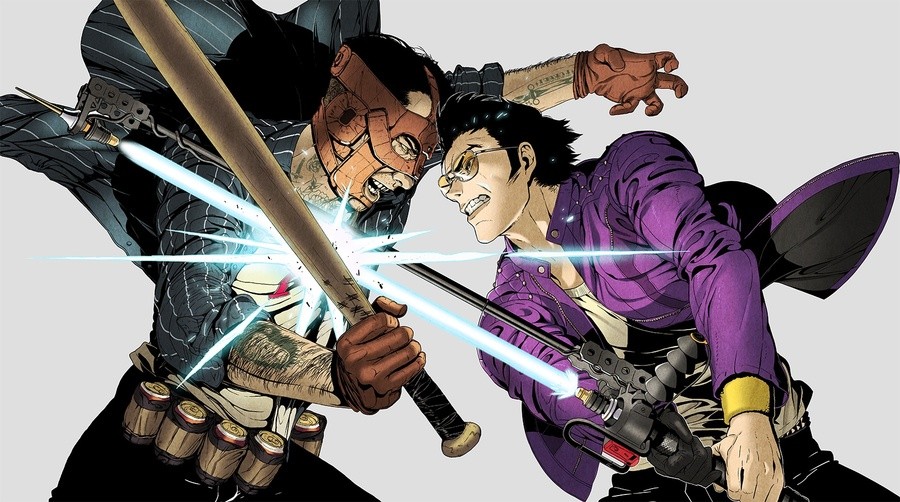 Travis Strikes Again: No More Heroes by Grasshopper Manufacture is due out on 18th January 2019.
Even though it's not being officially classed as the next mainline entry in the series, according to multiple website listings including Amazon and GameStop, Nintendo will be releasing a physical edition in time for launch.
That's not all, as the descriptions for these listings go on to explain how this version of the game will include a season pass - allowing players to access all of the title's downloadable content. This is reportedly the first time a season pass and DLC for the game have been mentioned. Below is the full description from Amazon's page:
Get into the game-literally! Enter the world of the Death Drive Mark II, and hack and slash your way out of its various games.
Pass a Joy-Con to a friend for local co-op, with special team-up charge attacks.
Represent your favorite indie games by rocking their swag in-game. Hit the road in an all new adventure with gaming's most hardcore otaku assassin.
Includes Season Pass that grants access to future downloadable content.
Beam Katana in hand, Travis Strikes Again!
If you missed it, Grasshopper's Suda 51 said Travis Strikes Again is about "50 percent" hack-and-slash and the other half is comprised of racing, puzzle, action and side-scrolling elements. It stars Travis and Badman who are stuck inside the Death Drive Mark II - a phantom console from the '90s.
Are you glad to hear Travis Strikes Again: No More Heroes will receive a physical edition on release? What are your thoughts about this game receiving a season pass? Tell us in the comments.
[source mynintendonews.com]