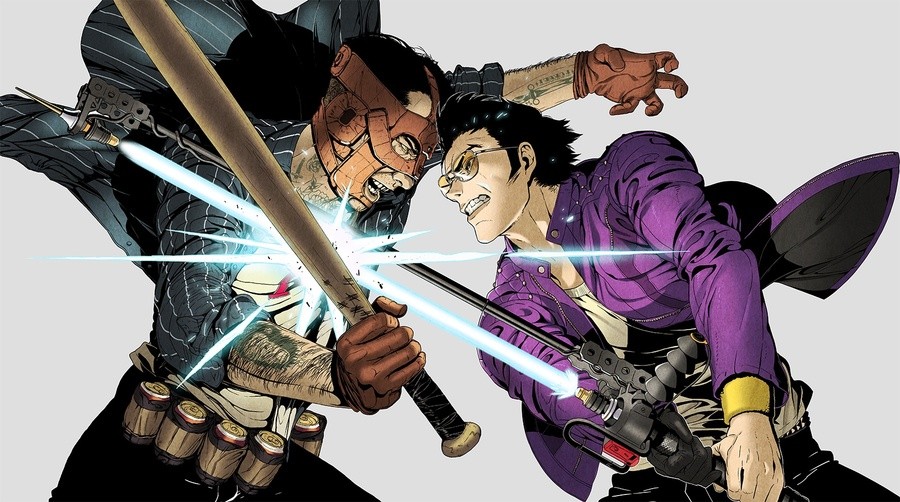 The Nintendo Switch exclusive Travis Strikes Again: No More Heroes was recently given a launch date by Grasshopper Manufacture. Instead of its original 2018 arrival, the game will now release on 18th January next year. 
Speaking to Destructoid at PAX West 2018, Goichi "Suda51" Suda explained he didn't want to take the limelight off Super Smash Bros. Ultimate when it was released in December:
So, as you know, Super Smash Bros. is coming out in December...I'd feel really bad about impacting their sales negatively. I'll give them a break and move it over into next year.
On a separate point, Suda51 said how Travis Strikes Again was "about 50 percent" hack-and-slash, and the other half was comprised of a racing game, puzzle action game and side-scrolling game, as Travis and Badman are stuck inside the Death Drive Mark II - a phantom games console from the '90s. 
You're actually always inside the game but you're able to choose the cartridge or game you want to play from inside it...There's actually only six games in the Death Drive machine, which is part of the story. But the final stage is the seventh stage but that's kind of a secret.
Motion controls will also be included, with Suda describing the exact action required:
The only motion control feature is that when you're charging up your beam saber, you have to shake the controller. There are certain special moves at the very end, you'll shake it again -- that's about it though.
Are you excited about Travis Strikes Again: No More Heroes? Do you think Suda51 made the right decision not to release the game alongside Super Smash? Should more games avoid lining up with anticipated releases? Tell us what you think below. 
[source destructoid.com, via destructoid.com]