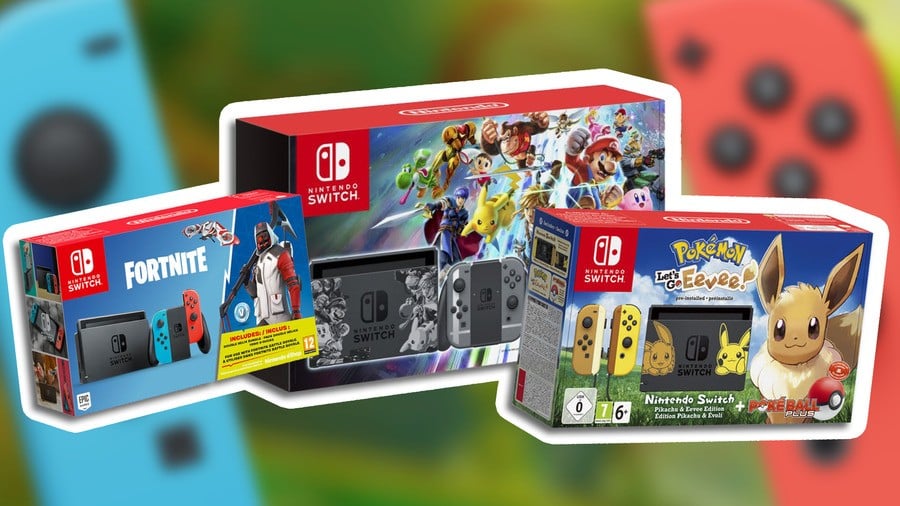 In the market for a new Nintendo Switch for Christmas this year? Well, you have a wide variety of options, from default consoles to special bundles packed with free games and extras. At this point in the Switch's lifespan, we'd strongly encourage you to opt for the latter, as that's where the best value for money lies.
The Fortnite bundle, for example, is the same price as the Switch on its own, but comes with exclusive content for the world's biggest battle royale shooter. That includes an outfit, glider, harvesting tool, and 1,000 V-Bucks, which will let you grab a Battle Pass right away. Bargain! Even if you don't like Fortnite, it's free stuff, making this something of a no-brainer.
If you don't mind spending a bit more, you'll soon be able to get bundles that include games like Pokémon: Let's Go, Pikachu! and Let's Go, Eevee!, Super Smash Bros. Ultimate, or Diablo III Eternal Collection. Not only do these bundles cost about the same as the console and game would anyway, they include extras like themed Joy-Cons and dock, and perhaps an extra controller or accessory. Basically, you do end up getting more for your money versus buying everything separately, and you always get something exclusive. Neat.
So without further ado, let's take a look at the best Nintendo Switch Bundles, and then the best prices for them beneath. We've split the Bundles up into US and UK prices so you can choose options depending on your territory.
Which Nintendo Switch Bundle are you most excited for? Are you hoping to find one under your tree this Christmas? Let us know all about it in the comments section below.