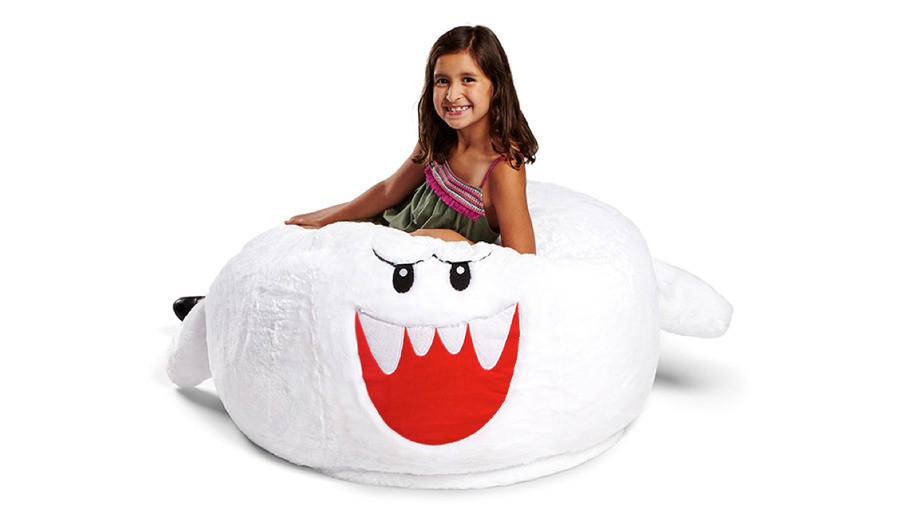 If you're looking for a great new chair for your gaming room, a bright and bold feature piece for your front room, or even if you just love cuddly Nintendo things, this Boo bean bag chair is absolutely for you.
Boos may well be frightening in Mario's games (in the most adorable way possible, of course) but this one looks like it's ready to cuddle up and stop scaring everyone for a while to catch up on some snuggly gaming sessions in the comfort of your own home. You can check out the product's specifications and some more images right here:
Product Specifications
Super Mario Boo Bean Bag Chair
Officially-licensed Nintendo® merchandise
A ThinkGeek creation & ThinkGeek / GameStop exclusive
A small bean bag chair that looks like one of Mario's enemies, Boo
A perfect gift for Super Mario fans
Materials: 100% polyester outer, filled with cotton and polyester fiber mix and polystyrene balls
Care Instructions: Hand wash cold and air dry outer fabric
Imported
Dimensions: 38" wide x 28" tall x 38" deep (YMMV depending on how it's sitting - it's a beanbag)
Ages 14+
If you're interested in getting one, pre-orders are now live on ThinkGeek. As you might expect, however, this isn't the cheapest chair in the world by any means, coming in at a cool $139.99 (before shipping and a $40.00 heavy item surcharge). ThinkGeek is a US-based company, but it does offer international shipping to a number of different countries. The chair is expected to release in late November.
What do you think? Would you love one of these bean bag chairs for your own home? Do you feel that you can part with the cash for such a delightful bundle of joy? Let us know with a comment below.