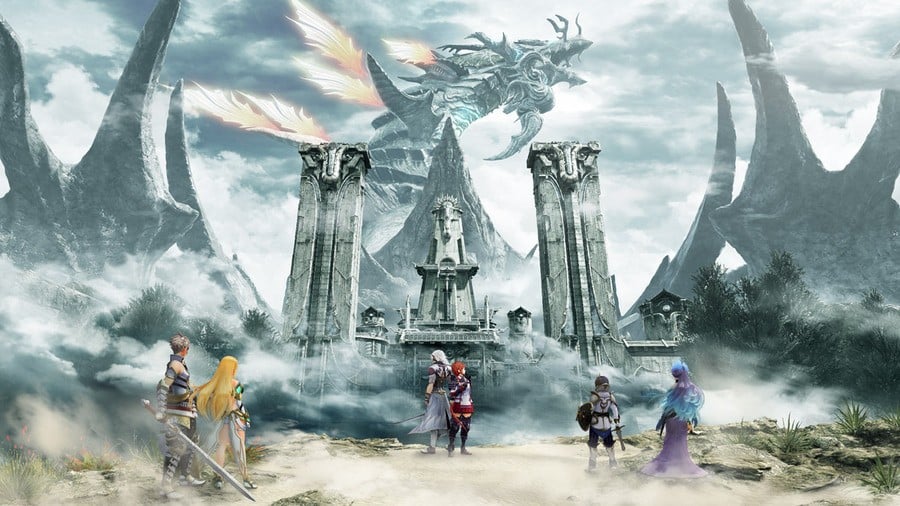 The latest Nintendo Download update for North America has arrived, and it's bringing new games galore to the eShop in your region. As always, be sure to drop a vote in our poll and a comment down below with your potential picks for the week. Enjoy!
Nintendo Switch retail
Xenoblade Chronicles 2: Torna ~ The Golden Country – Guide a group of legendary warriors on a prequel journey to the Xenoblade Chronicles 2 game. Defend yourself from Malos and his forces using all the fury of a refined battle system that allows you to fight as both the artificial lifeforms known as Blades and their masters, the Drivers.
Labyrinth Of Refrain: Coven Of Dusk (NIS America, Tue 18th September, $49.99) In this dungeon RPG, you play as the Tractatus de Monstrum, a living book owned by the conniving Dusk Witch Dronya, and confront the dangers lurking beneath the quiet town of Refrain. Assemble an army of up to 40 fully customizable puppet soldiers and wield unique skills, deadly magic, combination attacks, and powerful weapons to annihilate terrifying monsters and conquer the labyrinth of Refrain! Read our Labyrinth Of Refrain: Coven Of Dusk review.
Scribblenauts Mega Pack (WB Games, Tue 18th September, $39.99) Get the best of Scribblenauts with Scribblenauts Mega Pack! Two classic games with ALL-NEW content to explore! Scribblenauts Unlimited - Journey into Maxwell and Lily's world as you use the power of your imagination to solve exciting puzzles in endless ways.
Switch eShop
Undertale (8-4, Tue 18th September, $14.99) The world-famous indie RPG UNDERTALE comes to Nintendo Switch! Fall into the underworld and explore a hilarious and heartwarming world full of dangerous monsters. Date a skeleton, dance with a robot, cook with a fishwoman... or destroy everyone where they stand. The future is yours to determine!
Wasteland 2: Director's Cut (InXile Entertainment, Today, $29.99) The Wasteland's hellish landscape is waiting for you to make your mark... or die trying. With over 80 hours of gameplay, you will deck out your Desert Ranger squad with the most devastating weaponry this side of the fallout zone, test the limits of your strategy skills, and bring justice to the wasteland.
Bastion (Supergiant Games, Today, $14.99) Bastion is an action role-playing experience that redefines storytelling in games, with a reactive narrator who marks your every move. Explore more than 40 lush hand-painted environments as you discover the secrets of the Calamity, a surreal catastrophe that shattered the world to pieces. Read our Bastion review.
ACA NEOGEO NINJA COMMANDO (HAMSTER, Thu 6th September, $7.99) "NINJA COMMANDO" is an action game released by SNK in 1992. Fight to protect history from death merchants planning to bring chaos to the world. Shoot, use Ninja Tricks and Death Blows, and accumulate scrolls to perform Transformations for a variety of attacks. Read our Ninja Commando review.
Danger Mouse: The Danger Games (9th Impact, Today, $4.99) In this insane race showdown of epic proportions, you'll play as the world's greatest secret agent, Danger Mouse, starring in Quark's latest reality TV show, The Danger Games. Speed through city streets, battle enemies, and dodge explosions as you struggle for first place! Will you make it to the finish line in one piece?
Defunct (Soedesco, Today, $14.99) You are a broken robot that accidentally falls out of a giant cargo ship onto a post-human Earth, now inhabited by robots. You have to get back to your ship before it's too late! You are equipped with a Gravitize engine.
Doughlings: Arcade (HERO CONCEPT, Today, $6.99) Doughlings brings unique gameplay mechanics through its interesting characters and the world while combining together the best that all known Arkanoid games have to offer, polished with a modern look and design.
Monkey King: Master of the Clouds (UFO Interactive, Thu 6th September, $4.99) A huge Japanese coin-op hit developed by HOT-B in 1989, the game was later renamed Cloud Master when released outside Japan on the Sega Master System.
Old School Musical (Playdius, Today, $12.99) What has 50 amazing chiptune tracks, a loony story mode, 32 different chicken types to fight, and takes you on a tour of all your favorite retro games? It's Old School Musical of course!
Omvorm (4MB Interactive, Tue 18th September, $7.49) Welcome to Omvorm! The first puzzle game from indie studio 4MB Interactive and our debut on Nintendo Switch! Omvorm is a fast-paced shape shifting puzzle game that requires quick reactions and calmness under pressure.
Senran Kagura Reflexions (XSEED Games, Today, $9.99) Can you feel it? The beating of her heart... In a classroom after school, learn the ways of "Reflexology" by syncing with her heart and body. SENRAN KAGURA combines with HD Rumble on the Nintendo Switch! Read our Senran Kagura Reflexions review.
Shadow Fight 2 (Nekki, Today, $14.99) Shadow Fight 2 is a representative of a popular fighting series that won a place in gamers' hearts around the globe. It's a love letter to all martial arts games and fantasy/sci-fi genre. Walk through the Gates of Shadows into the dangerous world full of memorable fights and brave heroes.
Siegecraft Commander (Level 77, Wed 19th September, $19.99) Play through the Knight campaign as you battle against the tribal Lizardmen or enjoy the groundbreaking PvP combat system that will deliver fast-paced real-time strategy action or tactical turn-based gameplay.
Slice, Dice & Rice (Arc System Works, Thu 6th September, $17.99) n "Slice, Dice & Rice", a single, clean hit will determine the victor. The winner of the duel is determined by one's mastery of "Parry" and "Shingan". "Parrying" your opponent's attack will place you in an advantageous position. The "Shingan" will assist you in dealing with incoming attacks. Once activated, time slows down, making it easier to "parry" your opponent's attack.
Super Dungeon Tactics (Underbite Games, Today, $19.99) Super Dungeon Tactics is a classic turn-based game featuring exciting, new gameplay mechanics. Along with traditional RPG characters making you feel right at home, the dynamic gameplay will keep you on your toes.
Surgeon Simulator CPR (Bossa Studios, Today, $12.99) Didn't fancy seven years at medical school? Skip straight to the operating table with the critically-acclaimed Surgeon Simulator CPR, fully revived and feeling better-than-ever on the Nintendo Switch!
Sword of the Guardian (Billy Chan Studio, Tue 18th September, $14.99) Introduction Did you enjoy playing arcade games with your childhood friends in the past? Paying homage to the popular side-scrolling arcade games in the '80s and '90s, the Sword of the Guardians is an amazing retro beat'em up game for you and your fellas to indulge in an incredible adventure.
The Mahjong Huntress (Forever Entertainment, Today, $4.99) Mary Elisabeth Riley is to be wed to Sir Charles Gilbertworth on the eve of her 21st birthday. She is reluctant, as the marriage was arranged and she does not feel it's the time or the place – or the man for that matter.
The Spectrum Retreat (Ripstone, Today, $12.99) The Spectrum Retreat is a challenging, first-person puzzle game set in the near future. You awake at The Penrose hotel, a peaceful yet unsettling refuge from the outside world. Read our The Spectrum Retreat review.
Warlock of Firetop Mountain (Tin Man Games, Today, $29.99) CHOOSE YOUR OWN ADVENTURE Battle, sneak, and charm your way through thousands of story options as you play through over a dozen major quests, each unique to a different Hero.
Switch DLC
Xenoblade Chronicles 2 – New DLC is releasing for owners of the Xenoblade Chronicles 2 Expansion Pass. Buy the Expansion Pass to gain access to titanic content, including the Challenge Battle Mode and additional Rare Blades. Expansion Pass owners will receive the Xenoblade Chronicles 2: Torna ~ The Golden Country content on Sept. 14, one week earlier than the launch date of Sept. 21.
Switch Demos
3DS eShop
Space Defender Battle Infinity (Denvzla Estudio, Thu 6th September, $9.99) The galaxy was suddenly attacked by alien life forms known as the space invaders. Fast numbers of them enveloped the galaxy and destroyed planets. Your mission with the best space pilots in the galaxy will be to destroy the space invaders...
Activities
Animal Crossing: Pocket Camp - Splatoon 2 Crossover Event – Every day is a new day in the Animal Crossing: Pocket Camp smartphone game. Starting today, the Splatoon 2 Crossover Event begins. You can get Splatoon 2 inspired gear from in-game events to make your camp drip with freshness! This two-part event kicks off with Blitz Clam Scavenger Hunt at 11 p.m. PT on Sept. 13, which runs through 10:59 p.m. PT on Sept. 25. The second event, Fishing Tourney #6, begins at 11 p.m. PT on Sept. 19 and runs through 10:59 p.m. PT on Sept. 27. To celebrate the Crossover Event, Splatoon 2 Cookie Packs are now available for purchase at the Tommy's shop in the Market Place.
Nintendo eShop sales
Great deals this week! Check out the full list of deals available this week here.
So that's your lot for this week's North American Nintendo Download. Go on, be a sport and drop a vote in the poll above, and a comment below with your hot picks!