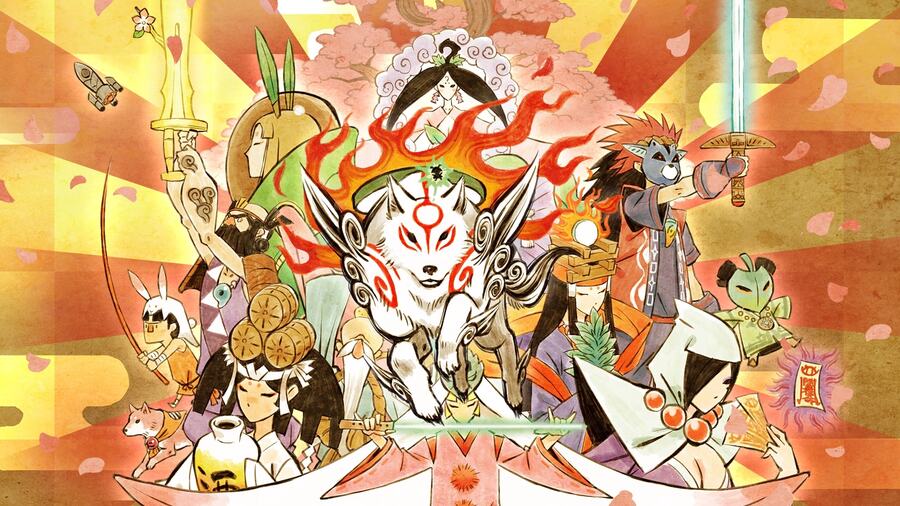 The latest Nintendo Download update for North America has arrived, and it's bringing new games galore to the eShop in your region. As always, be sure to drop a vote in our poll and a comment down below with your potential picks for the week. Enjoy!
Nintendo Switch
State of Mind (Daedalic Entertainment, Wed 15th August, $39.99) The world is on the brink. Lack of resources, illnesses caused by polluted air and water, crime on the rise, war. Governments and companies promise remedies through technological progress. Drones and humanoid robots replace humans in the public sector, everything is interconnected, surveillance has become omnipresent.
Switch eShop
Okami HD (Capcom, Today, $19.99) Experience this acclaimed masterpiece with its renowned Sumi-e ink art style in breathtaking high resolution. Take the role of Amaterasu, the Japanese sun goddess who inhabits the form of a legendary white wolf Shiranui. Use magical abilities, attacks, and Celestial Brush techniques to restore the land of Nippon to its previous glory full of life and colour.  Read our Okami HD review.
Minit (Devolver Digital, Today, $9.99) Minit is a peculiar little adventure played sixty seconds at a time. Journey outside the comfort of your home to help unusual folk, uncover countless secrets, and overcome dangerous foes, all in hopes of lifting a rather unfortunate curse that ends each day after just one minute.  Read our Minit review.
2064: Read Only Memories Integral (Midboss, Thu 26th July, $20.64) Your life as a struggling journalist is interrupted by the world's first sapient machine, a ROM (Relationship and Organizational Manager) named Turing. Together, you and the quirky robot will encounter a colorful cast of locals and overcome challenges as you uncover the city's secrets behind the overlapping futures of technology and humanity.
ACA NEOGEO PREHISTORIC ISLE 2 (HAMSTER, Thu 2nd August, $7.99) "PREHISTORIC ISLE 2" is a shooting game released by SNK in 1999. Various types of dinosaurs which are large, small, or even have the wings emerged! Your mission is to eliminate these primaeval beasts from the city. Rescue and help all trapped citizens' escape! 
BlobCat (BySamb, Today, $9.99) In BlobCat it's your job to protect the DiceMice! Place arrows and guide the Dicemice to the Micehole! But beware, the naive BlobCats are rolling around (not quite at the speed of sound)! Solve over 90 different levels spanning over 5 worlds, each with a unique gameplay twist! Let the battle begin!
Catch 'Em! Goldfish Scooping (D3Publisher, Thu 2nd August, $7.99) With four modes to enjoy with 2-4 players, you can have an intense battle with this party game. In addition to scooping goldfish for points, you can use items to your advantage and to mess with your opponents! Make this fun goldfish scooping party game your new tradition!
GREEN (Studio Green, Thu 2nd August, $2.99) Create a block yourself and use it to clear the stage Side scrolling 2D puzzle action game Because it uses only the jump and block buttons, it is a simple game that anyone can feel free to play. Please clear all 50 stages and save the lover's pink.
Megaton Rainfall (Pentadimensional Games, Today, $15.99) Megaton Rainfall is a first-person superhero game. A global alien invasion is taking place and you must face it – alone. Chase massive destruction devices at supersonic speeds around an Earth that's as large as the real thing and populated with semi-procedurally generated cities. Read our Megaton Rainfall review.
Nightmares from the Deep 2: The Siren's Call (Artifex Mundi, Fri 10th August, $14.99) When Sarah Black, curator at the Caribbean Naval Museum, receives a package from a mysterious messenger, she is unwittingly drawn into an ancient conflict. Inside the package she finds an artifact, and instantly assailants descend on the museum to rob her.
Shut Eye (Forever Entertainment, Today, $3.99) Shut Eye on Nintendo Switch now with refreshed graphics and gameplay! Play as a young child, who is away from her parents. The girl has suffered from anxiety most of her life, which lead to confusion and an exuberant imagination.
SubaraCity (Flyhigh Works / CIRCLE, Today, $5.00) SubaraCity on Nintendo Switch offers a new twist for puzzle game fans, combining careful planning with relaxing gameplay. You're not just matching blocks, but you're city building at the same time!
Tetra's Escape (Ratalaika Games, Fri 10th August, $4.99) Blocks named Tetras and it is down to the players to do all that they can, to save them and make the most out of their special ability. Via the means of shape-shifting, Tetras can turn into different Tetrominos and used to fill holes and master puzzles, in an attempt to reach the portal on the other side of the level.
The Amazing Shinsengumi: Heroes in Love (D3Publisher, Today, $11.99) A romance game for women where you fall in love with members of the famed Shinsengumi. Okita Soji, Saito Hajime, Nagakura Shinpachi, Harada Sanosuke, Todo Heisuke... Which of the rough and passionate Shinsengumi members will you fall for? Featuring character designs by popular artist for women's media, Nagaoka.
Unexplored (Digerati, Today, $15.00) Descend into the depths of the Dungeon of Doom and complete your quest: steal the Amulet of Yendor from the fearsome dragon and make it out alive. Unexplored is the roguelite that feels like a roguelike. An accessible yet challenging action RPG that has won praise for its revolutionary level generation tech.
Nintendo Switch - Open Beta

Dragon Ball FighterZ (Bandai Namco) Open Beta – Go head to head in VS Online with no fewer than 23 characters and 13 stages. Don't forget to also stop by the Battle Tutorial to sharpen your skills and master all kinds of devastating techniques. The Open Beta servers are scheduled to be on between 9 p.m. PT on Aug. 9 and 11:59 p.m. PT on Aug. 11.
Switch eShop - Demo

Nintendo eShop sales:
Great deals this week! Check out the full list of deals available this week here.
Activities
Calling All Nintendo Labo Fans! – In less than two weeks, the latest Nintendo Labo Creators Contest No. 2 ends! Have you started on your entry? A team of Nintendo Labo judges will select four winners in two categories: Best Toy-Con Musical Instrument and Best Gaming Experience using Toy-Con Garage. The contest ends at 10:59 a.m. PT on Aug. 20. You can also check out other submissions here – and don't forget to give a "like" to your favorites! The prizes include a specially designed, collectible cardboard-inspired Nintendo Switch system, Nintendo Labo Creators jackets and more. For more info, please visit the official contest site here. 

So that's your lot for this week's North American Nintendo Download. Go on, be a sport and drop a vote in the poll above, and a comment below with your hot picks!