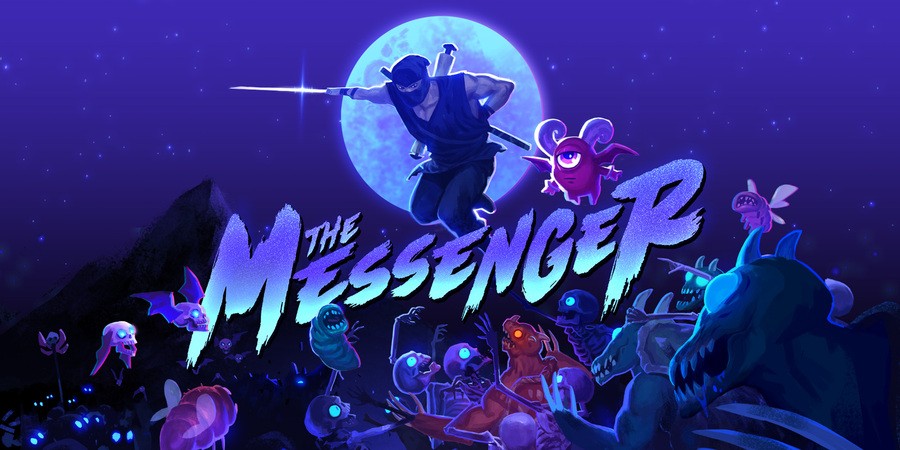 The latest Nintendo Download update for North America has arrived, and it's bringing new games galore to the eShop in your region. As always, be sure to drop a vote in our poll and a comment down below with your potential picks for the week. Enjoy!
Nintendo Switch retail
God Wars: The Complete Legend (NIS America, Tue 4th September, $39.99) GOD WARS The Complete Legend is a tactical RPG that explores the untold history of Japan through folklore and tactical combat. Discover the secret pasts and ultimate destinies of Kaguya and her friends inside the Labyrinth of Yomi. Read our God Wars: The Complete Legend review.
Switch eShop
The Messenger (Devolver Digital, Today, $19.99) As a demon army besieges his village, a young ninja ventures through a cursed world, to deliver a scroll paramount to his clan's survival. What begins as a classic action platformer soon unravels into an expansive time-travelling adventure full of thrills, surprises, and humor. Read our The Messenger review.
Into The Breach (Subset Games, Tue 28th August, $14.99) The remnants of human civilization are threatened by gigantic creatures breeding beneath the earth. You must control powerful mechs from the future to hold off this alien threat. Each attempt to save the world presents a new randomly generated challenge in this turn-based strategy game from the makers of FTL.
The Walking Dead: The Complete First Season (Telltale Games, $24.99) Play as Lee Everett, a convicted criminal, who has been given a second chance at life in a world devastated by the undead. With corpses returning to life and survivors stopping at nothing to maintain their own safety, protecting an orphaned girl named Clementine may offer him redemption.
ACA NEOGEO CROSSED SWORDS (HAMSTER, Thu 23rd August, $7.99) In order to defeat the demon Nausizz, use Weapon Attacks, Magic Attacks, and your Defend ability as you make your way through seven intense stages. Up to two players can play simultaneously with the unique 3D perspective.
Bloxiq (Blot Interactive, Thu 23rd August, $9.99) Bloxiq takes the classic concept of color matching and turns it on its head. You'll need all of your wits as you try to solve 100 levels that will completely change your perspective on puzzle games. Easy to learn, fun to play and sometimes mind-bendingly difficult, bloxiq's innovative mechanics make it the perfect game for people who love puzzle games that challenge your brain rather than your luck. Are you up to the challenge?
Claws of Furry (Terahard, Mon 3rd September, $9.99) Claws of Furry Claws of Furry creates a blend of today's fast paced action with classic arcade Beat'em up badassery. With four distinct environments with unique enemies, the challenge is always evolving. Multiple modes such as Rogue-like and Arena, and unlockable outfits with unique bonuses, will keep you coming back for more.
Fall of Light: Darkest Edition (Digerati, Today, $14.99) Fall of Light is a story-driven action RPG set within a world consumed by darkness. You are Nyx, an old warrior who has embarked on a dangerous journey with his daughter, Aether, an 'indigo child' who radiates luminescence. Only together will they be strong enough to complete their quest: reach the last place on Earth still touched by sunlight.
Freedom Planet (XSEED Games, Today, $14.99) The planet Avalice has long known a tenuous peace thanks to the Kingdom Stone: an orb of unknown origin that outputs enough free energy to power every device in the world, seemingly without limit. Read our Freedom Planet review.
Haunted Dungeons: Hyakki Castle (Happinet, Today, $13.99) Form your party (a group of secret agents) from among four races: Human, Oni, Tengu, and Nekomata. Then conquer the terrifying and mysterious Yokai-filled castle!
Mini Metro (Radial Games, Today, $9.99) In Mini Metro, you take on the task of designing the subway layout for a rapidly expanding city. Your city starts with three stations. Draw routes between these stations to connect them with subway lines. Commuters travel along your lines to get around the city as fast as they can.
Moonfall Ultimate (Wales Interactive Ltd., Tue 4th September, $12.99) Moonfall Ultimate is a 2D side-scrolling, action-RPG, set in an industrial gothic universe. Hack, slash and cast your way through a treacherous hand-painted world in solo, couch co-op or endless arcade mode.
Ninjin: Clash of Carrots (Modus Games, Tue 4th September, $14.99) Ninjin: Clash of Carrots is an anime-inspired beat-'em-up with a gaggle of varied enemies, deep customization…and ninjas! Play through side-scrolling worlds consisting of multiple stages and collect carrots stolen by the evil Shogun Moe!
Phantaruk (Forever Entertainment, Today, $4.99) For long has the humanity been constrained by limits of the human body. Most have accepted the imperfection of flesh, but some sought for liberation. To pursue the dream of creating a post­human being – to achieve ideas of transhumanism – is the driving force behind H+ Corporation.
Realpolitiks (Forever Entertainment, Today, $24.99) This is complete edition consisting of the Base Game and the "New Power" DLC. Realpolitiks is a streamlined real-time grand strategy game that allows you to become the leader of any contemporary nation. Dive deep into the issues of the modern world, with its current geopolitical borders, using your country's power and economic strength to engage in military conflicts and international affairs. Read our Realpolitiks review.
Seasons of Heaven (Any Arts Production, Tue 4th September, $14.99) Action roguelike for 1-4 players with cute graphics, easy to pick up controls and deep game mechanics. Combine dozens of different weapons, magic items, potions and spells to beat 7 enemy factions and 24 bosses. Can you find the ancient artefact at the end of the dungeon?
The VideoKid (Chorus Worldwide Games, Today, $4.99) It's the 1980's. The Kid needed to earn some cash to take his girlfriend out. So by delivering pirate videotapes to his customers and staying one step in front of the cops, he quickly became... The VideoKid.  Read our The VideoKid review.
Toy Stunt Bike: Tiptop's Trials (Wobbly Tooth Games, Thu 23rd August, $4.99) Toy Stunt Bike is a 3D, action-packed, micro-sized motorbike trials game. Guide Tiptop the chimpanzee across thirty-six tracks set in a variety of household locations.
Nintendo eShop sales
Great deals this week! Check out the full list of deals available this week here.
Activities
My Nintendo September Rewards – Summer's almost over, but that doesn't mean the fun has to stop – head back to school with a New Nintendo 2DS XL system! With a huge library of games featuring Mario, Link and more classic characters, it's just the thing to get through long bus rides or down time after school. My Nintendo September rewards help kick things off with discounts for up to 50 percent on Nintendo Selects games like The Legend of Zelda: A Link Between Worlds. Nintendo 2DS XL plays all Nintendo 3DS games in 2D only.
So that's your lot for this week's North American Nintendo Download. Go on, be a sport and drop a vote in the poll above, and a comment below with your hot picks!