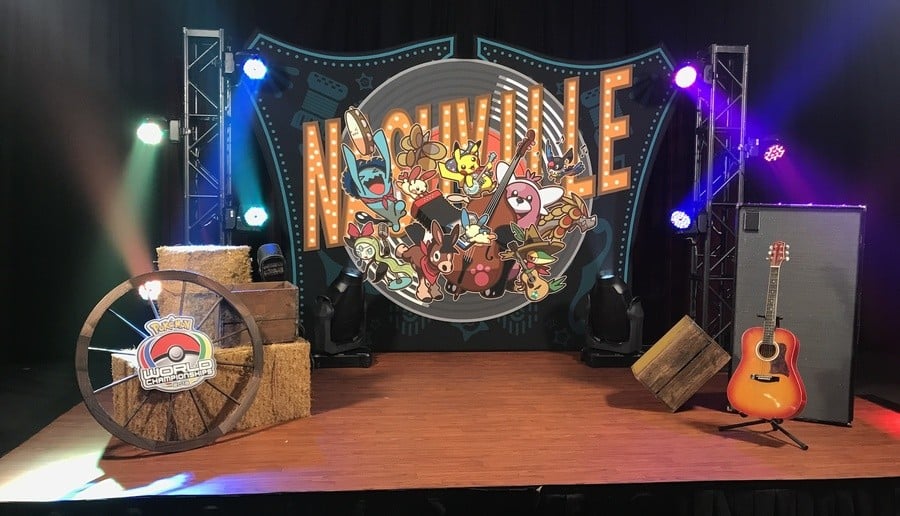 Since 2004, the Pokémon World Championships have been a place where the best Pokémon players from all over the world have come to see which player is the very best, like no-one ever was. This year, the event took place in the Music City itself: Nashville, Tennessee.
This year, to go with the location, it had a special motif to follow the whole music theme. The stage was decked out like a country music venue with the sides set out like Broadway in Nashville. There were decorations of many musical-themed Pokémon all around the arena; it was truly the greatest stage that has been done at a Pokémon World Championships.
What are the Pokémon World Championships?
Over the past year, players from the world of the Pokémon Video Games and Pokémon Trading Card Games have been competing in competitions around the world hoping to obtain enough points to earn an invite to the World Championships, with the top players in each region getting an invite to skip the first day. The event is a 3-day long tournament, with players who received an invite having to go through a day of Swiss Rounds, where they have to play through 6 or more battles to then be ranked based on performance. Based on that, the players who achieve a certain rating will then move onto Day 2 where there's a second set of Swiss Rounds before the Top 8 players are put into Top Cut until it's down to the Top 2 on the finals.
Fighting game Pokkén Tournament does it a different way, with players going on a Double Elimination Bracket where, if they lose, they have more chances of going through the loser's bracket to return to the eventual finals. Pokkén Tournament ran on Pokkén Tournament DX's foundation and started off with a Last Chance Qualifier on the Friday, where any player who chose to enter had a chance to play through to gain a place on the actual Pokkén Tournament DX Championships on Day 2. From there, the top players who earned a place throughout the year faced off to become World Champion.
Special Merchandise
As with every year, a special Pokémon Center pop-up store was opened at the World Championships. This sold a myriad of official Pokémon Center merchandise but also included a number of unique Nashville-themed items, including a Pikachu plush, playmats, deck boxes, card sleeves, T-Shirts, hoodies and bags.
However, to top that off, all players who earned themselves an invite got a special competitor's bag. This contained various other merchandise and exclusive variations of the merchandise in the store. They got an exclusive accessory pouch, screen cleaner, bag and even 5 guitar picks! Unfortunately, we were not able to get hold of the competitor's bag this year. Boo.
The Announcements
A Pokémon World Championships would not be the same without special announcements, and this year had plenty. While there was sadly no news for the upcoming core games Pokémon Let's Go, Pikachu! & Let's Go, Eevee!, The Pokémon Company didn't hold back on reveals. It started with the reveal of Tag Team GX cards, a new kind of Pokémon GX card that combines two Pokémon and does a lot of damage, but at the cost of 3 Prize Cards when defeated.
Next up was the forthcoming Pokémon: Detective Pikachu movie. Director Rob Letterman and stars Justice Smith and Kathryn Newton came out onto the stage to show off the logo of the upcoming movie as well as getting some audience participation to do some cheers for Pikachu and Charizard, which will be in the movie upon its release.
Finally, during the Saturday, the ruleset for VGC 2019 was revealed, to a mixed response. When it was announced that the ruleset would be GS Cup on Ultra Sun & Ultra Moon (where players can use 2 Restricted Pokémon such as Mewtwo, Necrozma and Zygarde in their team), there were many audible groans, but for the first time ever this circuit will be separated into three. The first Sun Series will ban all Mega Evolutions and Z-Crystals. The second series, Moon Series, will ban all Mega Evolutions while the final series, Ultra Series, allows everything. This idea was much appreciated by the VGC community and should make the next year very interesting.
What was there to do?
If you weren't invited, you could come as a spectator and there was even more to do there than last year. Starting off, there was a massive trade corner for players to go to trade whatever they wish. From cards to sleeves and even Regional Pokémon in Pokémon GO, the trade section was always full.
There was also, once again, many side events but unfortunately, they were less varied than last year. There were the standard VGC and TCG pickup events where when 8 people had registered, they'd enter a mini-tournament. For TCG, there was also a sealed event that acts like a pre-release tournament where you go in with no cards and have to make a 40 card deck, and a VGC Multi Battle event. There was also the Nashville Open, a huge competition for players who couldn't win an invite to Worlds and those who had dropped out after Day 1, which allowed for players to win Championship Points towards next year's World Championships.
After last year had a display of the Kanto Starters made by Mega Construx, this year continued that and had three large statues of Squirtle, Wartortle and Blastoise to check out, and they were really impressive but the most striking element of the Mega Construx both was a huge diorama of all their Pokémon merchandise. Whoever created must be very talented; the attention to detail was mind-blowing.
This year, there was a lovely small retro corner where several Nintendo 64 and GameCube consoles were set up to play the classics such as Pokémon Snap, Pokémon Puzzle League, Pokémon Stadium, Pokémon Stadium 2 and Pokémon Colosseum. It was fun to go back and play people from around the world at the classic mini-games in Pokémon Stadium, that's for sure.
Finally, there was one more major element at the event: Pokémon Let's Go, Pikachu! & Let's Go, Eevee! were playable at the event. The demo was the same as the one at E3 in June and PAX West in August, and featured Viridian Forest. It was a good fun demo and I even managed to get a Shiny Oddish as my first encounter. This was, quite obviously, the biggest thing to do away from the tournament and always had a queue of over an hour to play.
The Matches
Of course, there were world-class matches for all three games that helped determine the winners which you can find on the official YouTube channel. These matches really helped show the best of the best.
Pokkén Tournament DX's finals were on the Saturday and were amongst the most hyped finals we had ever seen. Once again, many players returned from previous years but this year it was the newer players who came out more triumphant as the old guard dropped out of the bracket early on. In the final, ThankSwalot and Tarutaro battled for glory and it looked like it was going to go to Tarutaro as he took a stunning lead and even reset the bracket after coming up through the Loser's Bracket, but eventually, Thankswalot managed to turn the tide and became the third Pokkén Tournament World Champion.
The Pokémon Trading Card Game was equally as tense. This was the final competition before the format rotated and so many core cards to decks would no longer be usable. Cards such as N, Puzzle of Time and many others wouldn't be usable after this competition, so it's truly the final time we'd see these cards. Many of the standard decks could be seen during the finals, such as Buzzwole/Lycanroc and Garbotoxin Garbodor decks, with some matches even being mirror matches. However, the contests were fairly clearcut with one clear winner.
Juniors: Naohito Inoue
Seniors: Magnus Pedersen
Masters: Robin Schulz
The Video Game tournament was where things were definitely unique. Despite constant complaints of the format not being innovative enough, this year the top cut for VGC had the most diverse teams that we had seen. With it being the first year of Ultra Sun & Ultra Moon and the first year of National Pokédex, it had never been more diverse.
The Juniors match was a stunning contest that really showed the raw power of such a classic combo. With the duo of Whimsicott and Terrakion making a return from long ago, Won Lee managed to completely dominate Sota Tamemasa's team, stopping the strategy in the tracks with the combination of Beat Up Whimsicott and Terrakion's Z-Move Continental Crush preventing Sota from setting up the Trick Room that his team sorely needed.
The Seniors match was a lot closer, with some more conventional strategies coming to light. With much switching of Landorus and Incineroar, James Evans was able to get off continual Intimidates, lowering the Attack stat of Bram De Jonge's team, which was unfortunately very physically-focused; this eventually let James Evans take the title for the United States.
The Masters division as equally as competitive with Emilio Forbes of the US facing against Paul Ruiz from Ecuador; once again, these were not the more conventional VGC teams you would see. Emilio was using Mega Gengar and Latias while Paul was using Mega Salamence, Gastrodon and Kartana. Both teams continued the trend in VGC of Intimidate but eventually, Paul managed to come out triumphant and became the first ever World Champion from Latin America.
Juniors: Wonn Lee
Seniors: James Evans
Masters: Paul Ruiz
Until Next Year...
This was the last World Championships with so many staples in the battles and at the end, they announced that the Pokémon World Championships would be returning to Washington D.C., where it was held back in 2014.
The World Championships may be fun to watch from home, but they're much more fun to attend. You'll get to meet so many like-minded players who share the same passion you do. The community is always there to help each other out, and have a laugh. Animosity is so rare at the event, which is refreshing in this day and age - especially in light of tragic recent events which have forced many organisers to reassess security and have also harmed the perception of the games industry in the media. 
If you manage to make it to Washington D.C.'s World Championships next year, you're bound to have a lot of fun. They might even restore your battered belief in the power of video games (and their associated pastimes) to bring people together.