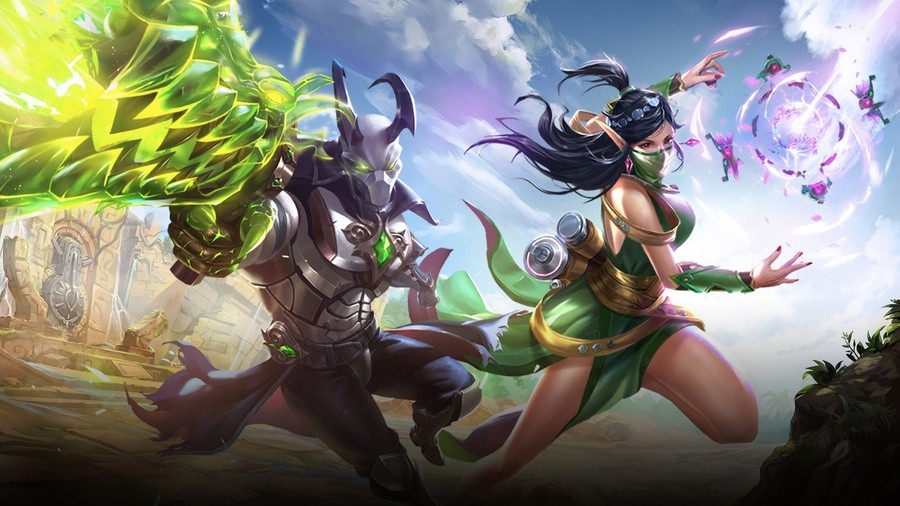 Another weekend, another chance for us all to share our Nintendo gaming plans! Whether you're slowly melting into nothingness like us poor souls in the far-too-sunny UK, or happily enjoying your summer days in a much more friendly and stable climate elsewhere, we hope you'll get a bit of time to enjoy your favourite games. This week we've got a lot of hero-based shooter action, RPG happiness, and even a special event to attend. Enjoy, and have a great weekend!
Ryan Craddock, staff writer
This weekend is a little different for me, as rather than spending every single moment locked away inside, I'll be joining some other members of the team for a lovely night out at the Nintendo Life Gaming Night in Cambridge. Taking place later this evening, we've got an ARMS tournament being hosted by our very own Alex Olney, and lots of retro Nintendo consoles are also being set up - many of which I've never had the chance to play.
I'm particularly excited to give the Virtual Boy a spin; I was only one year old at the time of release, so it might have been a little bit much for me back then, and its failure meant that it never came over to Europe anyway. Maybe I'll finally learn first-hand why it never made it out of Japan and North America.
Liam Doolan, news reporter
I played Paladins on PC prior to its official release and admittedly didn't think much of it. Considering that was quite a while ago, I'm willing to give the game a second chance now that it's available on the Switch. That's why this weekend I'll be dedicating my time to Hi-Rez Studios' free-to-play FPS, familiarising myself with as many of the champions as possible. Based on the short amount of time I have had with the game so far on Nintendo's latest system, I've got to say I'm impressed. Digital Foundry's analysis was spot on, in terms of it being a remarkable port with only a few minor technical setbacks.
Glen Fox, guides editor
I've had a bit of a weird week, and have struggled to find a game that really grabs me. I checked out Xenoblade Chronicles 2 for the first time and struggled with the low res visuals and performance issues, which only became worse while in handheld mode. I'm probably being a bit picky, but I found it too off-putting, and spent more time tweaking my TV settings in an attempt to offset the muddy visuals than actually playing the game. So I decided to save it for a time when I'm in a more forgiving mood and tried Octopath Traveler as a replacement, which I'm enjoying in small bursts so far. It's a bit of a basic and by the numbers JRPG, but the battle system is a ton of fun and I love the blocky 2D/3D visuals. It's also got some decent writing and voice acting, which kind of surprised me.

What's really captured my attention though, is Paladins. I was quite intrigued at this coming to Switch but didn't want to pay £25 for the Founder's Pack to see if I liked it. Now that it's free, I booted it up and was hooked instantly! It feels like I've been waiting to play a game like this for ages. A shooter that rewards team play and gives you more to do than just shooting enemies – who'd have thought! I've ended up playing as almost exclusively Jenos, because I quite enjoy healing and supporting my teammates. Having said that, he packs a pretty solid punch himself, and has some interesting skills that allow him to move around quickly and temporarily freeze enemies in place. I always like playing as characters that can do more than one thing well – jack of all trade types – and Jenos is pretty much that.

Paladins and Fortnite have really got me excited about the free to play and shooter scenes on Switch, and we've got more coming courtesy of the excellent Warframe. It's nice to have games to play in between games, or when you don't fancy booting up your main meal of a massive JRPG, and the Switch is starting to excel in that department. Now, if only Splatoon 2 can follow suit and provide more rewarding systems to help win me back...
Gonçalo Lopes, contributing writer
The joys of HD 2D are real as I fashionably late crawl my way into Octopath Traveler. I still hope to keep exploring Ys VIII's mysterious island while I'm at it, but in my experience playing two JRPGs at the same time is a bad policy. Will be bringing the pain to the monthly ARMS Party Crash with Springtron because those badges don't earn themselves. Elsewhere, Slaps and Beans is on the menu thanks to the stealth release of the long-awaited Switch version of the Bud Spencer and Terence Hill tribute game. Hopefully I won't get too addicted to Paladins.
Dom Reseigh-Lincoln, reviewer
The Summer Holidays have kicked off, and if you're a parent you'll know that means its six weeks of chaos, children and more chaos. So while I try and work out ways to keep too excitable kids entertained, I'll be putting the real-time strategy of Element and the 3D platforming of Tanzia through their paces on Nintendo Switch - look out for reviews of both next week on Nintendo Life. My eldest has also fallen down the Splatoon 2 well, so much so he's probably vastly better at Turf War than I'll ever be. Not that I'm bitter or anything...
Jon Cousins, Japan correspondent
This weekend, I'm trying to get ready for my inevitable purchases of two DLC packages, so I'm concentrating on finishing the solo campaigns of Splatoon 2 and Mario + Rabbids Kingdom Battle. Splatoon's multiplayer has had its hooks in me since the first game, but I'm actually really enjoying the variety in the single player missions and they are also encouraging me to use weapons I would ordinarily ignore. Despite the expansion's reported difficulty, I'm really interested to see the new ideas and levels. I'm also a big fan of Donkey Kong, so before I eventually get round to buying his turn-based strategy adventure add-on, I must finish Mario's main game first.
Dave Letcavage, contributing writer
I know it took me ages, but I've finally downloaded Phoenix Wright: Ace Attorney - Spirit of Justice on 3DS. When I'm not reading (which I've been doing a lot of lately), I've mostly been playing that. In addition to the video game form of Ace Attorney, I've also been watching the anime thanks to a recommendation from Nintendo Life's very own Morgan Sleeper. The English dub occasionally features some piercing voices and hammy performances, but I'm enjoying the series despite those factors. No major objections here!

When I need a break from the legal world, I'm hoping to start another playthrough of the superb Guacamelee! Super Turbo Championship Edition in anticipation of the – for now – PS4-exclusive sequel that's scheduled to release next month. The original is quite possibly my favorite Metroidvania ever, so returning to it is always a treat.
Richard Atkinson, contributing writer
I'll be making my merry way to the stunning city of Cambridge, UK this weekend to meet and greet some of our dedicated readers to enjoy hours of gaming fun at the Centre Of Computing History. There will be a plethora of consoles to jump on including the likes of the Famicom, Sharp Famicom Twin, NES, Super Famicom, Super Nintendo (both US and UK Models), SNES Mini and Super Famicom Jr to name a few. Apparently there's something called the Wii U, too... Of course, my trusty Switch will be firmly in my grips with Splatoon 2 and Mario Kart 8 Deluxe ready and waiting for anyone wanting to jump in for some Salmon Run goodness or for me to embarrass myself by falling off Rainbow Road more times than I care to imagine.

I can't wait to meet some of the Nintendo Life staff and our awesome readers in a great venue that's bulging at the seams with nostalgia. Make sure to come and say hello!
Which games are you playing this weekend? (427 votes)
ARMS

3

%
Paladins

18

%
Xenoblade Chronicles 2

4

%
Octopath Traveler

20

%
Fortnite

10

%
Splatoon 2

10

%
Ys VIII: Lacrimosa of Dana

3

%
Bud Spencer & Terence Hill - Slaps and Beans

1

%
Element

0%

Tanzia

0%

Mario + Rabbids Kingdom Battle

3

%
Phoenix Wright: Ace Attorney - Spirit of Justice

0%

Guacamelee! Super Turbo Championship Edition

0%

Mario Kart 8 Deluxe

5

%
Something else (comment below)

22

%
Please login to vote in this poll.
As always, thanks for reading! Make sure to leave a vote in the poll above and a comment below with your gaming choices over the next few days...