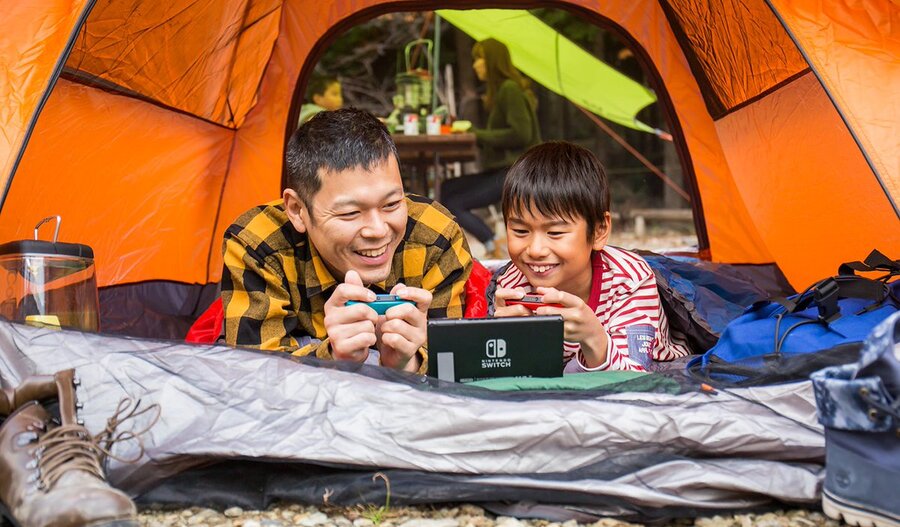 Given how successful 2017 was for Nintendo, following up on that success was always going to be hard. The Switch launched at the start of the year and was quickly blessed with one of the best year-one libraries we've seen in quite some time; smash hit after smash hit arrived on store shelves giving the console enough momentum to overtake the total lifetime sales of its forerunner, the much-maligned Wii U, in no time at all.
It's pretty obvious that Nintendo's strategy was to load the Switch's debut year with key titles to ensure it would hit the ground running and capture enough market share to encourage consumers – and third-party publishers – it was a horse worth backing. Reading out the Switch release schedule for 2017 is an almost dizzying exercise even now; it's hard to even believe that, in less than 12 months, we had Zelda: Breath of the Wild, ARMS, Splatoon 2, Mario Kart 8 Deluxe, Xenoblade Chronicles 2, Pokkén Tournament DX, Fire Emblem Warriors and Super Mario Odyssey - not to mention third-party offerings such as DOOM, Mario & Rabbids Kingdom Battle, FIFA 18, NBA 2K18 and much more besides.
Then there was the eShop, which blessed us with titles like Golf Story, Stardew Valley, Snake Pass, Snipperclips, Tiny Metal, Yooka-Laylee, Sonic Mania, Rocket League and Minecraft – and that's barely scratching the surface of what was a bumper year in terms of downloadable delights.
After such a robust showing, 2018 had to be pretty spectacular, and now that the glow of E3 has well and truly vanished, it's pretty clear that Nintendo has no intention of keeping up its barrage of hits – and nor should it. Granted, twitchy investors will fret over the value of their shares in the absence of software announcements, but the fact is that Nintendo's trailblazing 2017 has effectively secured its 2018; the Switch has such an embarrassment of amazing games that it seems almost churlish to grumble about a less populous 2018.
Certainly, from a business perspective, Nintendo is still feeding off its amazing previous year. People picking up Switch consoles at this point in time are literally spoilt for choice when it comes to games, which is why evergreen titles like Zelda and Mario Kart continue to drift in and out of the sales charts. To Switch newcomers, there's a veritable feast waiting at the table – more than enough to keep them content until next year comes around, anyway. Arguably more so than Sony and Microsoft, Nintendo has always been a company that produces software that sells year after year (the seemingly immortal Mario Kart 7 on the 3DS being a notable example), and we'd imagine that certain Switch titles will still be hoving around the lower regions of the charts in a couple of years, such is their enduring appeal.
Even if you've owned a Switch from day one, there's still more than enough content floating around to keep you happy in 2018. Many people on the Nintendo Life team have a personal "pile of shame" packed with games half-finished or not even properly started. Should you be one of these people who is lucky to enough to have hours of spare time then it's hardly like 2018 has been totally lacking in software; Octopath Traveler, Wolfenstein II, Hyrule Warriors: Definitive Edition, Captain Toad: Treasure Tracker, Mario Tennis Aces, Crash Bandicoot N. Sane Trilogy, Donkey Kong Country: Tropical Freeze, Street Fighter 30th Anniversary Collection and Kirby Star Allies have all been excellent releases, even if some of those are re-heated Wii U titles. And that's not including eShop releases like Fortnite, Celeste, Hollow Knight, Sky Rogue, Subsurface Circular, Owlboy and more. In fact, looking at that list, it almost makes you question the whole "Switch has nothing in the tank for 2018" narrative; this year has more than its fair share of decent games.
However, it's only human nature to want more than you reasonably should have, so the feelings of disappointment following this year's E3 are understandable. Metroid Prime 4 was teased last year so its absence felt odd somehow, while Nintendo's decision to focus so much time on the next Smash Bros. was perhaps ill-judged, given the number of eyeballs watching the broadcast. Still, between Smash and Pokémon: Let's Go, Pikachu! and Let's Go, Eevee!, it's hard to shake the suspicion that Nintendo has more than enough ammo in the clip to make sure Switch keeps selling right the way up to the end of the year; in fact, such a potent combo – when combined with the existing Switch library – could make sales explode during the holiday season, without any assistance from other games, eShop releases or third-party support.
While industry analysts will have you believe that Nintendo is running out of ideas after a breathtaking 2017 and pessimistic fans will grumble that the company has taken its foot off the gas when it needs to keep the pedal to the metal, there's merit in the school of thought which suggests the Kyoto giant knows precisely what it is doing in 2018 – and with games like DAEMON X MACHINA and the mainline Pokémon RPG looming temptingly in 2019, the signs are good that Switch will get a steady stream of new classics over the next 12 to 18 months, and we'd hope that as Nintendo eases off the accelerator, third-party publishers will slowly but surely fill the void with exclusive and multiplatform releases, giving the Switch library even more variety and balance as the console moves into 2019 and beyond.