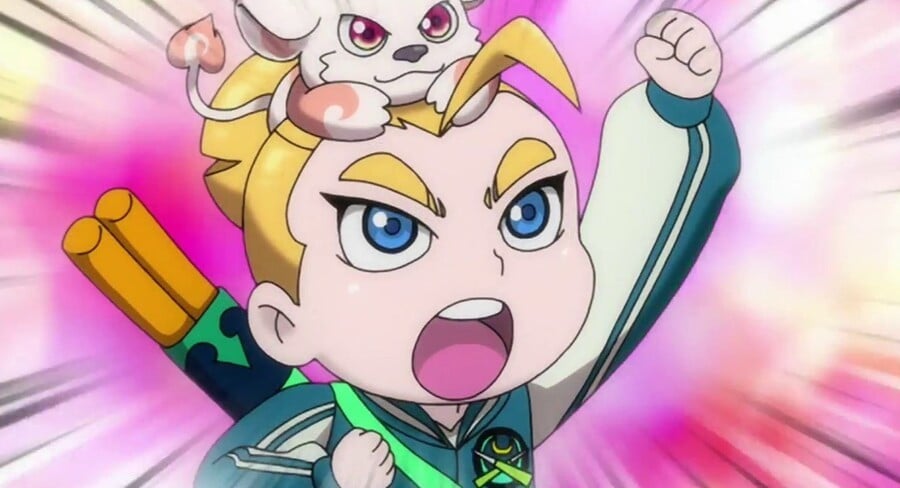 The Nintendo Download is here yet again, and it's the last one before E3 2018 kicks off and all that hype turns into actual game announcement and realised dreams. So to get you in the mood for all those revelations to come, we've gathered together all the new additions to the various North American eShops. Drop a vote in the poll below, and a comment with your hot picks for the week. Enjoy! 
Switch eShop
Sushi Striker: The Way of Sushido (Nintendo, $49.99) – Help Musashi end the Empire's tyrannical monopoly of the world's sushi supply by becoming a Sushi Striker. Devour conveyor-belt sushi, matching plates and sushi types to defeat any enemy or boss who stands between you and victory. Befriend Sushi Sprites and use their powerful skills in battle. The Sushi Striker: The Way of Sushido game for the Nintendo Switch system and the Nintendo 3DS family of systems will be available on June 8. A free Nintendo Switch demo is also available in Nintendo eShop. Nintendo 3DS version playable in 2D only. Read our review.
BLAZBLUE: CROSS TAG BATTLE (Arc System Works, $49.99) - An unrivaled clash of explosive proportions! The beloved BlazBlue franchise Crosses universes, Tags in fan favorites, and Battles it out in BlazBlue: Cross Tag Battle! Created through an all-star collaboration between BlazBlue, Atlus' Persona, French Bread's Under Night In-Birth, and Rooster Teeth's hugely popular RWBY web series, Cross Tag Battle celebrates the fighting genre for pros and newcomers alike! Choose your team in fast paced 2v2 team battles filled with the craziness you've come to love from BlazBlue, with all the tight mechanics, smooth gameplay, and gorgeous 2D graphics you expect from Arc System Works. Read our review.
Happy Birthdays (NIS America, $39.99) - From legendary creator Mr. Yasuhiro Wada (TOYBOX Inc.) comes Happy Birthdays: a sandbox game in which players create cube-shaped worlds that give rise to diverse and unique lifeforms. With careful experimentation, players can shape the geography and alter the temperature of the world to create the conditions for life and witness the birth of an entire ecosystem! Read our review.
Shaq Fu: A Legend Reborn (Saber Interactive, $19.99) - A vessel floating down a river contains an orphaned baby boy. He is found and adopted. As he grows, he learns of his true identity and destiny of greatness. Thus is the premise of two of the greatest stories of our time, but that is where the similarities end. Now we're not saying that "Shaq Fu: A Legend Reborn" is better than the Good Book; that would be blasphemy.
The Infectious Madness of Doctor Dekker (Wales Interactive, $12.99) - YOU are a psychiatrist, trying to solve a murder whilst treating the unusual patients of the recently deceased Doctor Dekker. Read our review.
A Magical High School Girl (Sekai Games, $14.99) - A Magical High School Girl is a magic crafting rogue-like RPG! The only weapon you possess is the magic you conjure from within. You can freely name your magic. The elemental properties and effects are generated automatically with what you typed in.
ACA NEOGEO RIDING HERO (HAMSTER, $7.99) - "RIDING HERO" is a realistic racing game released in 1990 by SNK. WGP (World Grand Prix) mode is where you can compete against top riders of the world. Story mode puts you in the shoes of a young street racer aiming to challenge an eight-hour endurance race and comes packed with RPG elements. Experience realistic motorcycle action that will keep you at the edge of your seat.
The Banner Saga 2 (Versus Evil, $19.99) - The award-winning adventure continues in Banner Saga 2! This epic, story-based, role-playing game continues its emotional journey across a breaking world. Bold leadership decisions, wise use of resources, and skillful battle tactics are vital to ensure your Viking clans make it through alive. If played, your choices will carry over from the first game, or you can start fresh with new preset characters.
D/Generation : The Original (West Coast Software, $14.99) - We fear that the workers trapped in our Singapore lab have little chance of survival. Those of you familiar with the Neogen organisms produced in this lab would agree that any rescue attempt would be a suicide mission. The remaining survivors are beyond hope.
GRIDD: Retroenhanced (Kongregate, $11.99) - GRIDD: Retroenhanced is an intense arcade-style cyberpunk hacking shoot 'em up with an incredible soundtrack, procedurally generated elements, and electric visuals.
Iro Hero (eastasiasoft, $12.99) - Iro Hero is a vertical shoot 'em up with beautiful pixel art graphics inspired by many old-school classics. Staged across 9 action-packed levels, Iro Hero features a unique and fresh approach to the popular color polarity mechanic, with interactive level elements, color zones, reflective surfaces and much more.
KADOBAT WARS (ITTARO, $3.89) - KADOBAT WARS! is a action card game battle game featuring fights by drawing out many cards using energy accumulated in real time!
Samurai Defender: Ninja Warfare (Flyhigh Works, $7.20) - Samurai Defender: Ninja Warfare is the tower defense game we have all been waiting for! Defend your castle against the waves of enemies laying siege to your gate! Test your tactical abilities and be your own master of strategy: To win, you must utilise the capabilities of your men to repel the daunting invading forces! Read our review.
THE Number Puzzle (D3Publisher, $4.99) - The definitive intellect puzzle, simple yet full of depth. In THE Number Puzzle you follow easy rules to fill in a grid with the numbers 1-9. So simple you will get addicted! 
Shape of the World (Plug In Digital, $14.99) - The world that grows around you... The environment and flora constantly flourish and fade as you wander in Shape of the World, a serene and surrealist first-person explorer. You'll travel through dream-like forests, aquatic caves and peaceful shores accompanied by psychedelic wildlife. No ticking clock or hidden perils laying in wait will prevent you from enjoying your journey... A couple of hours escape from work, anxiety and stress.
Hexologic (MythicOwl, $2.99) – Hexologic is very easy to learn and in the same time a highly addictive language-independent logic puzzle game. Based on hexagonal grids, the game reinvents sudoku rules and brings it to a whole new level. Combining the dots inside the hexes in three possible directions, so that their sum matches the one given at the edge, will be a rewarding experience for both puzzle games' veterans and newcomers. A simple gameplay mechanics adorned with a beautiful graphic design, relaxing music and challenging yet not unbeatable puzzles, will guarantee long hours of fun for gamers of all ages.  Available June 12.
Legendary Eleven (Eclipse Games, $9.99) – Legendary Eleven is an epic arcade soccer game inspired by the golden age of soccer spanning the 70's to the 90's. Available June 8.
Milanoir (Gambitious, $12.99) - Inspired by the Italian crime flicks of the '70s revered by Quentin Tarantino, Milanoir is a pixel-packed action game set in the violent city of Milan. Come meet Piero, a convict suddenly released from prison looking for revenge over the man who framed him.
One Strike (QubicGames, $4.99) – Only one strike settles the duel, master the fighting style of each warrior to outsmart your opponents. Available June 8.
Operation Hardcore (Greenlight Games, $12.99) - An action-packed 2D side-scrolling shooter inspired by classic twitchy action games of yesteryear, but with modern touches and conveniences.  
Songbringer (Double Eleven, $19.99) - You play the role of protagonist and accidental hero, Roq Epimetheos. With a propensity for partying and making music, he cruises the galaxy with his skybot Jib aboard the ship Songbringer, searching for verdant planets absent the presence of galactic police. Read our review.
Tennis World Tour (Bigben Interactive, $59.99) – The new standard developed by veterans of tennis simulations: play as one of 30 professional tennis players, learn all the shots, master each type of surface and experience a realistic career mode. Define your style of play and tactics to become n°1 in the world! Available June 12.
3DS eShop
Rainbow Snake (RandomSpin, $0.99) - Eating Food, Snake Painted In Different Colors. Collect a colorful snake and avoid the green walls. Over time, the snake is gaining speed!
Games for Toddlers 2 (Skunk Software, $14.99) - A set of video games designed specifically for toddlers. New Nintendo 3DS systems only.
Storm Chaser - Tornado Alley (Skunk Software, $14.99) - Stream the best storm footage and gain followers. Day Cycle with 0.5x-3x Game Speed Slider. Uses Nvidia PhysX® realtime physics engine, AAA quality 4x4 offroad driving (with big air ramps).
Demos
Nintendo Switch
Baobabs Mausoleum – Demo Version (Nintendo eShop on Nintendo Switch)
Shining Resonance Refrain – Demo Version (Nintendo eShop on Nintendo Switch) – Available June 12
Deemo – Demo Version (Nintendo eShop on Nintendo Switch)
Devious Dungeon – Demo Version (Nintendo eShop on Nintendo Switch) – Available June 11
Semispheres– Demo Version (Nintendo eShop on Nintendo Switch)
Activities
Earn double Gold Points when you pre-purchase the digital version of Mario Tennis Aces! – Receive a bonus of 300 My Nintendo Gold Points when you pre-purchase the digital version of the Mario Tennis Aces game through Nintendo eShop or Nintendo.com (where available). Offer ends at 11:59 p.m. ET on June 21. Bonus points will be issued a few days after the release day of the game, are earned based on the original list price of the game on Nintendo eShop, and will vary by country and currency. 
Fire Emblem Heroes 2.6 Update – Accessories for Heroes' mini units have been added. These accessories can be seen by other players in the Arena, so you can customize the look of your Heroes and show them off. Accessories are planned to be available through events and quests. Note: Accessories will not alter a Hero's stats or skills.
Which games are you downloading this week? (113 votes)
BLAZBLUE CROSS TAG BATTLE
12%
Shaq Fu: A Legend Reborn
19%
The Infectious Madness of Doctor Dekker
0%
A Magical High School Girl
3%
ACA NEOGEO RIDING HERO
4%
D/Generation : The Original
0%
Samurai Defender: Ninja Warfare
1%
Storm Chaser - Tornado Alley
0%
Sushi Striker: The Way of Sushido​
21%
Please login to vote in this poll.
So that's your lot for this week. As always, be sure to drop a vote in the vote in the poll above if it takes you fancy, and a comment below with your thoughts on this week's Download update...