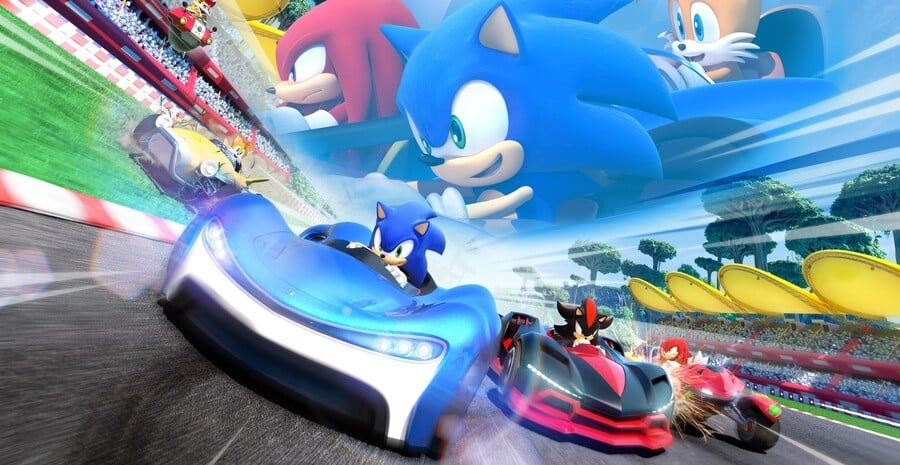 Surprise, there's a new Team Sonic Racing game! Perhaps one of the worst kept secrets in gaming this year has been a new Sonic the Hedgehog racer from Sumo Digital, and after toymakers letting slip secret details and Walmart basically all-out revealing it, SEGA has finally officially announced Team Sonic Racing. Developed by Sumo Digital.
Well, at least we now know its definitely coming and that its due to hit Nintendo Switch by the winter. Here's the official round-up of its new features (and yes, it's the same one that was 'leaked' earlier today):
Online Multiplayer & Local Co-Op Modes – 12 players per race, 4 player split screen, and various offline / online race modes including Grand Prix Mode, Exhibition Mode, Time-Trial and Team Adventure Mode. 
Team Racing – Race as a team, win as a team. Use various team moves to assist your teammates, knock out opponents and unleash your Team Ultimate. 
Performance & Skin Customisation – Alter the appearance and handling of your vehicle. 
Wisps - 14 spectacular offensive and defensive items to help overcome rival teams and get ahead! 
Adventure Mode – Unique story experience where players are introduced to basic game features and characters. 
Various Characters and Types – 15 playable characters from across the Sonic Universe and 3 distinct character types including Speed, Technique, and Power.
Check out the teaser trailer above. So will you be jumping into the Team Sonic Racing hot seat later this year? Share your thoughts on the game below...