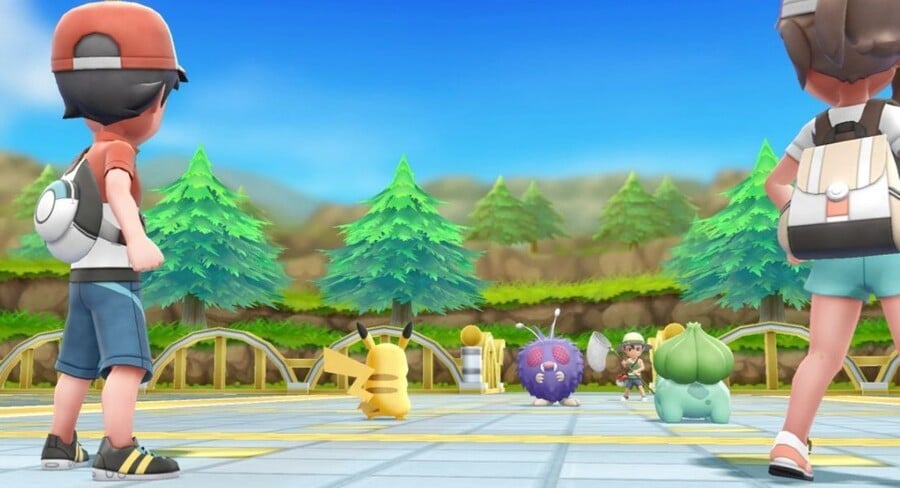 The Pokémon Company almost broke the internet earlier today when it unveiled three - yes, count them three - new games for Nintendo Switch and smartphones. Pokémon Quest (which is out right now) brings a cute, cuboid take on the franchise; Pokémon Let's Go Pikachu! and Let's Go Eevee! and its motion-control wonder and the proper eighth gen entry in 2019.
So to celebrate the Pokémon news in all its glory, the team at Nintendo Life have come together to discuss what they made of the announcements from Japan and their wish lists for what's to come. Be sure to drop a vote in the poll below, and a comment at the bottom of the article with your thoughts on the new Pokémon titles headed to Switch...
"The Let's Go games are the perfect way to wet our appetites before the mainline entry arrives next year - and it's just what Switch needs right now"
Dom Reseigh-Lincoln, editor
Nintendo Switch has had an incredible first 14 months, but it's hard to look at the western charts and not see how Nintendo's first-party titles are struggling against a much fresher slew of titles from rival platforms. It needs a handful of big name franchises to keep Switch firmly in the mix, and these new Pokémon titles are just what the platform needs.
And not just because Pokémon has such resonant brand recognition, but because it's just the kind of reinterpretation you'd only find from The Pokémon Company and Nintendo. That desire to look back on what makes Pokémon so enticing AND present it in a way that makes it more palatable to potential new fans, all without losing that magic. It's also the ideal way to bring in those news fans and keep long-time players such as myself interested while we count down the days until the proper eighth gen entry arrives in 2019.
"Nintendo has perfected its recipe for releasing Pokémon games"
Austin Voigt, contributing writer
The Pokémon announcements made yesterday were definitely unconventional - and I think Nintendo wanted it that way. The entire thing felt like a three-course meal at a restaurant you'd waited a year to get into. The "Let's Go!" duo - our appetiser - is one of the best moves this team could have made. Not only are they leveraging their organic fanbase from Pokémon GO, but they're also satiating the hungry appetites of their lifelong fans from the original games. And that Poké Ball Plus accessory? Brilliant - they know their millennial fanbase (it me) will buy overpriced collectibles until they die. 
After that, we'll be getting a brand new, more polished core RPG instalment next year. I constantly struggle with wanting devs to take their time, while also being extremely impatient - so this is the perfect solution. And as for Pokémon Quest? Well, it's like that misshapen (cubed) olive in your pre-dinner drink, eaten out of desperation while you wait for the rest of your meal to arrive. It isn't at all what you came for, but it's a distraction.
"So not one but three new Pokémon games on Switch! It's like Christmas came early"
Glen Fox, guides editor
Pokémon Quest is exactly the kind of cute free to play mobile faff that I get horribly addicted to, and I'm digging the cube style. Looking forward to checking that out later. Let's Go is the latest in a line of remakes done the Nintendo way, and I'm intrigued by it. It'll be nice to see Kanto again, and I'll be happy to finally have a use for my Pokémon GO collection! 
I also love the idea of using a single Joy-Con and using motion controls to catch Pokémon. God, I feel like a child all over again. I'm not so hot on the peripheral though. I definitely understand the appeal, but I think I'm a bit too old to take a fake animal out for a walk and stroke it in public. Think I might give that one a miss.
"Alternative Pokémon experiences will tide me over until the big release"
Liam Doolan, Australia correspondent
I'll admit I wasn't initially taken with the announcement of Pokémon: Let's Go, Pikachu! and Pokémon: Let's Go, Eevee! Luckily it didn't take long to win me over when the news arrived that the core series was still in development – with the release scheduled for the second-half of 2019.
As long as the main RPG games continue to get released, I'm always happy with alternative, and even experimental, Pokémon experiences on the side. Having not played Pokémon GO in quite some time, this'll be a great excuse to return to the mobile app in preparation for the Let's Go release. As for the Pokéball Plus – I'm excited! Having been a regular user of previous accessories such as the Pokéwalker, that was compatible with Pokémon HeartGold & SoulSilver, I'm expecting something special. Until all of these exciting new Pokémon experiences arrive, I guess I'll take my chances with Pokémon Quest.
"Pokéwho?"
Goncalo Lopes, contributing writer
It's lonely and weird when you're part of the biggest independent Nintendo website in the world and are not a Pokémon aficionado. Much like sports and other popular events, when something major happens I am left alone in a corner wondering if I will ever become a real human being. Should you wonder how this is even possible, it is actually simple: 
By the time the Pocket Monster craziness hit the West on the original DMG Game Boy I was already deep into Super Famicom JRPGs lore and since I mostly play those games on home consoles, I never bought a single Pokémon title until the Wii U release of the Pokkén Tournament spin-off. That will change next year when I will get my very first Pokémon RPG on Switch. Until that time, I will keep smiling and repressing the feelings of not having a new F-Zero since 2004.
"Pokémon Let's Go, Pikachu! and Let's Go, Eevee! are the chilled-out break the core series desperately needs"
Ryan Craddock, staff writer
I will probably always class Pokémon as my favourite franchise; my first ever video game was Pokémon Blue and the series made up almost my entire childhood. In recent years, though, I must admit that my hype and love have dwindled somewhat, likely thanks to the series becoming too complex and excessive with the recent additions of Ultra Beasts, different forms, and an ever-increasing catalogue of monsters, items, abilities, and more that just don't match up with the time restraints of adult life.
While I'm still just as helplessly excited as the next person about the 'proper' RPG coming in 2019, the Let's Go titles feel like the perfect breather the franchise needs. Gone are the unnecessary bucket-loads of features, replaced with simplicity, pretty environments, and a collection of monsters that will please both my generation's nostalgia, and act as a much more welcoming collection for newcomers when compared to the 800+ that Pokémon Sun and Moon greeted us with. They may well just be a stopgap for some, but they look like a very welcome one.
"A world of dreams and adventures with Pokémon will always await!"
Robert Maloney, Japan correspondent
I grew up in Pokémon's Kanto, and, despite its clear differences from the main RPG series of Pokémon games, I'm personally very excited to return to Kanto in Pokémon Let's GO Pikachu and Eevee. Exploring the Japanese Kanto region as envisioned by Satoshi Tajiri and the Game Freak team is always exciting. These newly announced games are, in my opinion, a compromise for fans of Pokémon in general as well as for long time series fans. That said, these games will have to be made to satiate the appetite of hardcore fans until 2019.
Which Pokémon game are you most excited to play? (510 votes)
Pokémon Quest

6%

Let's Go Eevee!/Let's Go Pikachu!

34%

Pokémon 2019

60%
Please login to vote in this poll.
Want more? Then check out Alex's brilliant take on the Pokémon reveals above. Be sure to add your vote to the poll above on which game(s) you're most excited for, and a comment or two below on your thoughts on what's to come for Pokémon in 2018 and beyond...