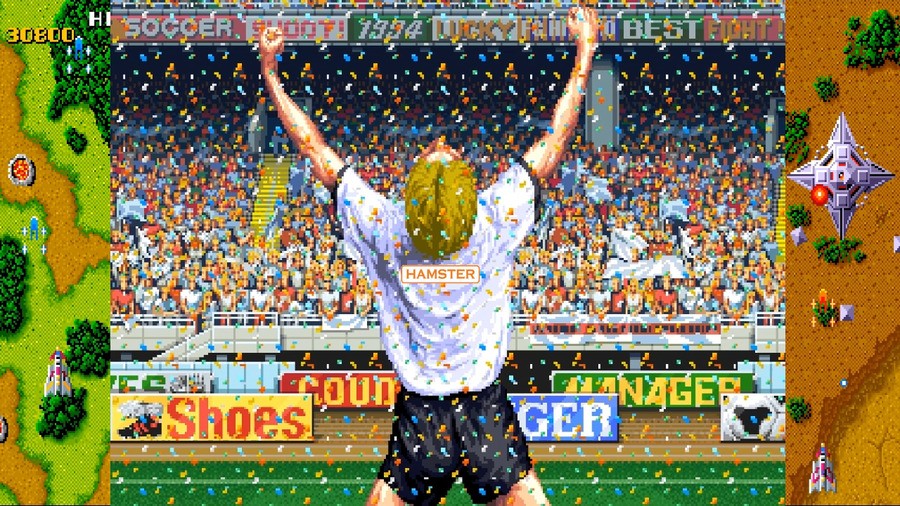 HAMSTER returns to double releases next week with a football sequel for Neo Geo and one of the most revered TATE shmups of yore from Nichibutsu.

With World Cup fever already rising on the horizon, this upcoming release of Super Sidekicks 2: The World Championship could not come at a better time. This sequel improves on the original in many ways and will provide Switch owners a more arcade-oriented World Cup experience to the impending FIFA 18 free update. True, EA's game will deliver a more realistic experience, but what other game lets you suplex your opponents to the ground (strangely making Super Sidekicks 2 the best wrestling game on Switch right now).


As if upcoming releases of Gunbird 2 and little-known indie niche shmup Ikaruga were not enough reasons to be a happy shmup loving Switch owner, HAMSTER decides to spoil us with another true classic from one of Japan's most revered software houses. Nichibutsu's 1985 TATE masterpiece Terra Cresta, a revolutionary sequel to the prior 1980 hit Moon Cresta will put you in control of the fragile but nimble Winger as you take down both air and ground targets.


Both games will be available on the Switch eShop on the 10th May for the regular $7.99/€6.99/£6.29 price point. Will you be kicking balls and/or shooting 1985 pixels next week on your Nintendo Switch? Tells us all in the comments below...
[source japanesenintendo.com, via japanesenintendo.com]