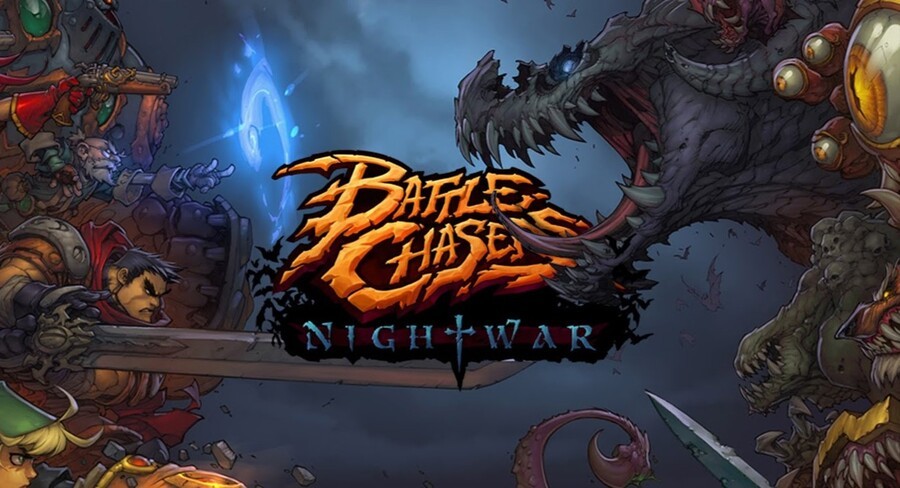 The Nintendo Download for North America is here, bringing with it another slew of new games, activities and demos right to the eShops. As always, be sure to share which games you'll be downloading this week in the poll and in the comments section at the bottom of the article. Enjoy!
Switch eShop
Battle Chasers: Nightwar (Nordic Games, $39.99) – Battle Chasers: Nightwar is an RPG inspired by the console genre greats, featuring deep dungeon diving and turn-based combat presented in classic JRPG format, and a rich story driven by exploration of the world. Build your adventuring party by choosing three of six available heroes from the famed Battle Chasers comic series, each with unique abilities, perks, items and dungeon skills. Battle Chasers: Nightwar is available on May 15.
ACA NEOGEO SUPER SIDEKICKS 2 (HAMSTER, $7.99) - "SUPER SIDEKICKS 2" is a soccer game released in 1994 by SNK. Battle for the championship in the peak sports event held once every four years. This version introduces the actual rules as well as fouls in order to provide exciting and thrilling soccer matches. Another highlight is the variety of enhanced rendering.
Garage (tinyBuild Games, $14.99) - Garage is a bloody shooter in the style of an 80s B-movie. Playing as a drug dealer named Butch, you stand alone against hordes of the living dead. Read our review.
Immortal Redneck (Crema Games, $19.99) - Immortal Redneck is an FPS set in Egypt with rogue-lite elements. The game mixes old-school first-person shooter action with rogue-lite mechanics. Frantic gameplay, twitch controls and an arcade-style feel meet randomly generated dungeons, a complete skill tree, permanent death and 9 classes with different traits. Read our review.
ONE PIECE: Pirate Warriors 3 Deluxe Edition (Bandai Namco Entertainment, $39.99) - Re-live the original ONE PIECE story from Fushia village, where everything started, to the kingdom of Dressrosa, a mysterious island dominated by the evil "Heavenly Demon" himself, Donquixote Doflamingo. Gather members of the Straw Hat Crew and sail to the most illusive places and enter epic battles.
Suicide Guy (Chubby Pixel, $7.99) - Suicide Guy is set in the incredibile and extraordinary dreams of its protagonist. What would you do in order to save the thing you love most? Immerse yourself into his weird dreams and help him to wake up before it's too late.
Super Chariot (Microïds, $19.99) - Designed for the Nintendo Switch, Super Chariot is a 2D platform game that can be played through to the end in either solo or co-op mode. You play as either the brave Princess or her faithful fiancé in a subterranean fantasy adventure...
The Fall (Over The Moon, $6.99) - Take on the role of ARID, the artificial intelligence onboard a high-tech combat suit. ARID's program activates after crashing on an unknown planet. The human pilot within the combat suit is unconscious, and it is ARID's duty to protect him at all costs! 30% off for a limited time!
Three Fourths Home: Extended Edition (Digerati, $8.99) - Three Fourths Home: Extended Edition is an award-winning and critically acclaimed visual short story that explores the emotional ties of family relationships.
Arcade Archives TERRA CRESTA (HAMSTER, $7.99) - "TERRA CRESTA" is a shooting game that was released from Nichibutsu in 1985. Players recapture parts that have been left in the ground, to intercept the enemy in the formation attack. To aim the space devil Mandora.
Hyper Sentinel (Huey Games, $12.99) – A face-melting, pixel-pumping, Neo-Retro arcade shoot 'em up featuring awesome power-ups, epic boss battles and spectacular effects at a blistering 60fps. Blast through hordes of Alienoids in Arcade Mode, tackle endless waves of invaders in Survival Mode and battle epic level guardians in Boss Run mode. Available May 11. Read our review.
InkSplosion (Ratalaika Games, $3.99) – Why should war be hell when it could be fun? Enter InkSplosion, a single screen twin-stick shooter, where the only real enemy is beating your previous high-score! Promotional price will last until May 28th! Available May 11.
L.F.O. -Lost Future Omega- (mebius., $7.99) - Synchronize the sound, synchronize the future. As the screen changes your actions and the sound synchronize with the music. Some of the sounds you select can be passed to the next stage. By doing so and depending on your progress at that point, even if you are playing in the same stage, you will get feeling that you are listening to another arrangement.
Splitter Critters (RAC7, $6.99) – Split and rearrange the world to bring faraway platforms together, move deadly lasers out of the way, and create floating swimming pools to guide alien critters back to their spaceship. Available May 15.
The Adventures of Elena Temple (GRIMTALIN, $4.99) – The game is a monochromatic puzzle platformer made to look as if it were created in the 80s. Overcome obstacles, figure out how to collect all the coins, find all the gems and remember your childhood while doing it! Progress through the game's dungeon through non-linear exploration and keep an open eye for secrets to find. Available May 15.
The Mystery of the Hudson Case (Magic Frame Studios, $4.89) – In 1979, a daring journalist sets out to investigate on his own, after continuous disapproval by his editorial department, the famous case of the Hudson Family, a family living in the vicinity of New New Orleans, near the mouth of the Mississippi River. They lived in the time of British America, around the year 1830. They boasted an estate of four hectares where the rich landowner Mr. Benjamin Hudson owned a large number of slaves from the African continent, whom he tortured and raped in numerous occasions, provoking death. Available May 14.
Wizard of Legend (Humble Bundle, $15.99) – Wizard of Legend is a fast-paced dungeon crawler with an emphasis on dynamic magical combat. Quick movement and even quicker use of spells will allow you to chain spells together to unleash devastating combinations against your enemies! Unlock over 100 unique spells and discover powerful spell combinations! A wide variety of elemental spells allows you to create a hand best suited to your play style. Dive head first into the fray or stand back and let your minions do the work for you. Play solo or co-op! The choice is yours! Available May 15.
3DS eShop
Shin Megami Tensei: Strange Journey Redux (Atlus, $39.99) – In the Shin Megami Tensei: Strange Journey Redux game, you play as a brave United Nations soldier investigating a spatial anomaly called the Schwarzwelt – a dome of dark energy that threatens to consume the world. Inside, you'll find it home to a nightmare mirror of our own Earth, populated with demons dying to meet you. Shin Megami Tensei: Strange Journey Redux is available May 15.
UP UP BOT (RCMADIAX, $1.49) - In UP UP BOT help your robot friend climb the platforms by tapping the screen. Be careful and watch out for bad robots trying to stop you from progressing even higher. Endless fun for everyone!
Demos
Nintendo Switch
ARMS – Demo Version – Fighting superstars from around the world share one thing in common: extendable arms! Fight as never before with this free demo. Pick from a selection of characters equipped with super-powered arms, and use simple motion or button controls to dish out highly strategic beatdowns in select stages of the single-player campaign or even in one-on-one matches.
One More Dungeon – Demo Version (Nintendo eShop on Nintendo Switch) – Available May 14
Nintendo 3DS
Dillon's Dead-Heat Breakers – Demo Version – As a team, defend a post-apocalyptic Wild West from an invasion of transforming rock monsters with Dillon the armadillo and his squirrel engineer, Russ. You can even put yourself in the game and battle alongside Dillon and Russ as an animal version of your Mii character. Recruit hired gunners to back you up in battle, and then roll into fights and high-speed chases to take down waves of enemies as Dillon, the "Red Flash" himself!
Activites
Earn My Nintendo Platinum Points with Donkey Kong Country: Tropical Freeze – My Nintendo members can earn 100 Platinum Points by finding the hidden K-O-N-G letters on the game website. In addition, members can also redeem their points for new Donkey Kong digital wallpapers for their PC or mobile devices. Check out My Nintendo news for more information.
Nintendo Labo Creators Contest for Best Decorated Toy-Con ends soon—enter today! – Make, play, and discover with Nintendo Labo! Create your masterpiece using a Nintendo Labo kit and a Nintendo Switch system, then post a video or picture of your creation to the My Nintendo – Nintendo Labo Creators Contest site for a chance to win some great prizes.* The "Best Decorated Toy-Con" contest ends on 10:59 a.m. PT on May 11, so act fast!
Are you curious about what other My Nintendo members have made so far? Check out them out here, and be sure to click the "Like" button for your favorite creations!
Fire Emblem Heroes Version 2.5.0 Update – The new update to the Fire Emblem Heroes mobile game adds many new features, including updates to the Arena, tutorial improvements and new Heroes. Check out all the details about everything included in the new update here.
What are you downloading this week? (266 votes)
ACA NEOGEO SUPER SIDEKICKS 2

3

%
Garage

3

%
Immortal Redneck

12

%
ONE PIECE Pirate Warriors 3 Deluxe Edition

3

%
Suicide Guy

1

%
Super Chariot

3

%
The Fall

3

%
Three Fourths Home: Extended Edition

0%

UP UP BOT

0%

Battle Chasers: Nightwar

19

%
Arcade Archives TERRA CRESTA​

4

%
Hyper Sentinel​

3

%
InkSplosion

0%

L.F.O. -Lost Future Omega-​

0%

Splitter Critters​

1

%
The Adventures of Elena Temple

0%

The Mystery of the Hudson Case

2

%
Wizard of Legend

6

%
Shin Megami Tensei: Strange Journey Redux

8

%
Nothing for me!

28

%
Please login to vote in this poll.
So that's your lot for this week. Be sure to leave a vote in our poll, and a comment down below with your hot picks from the Nintendo Download update...