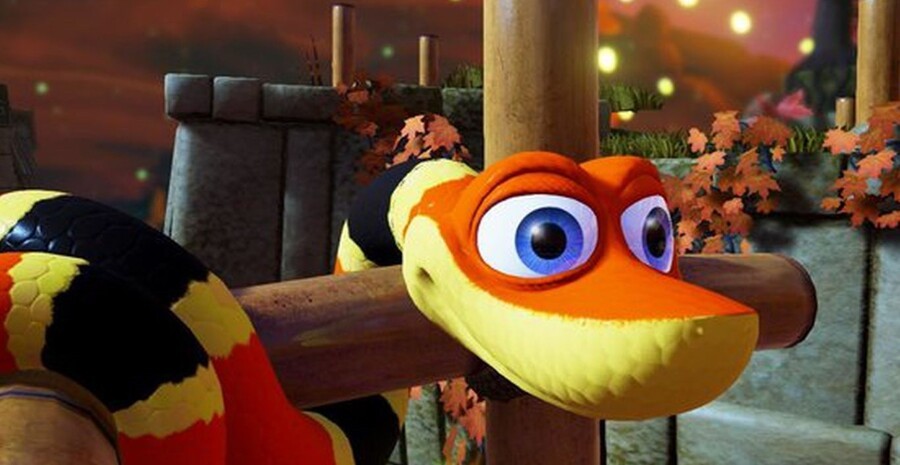 For a week or more, developer Sumo Digital has been teasing fans on Twitter in regards to some Snake Pass related news. Was the physics-based platformer getting new DLC, a brand new sequel or some mysterious update? Turns out it was the latter, and it's patching in a brand new mode that adds a speedrunning element to each of its 15 levels.
The new Arcade Mode Pack - which goes live on all platforms today - is all about grabbing fruit-shaped multipliers in-game to maximise your score before the time runs out, and you'll have the option to use the mode once you've completed each respective level in the game. It promises to add a whole new dimension to the 2017 sleeper hit - but we suggest you get used to its unusual physics before attempting to slither at speed and attempt to top those online leaderboards.
"We could not think of a better way of passing on our thanks to all of our fans, who have played Snake Pass over the last year", comments Seb Liese, creator of Snake Pass, in an official statement. "The Arcade Mode Pack, introduces a new way to play, as you compete with friends across global leaderboards to see who can be the world's slickest slitherer!"
And, if you've yet to pick the game up, Snake Pass is now 50% off on the Nintendo Switch eShop - with the deal running all the way up to the 27th April. Now you've got no excuse!
Have you played Snake Pass yet? Will the Arcade Mode Pack be enough to tempt you back? Be sure to share your thoughts with the NL community below...